GETTING STARTED | WINE NOTES | SEARCH SITE | DISCUSSION FORUMS | 30 SECOND WINE ADVISOR | CONTACT US

<!TODAY'S TEXT STARTS HERE!>

Wines for Easter Dinner

If your plans for Easter dinner feature the traditional lamb, your wine-matching task is easy: Just about any good, dry red wine - but especially Cabernet Sauvignon or Bordeaux-style blends of Cabernet Sauvignon, Merlot, Cabernet Franc and other grapes - makes a natural marriage with lamb.

But if there's a ham on your Easter menu - especially if it's to be garnished with fruit and sweet flavors - then finding a wine to go with it poses a bit more of a challenge. Ham's relatively strong and salty flavors make it a quirky partner for dry table wines. But it can be done, and through this week, we'll offer a few more wine ideas worth considering for the holiday table.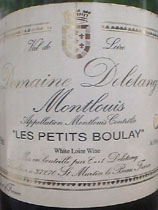 Domaine Deletang 1998 Montlouis "Les Petits Boulay" ($13.99)
This Loire Chenin Blanc comes from a region neighboring Vouvray and very much resembles its neighbor. Although 1998 wasn't much of a year for the Loire's sweeter wines, this bone-dry white boasts citrusy, fruity flavors that make it a very good match indeed with ham (although a richer "moelleux" or "demi-sec" bottling from a better vintage like 1997 might be even better). Pale straw in color, this one breathes lovely floral and mixed-citrus aromas of lime and tangerine. Mouth-filling, citric fruit flavors follow the nose, dry and crisp and lasting. U.S. importer: Vintner Select, Cincinnati. (April 17, 2000)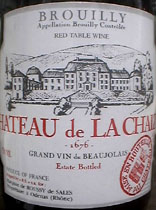 Chateau de La Chaize 1997 Brouilly ($13.99)
The fruity, tart flavors of Beaujolais make a natural partner for ham, and that goes double for the 10 "Cru" Beaujolais, the products of villages whose wines are considered sufficiently superior that the local name goes on the label in place of the generic "Beaujolais." Of those 10, Brouilly and Cotes-du-Brouilly rank tops with me; I love the subtle earthiness and relatively full body that distinguishes them from their lighter kin. This is a dark-ruby wine, with red-fruit and delicious earthy "paintbox" aromas; the flavors are consistent, full of bright red fruit, clean and lingering. U.S. importer: Seagram Chateau & Estate Wines Co., NYC. (April 17, 2000)

FOOD MATCH: Both wines worked well with a quick preparation devised to evoke the flavors of Easter ham: Ham steaks quickly pan-fried, then served with a simple mango-citrus reduction with a touch of aromatic spice.


HAPPY PASSOVER, TOO!

If you're looking for Kosher wines for the holiday season, see our recent tasting report on three good ones at www.wineloverspage.com/wines/wt021300.shtml.

Have you tasted these wines?
E-mail me your tasting notes,
and I'll consider adding them to this page.

All my wine-tasting reports are consumer-oriented. In order to maintain objectivity and avoid conflicts of interest, I purchase all the wines I rate at my own expense in retail stores.

Back to Current Tasting Notes Index