GETTING STARTED | WINE NOTES | SEARCH SITE | DISCUSSION FORUMS | 30 SECOND WINE ADVISOR | CONTACT US



Speri 1998 Vigneto la Roverina Valpolicella Classico Superiore ($8.99)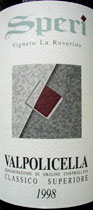 For those accustomed to lightweight mass-market Valpolicella, this budget wine will come as a revelation. Very dark ruby in color, it breathes the full dried-cherry aroma that's typical of this Northeastern Italian region's rustic reds. Juicy and ripe in flavor, intense and earthy black-cherry fruit leads into a pleasant, delicately bitter finish. U.S. importer: Empson (USA) Inc., Alexandria, Va. (April 15, 2001)

FOOD MATCH: Ripe fruit and tart acid makes this a surprisingly good match with ham.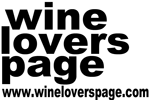 Wine notes in 'shelf-hanger' format:


We publish Wine Lovers' Page tasting reports in the familiar "shelf-hanger" size and format, to make it easy for wine merchants or collectors to print them out, clip and post them where this wine is displayed. We do ask, however, that the Wine Lovers' Page name and URL be left intact, and that these reports be used with the specific wines rated, not different bottlings or vintages.


All my wine-tasting reports are consumer-oriented. In order to maintain objectivity and avoid conflicts of interest, I accept no free samples from wineries or distributors, purchasing all the wines I rate at my own expense in retail stores.

Have you tasted this wine?
E-mail me your tasting notes, and I'll consider adding them to this page.

These wines were featured in The 30 Second Wine Advisor, my free weekly E-mail bulletin of quick wine tips, advice and tasting notes. Click here to join the E-mail list!
<!TODAY'S TEXT ENDS HERE!>
Previous day's wine note
Back to Current Tasting Notes Index