<!TODAY'S TEXT STARTS HERE!>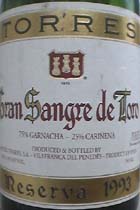 Torres 1993 Gran Sangre de Toro Reserva ($12.49)
Back when I was first getting serious about wine, the Torres "Blood of the Bull" red from Penedès in northeastern Spain was one of my first discoveries as I began to venture out of the familiar ground of France, Italy and the U.S. I haven't tried it for years, though, having moved on beyond Torres's mostly mass-market products to discover the glorious variety of Spanish wines. Spotting this one on the shelf the other day, though, at roughly three times its late-'70s price, prompted me to stroll down memory lane and give it a try. Very dark ruby in color, its aromas are pleasant: Jammy black raspberries and a whiff of anise. It's soft and juicy in flavor, almost sweet at the first taste but it firms up on the palate with lemony acidity; ripe, sweet berries persist in a long finish. Not bad at all, certainly fairly priced if not a particular bargain at the price. U.S. importer: Paterno Imports, Lake Bluff, Ill. (April 12, 1999)

FOOD MATCH: A Venezuelan-style dish of shredded beef long-simmered with sweet bell peppers made a fine match that enhanced both the wine and the food.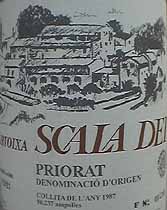 Cartoixa Scala Dei 1987 Priorat Gran Reserva ($6.99)
A 12-year-old Priorat for seven bucks!? When I saw this new arrival at a local wine shop, I had my doubts; but for the price, who could resist? Last night we pulled the cork, and it was certainly worth at least what I paid for it. Dark ruby in color, with an amber glint suggesting that it's none too young. Ripe and warm aromas, plummy and almost pruney, are accompanied with a burnt-sugar edge that, again, shows the ravages of time but stops well short of the nutty Sherrylike aromas of maderization. It's warm and plummy on the palate, too, with plenty of ripe black fruit and lemon-tart acidity. The burnt-sugar and caramel notes become more evident in a long finish. Aging, probably never world-class, but certainly both alive and even interesting. I wonder how this old Priorat happened to turn up in a smaller wine shop in Louisville, Ky.? There's no importer's label on the bottle. (April 11, 1999)
FOOD MATCH: Anticipating the style of the wine, I crafted a simple chicken Marengo, full of herbs and mushrooms and tart tomato sauce), and it went well.

Have you tasted these wines?
E-mail me your tasting notes,
and I'll consider adding them to this page.
All my wine-tasting reports are consumer-oriented. In order to maintain objectivity and avoid conflicts of interest, I purchase all the wines I rate at my own expense in retail stores.