GETTING STARTED | WINE NOTES | SEARCH SITE | DISCUSSION FORUMS | 30 SECOND WINE ADVISOR | CONTACT US
<!TODAY'S TEXT STARTS HERE!>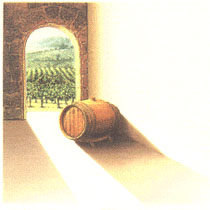 Gallo of Sonoma's genial communications director Carmen Castorina was in our town the other night, stopping in at Louisville on his way from a gathering in Chicato to a wine event in nearby Cincinnati. We got together for dinner and a taste of some recent releases from the corporate branch that Gallo is now labeling "Gallo Family's" selections, emphasizing the winery's current marketing focus on the personalities of the third-generation Gallos, including wine makers Gina and Matt.
As in the past, I am impressed with the general quality of Gallo of Sonoma's wines. Although they may not "push the envelope" in terms of experimental styles, they are always well-made, invariably correct, and generally offer good value in comparison with their competitors.
Here are my notes on six wines that Carmen brought with him and one (the Pinot Noir) chosen from the wine list. Prices listed are the winery's suggested retail, which should be on the high side of retail in most parts of the U.S.
Gallo of Sonoma 1998 Sonoma County Chardonnay ($12) - spicy oak and troaical fruit. Warm and full, plenty of fruit to meet the oak.
Gallo Sonoma 1997 Laguna Ranch Vineyard Russian River Valley Chardonnay ($22) - Spicy and smoky, attractive. Very big and full (14.5% alcohol), yet balanced and fruit-driven. Credit goes to Gallo Sonoma for avoiding market pressure to make fat, sweet and excessively oaky Chardonnay.
Gallo of Sonoma 1998 Sonoma County Merlot ($12) - Inky dark. Pleasantly herbal, Light, attractive, seems almost more French than California. 7 percent Cab Franc.
Gallo of Sonoma 1998 Russian River Valley Pinot Noir - Good black cherry aroma, a bit closed and tight. Luscious fruit, tart and full.
Gallo Sonoma 1996 Barrelli Creek Vineyard Alexander Valley Cabernet Sauvignon ($19) - Delicate cassis and light, spicy oak. Full, bright, fruity and tart. A big wine.
Gallo Sonoma 1996 Stefani Vineyard Dry Creek Valley Cabernet Sauvignon ($26) - Pleasant weedy dill and ripe black fruit. Earthy elements add complexity.
Gallo Sonoma 1996 Frei Ranch Vineyard Dry Creek Valley Cabernet Sauvignon ($26) - black fruit and anise, fresh, balanced and elegant. Fine wine.
FOOD MATCH: The Chardonnays went well with crab cakes at Louisville's excellent Zephyr Cove restaurant. The Cabernets went well with a game special, a boar chop and goat-cheese-stuffed quail.
Have you tasted these wines?
E-mail me your tasting notes,
and I'll consider adding them to this page.
All my wine-tasting reports are consumer-oriented. In order to maintain objectivity and avoid conflicts of interest, I purchase all the wines I rate at my own expense in retail stores.
Back to Current Tasting Notes Index