Champagne (Friday-Saturday, May 28-29)
This large, three-dimensional topographical map of the Champagne region is on display at Veuve Cliquot Ponsardin. Click the image above to view a larger picture.
FRIDAY
It's about a three-hour drive from Beaune in Burgundy to Reims in Champagne, or at least it is when you're on a tour bus with a driver who strictly sticks to the speed limit, so our excursion through the pretty rolling fields and forests brought us to the capital city of the Champagne region just in time for lunch.
Lunch at Assiette de Champagne in Reims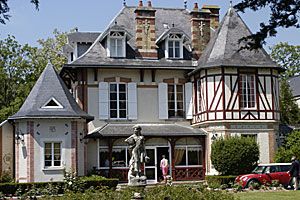 It was another winning choice: Assiette de Champagne in Reims (pictured at right) provided our hungry group one of the best meals of the week, in my opinion - a lunch with just a bit of modern, international "fusion" flair that added an element of excitement to the bill of fare without going at all over the top. It appeared that our tables were being served by a group of very young servers-in-training, but with good supervision and a mellow attitude, it didn't matter ... especially in a setting so pretty and with food and wine so fine.
With a sushi-style amuse bouche, a trio offering that fatured tiny cubes of lightly smoked salmon, a tiny tempura-fried oyster and a bite of shellfish in a lemon-tangy cream sauce, a second amuse of lobster risotto in shellfish sauce, and a first course of sweet and tender crayfish plated on an intense tomato sauce, topped with a few tender green asparagus tips (and a few barely blanched paper-thin asparagus strips sliced from the spear, garnished with a delicate quail egg and sauced at the table with a dollop of a "Pacific Rim" sauce of coconut milk and ... scallop stock? ("jus coquillage"):
R & L Legras Champagne Blanc de Blancs
From the village of Chouilly, our first Champagne tasted in the region was a good one, golden in color with a lasting stream of pinpoint bubbles. Crisp and steely, apples and lemons.
With piece de veau, a thick, tender chunk of rosy, just-off-white veal crusted with a blanket of finely chopped fresh herbs and served on an intense, almost syrupy veal and red-wine reduction passed in a serve-yourself silver pot, garnished with an artful serving of perfect baby spring vegetables ... a tiny carrot, a slice of turnip, a scallion, a sweet pearl onion and a few perfect little snow peas:
Champagne Cattier Chigny-les-Roses Premier Cru
Pale copper color, the pretty rosé shade that the Champenois call "peillure d'oignon" ("onion skin"). Tiny but scanty bubbles visually, but frothy in the mouth, hints of cocoa and tangy, cleansing acidity.
Dessert included a remarkable variety of tiny goodies - chocolate ganache candies, wafer-thin rounds of caramel, a dab of rich ice cream.
Our two days in Champagne would take us to three of the large, international Champagne houses and two artisanal producers. This afternoon, we toured two of the large houses in Reims:
Ruinart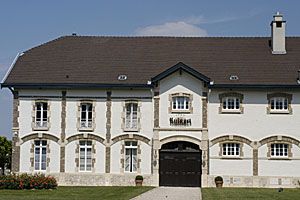 One of the stately old buildings at Ruinart.
Founded in the name of the monk Dom Thierry Ruinart in 1729, Ruinart claims to be the first "modern" Champagne house. Like other historic Champagne houses in Reims, it makes effective modern use of literally miles of caves carved out of the chalk beneath the city by the ancient Romans, who started digging them back in the 2nd century A.D. as a source of chalk. Rediscovered in the 18th century, they make remarkably effective wine cellars, eternally cool and humid at the natural 12C temperature of the earth some 35 meters (well over 100 feet) below ground.
After a long, chilly hike past bottles gently aging (and more being "riddled" to nudge their yeasty sediment down toward the neck in old-fashioned racks called "pepitres"), we ended up in a tasting room where four of Ruinart's range of wines had been poured for us in advance. This was unfortunate in a way, as the wines' effervesence had dissiptated a bit by the time we arrived, although the wines were still well carbonated.
Champagne Ruinart Blanc de Blancs €37
Pale gold, yeasty apple aromas. Prickly and creamy mouthfeel, appley and tart, clean and long. Good non-vintage bubbly.
Dom Ruinart 1993 €100
Clear gold, richer in color than the non-vintage. A lasting stream of pinpoint bubbles persists despite the early pour. White fruit, almonds and hazelnuts offer a refined and appetizing aroma profile; steely acidity braces a long, clean flavor.
Champagne Ruinart Rosé €37
Clear salmon color. Delicate red-berry fruit in the aroma; soft and frothy mouthfeel, cherry-berry flavor, unsually fruity for a Champagne.
Dom Ruinart 1990 Rosé €125
Coppery bronze "onion skin" color. Leathery and nutlike aromas, softly carbonated, earthy and rich, with chalky minerality in the finish; quite reminiscent of a good, aged Burgundy but with bubbles.
Veuve Cliquot Ponsardin
Nineteenth-century carvings in the chalk walls of Cliquot's caves.
Founded in 1772 by Philippe Cliquot, who inherited 5 hectares of vineyard land from his grandmother, this historic Champagne house is best known for his wife and widow ("Veuve"), who inherited the property in 1805 and, blithely ignoring the conventional wisdom of the day that women had no place in business, ran it and developed it into a leading producer over the ensuing 61 years.
Now - like Ruinart and Moet et Chandon, where we'll visit tomorrow, it is a property of the luxury-products conglomerate Louis Vuitton-Moet-Hennessey (LVMH). Veuve Cliquot Ponsardin's trademark tangerine colors fly over 382 hectares of vineyards throughout Champagne, enough to grow about 40 percent of its production. Like the other larger houses, it purchases grapes from individual growers to make the rest.
Veuve, too, boasts extensive underground chalk caves built by the Romans - fully 24 kilometers of them, a maze of galleries, many named in the honor of employees who retired with 40 years or more of service.
Our tasting here proved to be a special wine-enthusiast treat: In addition to offering tastes of Veuve's regular bottlings, wine maker and wine communications manager Frédéric Panaïotis (a native of the Loire Valley, trained in winemaking in Dijon) took us into the winery laboratories for a "components tasting" of the three Champagne grape varieties of the 2003 and 2002 vintages made as still wines, as well as a characteristic Champagne blend of the three wines as a still wine, before secondary fermentation introduces the trademark bubbles.
Here are my notes on the components, followed by Veuve's commercial wines.
2003 Pinot Meunier
Pale straw color. Very appley aromas; crisp, appley, fruity and tart, but not unusually acidic by the standard of Champagne.
2003 Pinot Noir
From Bouzy, a center of Pinot production. Very pale brass color. Citric, lemon and grapefruit; surprisingly dry tannins.
Winemaker Frédéric Panaïotis points out the Champagne growing regions.
2003 Chardonnay
This component wine came from the famous Les Mesnils Sur Oger vineyard. Apples and tropical fruit aromas and very ripe, concentrated and
sweet
pineapple flavors made this a rather attractive still Chardonnay in its own right. "Do you like it?" Panaïotis asked. When several of us nodded affirmatively, he responded with a smile. "That's a big problem. The fact that you like it is not a good sign. To make a good Champagne, the still wine needs to be lean, acidic, harsh." So, he said, thanks to the super-hot summer that yielded overripe grapes over much of France, there will most likely be no Grande Dame this year, the Veuve Cliquot "
tete de cuvéee
" that is produced only in excellent vintages and was last made in 2000. Veuve's wine makers are still undecided, he said, but based on the soft ripeness of the Chardonnay, if they do decide to produce a 2003 Grande Dame - a decision that was to be made in the first week of June 2004 - it will contain less Chardonnay than usual, perhaps one-fourth of the blend rather than the customary one-third.
2002 Pinot Noir
Clear, pale straw color. Apples, citrus and spice; rich texture, citric fruit and prickly tannins. From Bouzy.
2002 Chardonnay
Clear light gold. A bit closed, apples and lemons, searing acidity.
2002 Blend for Yellow Label
This is a blend of 50 to 55 percent Pinot Noir, 15 to 20 percent Pinot Meunier and 25 percent Chardonnay, with fully 51 percent of the blend composed of "reserve" wines saved from previous years - 10 to 15 percent reserve is normal in most non-vintage Champagne. This wine, which will go through the Champagne refermentation process, will be released as Veuve Cliquot Ponsardin's non-vintage Yellow Label Champagne late in 2006. As a still wine, it shows a balance and flavor interest that the single-varietal samples lacked. Apples and melons and spice add a whiff of mocha on the nose; mouth-filling fruit flavors are quite acidic, but juicy fruit makes it quite palatable even as a still wine.
Now we turn to Veuve's commercial wines on current sale:
Champagne Veuve Cliquot Pondardin Brut "Yellow Label"
Pale greenish-gold, it shows a persistent stream of small bubbles under a lasting mousse. Biscuit, toast, apples and cocoa come together in a delicious aroma; crisp and tart, cleansing and long. Although I remember being a bit disappointed with Yellow Label on commercial sale in the U.S. in recent years, this sample tasted at the winery is very fine, with the good body and Pinot Noir character that I like in my bubbly.
Champagne Veuve Cliquot Pondardin 1990 Brut "La Grande Dame"
The tasting had officially ended with the Yellow Label, but we all got on so well with Fred that he couldn't resist going back to the cooler for a special treat to finish: A magnum of the 1990 Grand Dame. A clear pale brass colored wine with a lasting pinpoint bubble stream and persistent mousse, it breathes delicious and classic older Champagne aromas of brioche and buttered toast lead into a full, creamy and structured flavor of fresh apples and mouth-watering acidity, opening up with time to a distinct note of lemon curd. A great wine, remarkably youthful, and it probably goes without saying that there wasn't much spitting or dumping going on.
Dinner at the Hotel Royal Champagne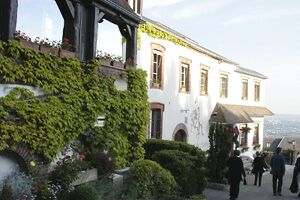 A short drive over to Epernay brought us to our hotel, the comfortable and stylish Royal Champagne, which boasts extremely large modern rooms lined along a hilltop overlooking vineyards and the village. If it fits your budget (or you're fortunate enough to stay as part of a French Wine Explorers tour), it's a great place to serve as home base for a visit to the Champagne region. We would dine tonight and tomorrow at the hotel's dining room, which is said to own one Michelin star but frankly isn't up to that exalted level in my opinion. Although it's very comfortable and shows flashes of genius (like the oxtail savarin below), we encountered were too many fare and service lapses to justify stellar ratings. (In its marginal defense, there did seem to be some issues of inexperience in dealing with a single table for a group our size, but a highly rated restaurant ought to be able to handle that.)
With amuse bouches of dry cured ham, strips of puff pastry and dabs of creamy herbed farmer cheese on tiny toast rounds, and an egg-cup-size bowl of cold melon soup with ham:
Chateau Jacquart Brut Mosaîque
Pale gold. Frothy mousse falls back fast. Appley, clean and fresh.
With Savarin de queue du boeuf et aromates braise a brun, oeuf de caille poche, bouquet de mesclun, vinaigre a la moutarde violette, pain de campagne toasté
Thierry Hamelin 2002 Petit Chablis
White wine with beef? It works with this seductive oxtail dish, perhaps because the beef is long-simmered and shredded, reassembled in a "turban" wrapped with long paper-thin slices of carrot. The wine is simple but fresh, crisp and clean and redolent of ripe cooking apples.
With râble de lapin fermier en rognonnade, roti en cocotte, fricasse de legumes et pommes en copeau sautées a cru, un jus de cuisson parfume a la sauge.
Domaine de Grangeneuve 1999 Coteaux du Tricastin
A hearty, Syrah-based Southern Rhone red might seem too robust for rabbit, but this country Champagne dish stood up to a rather tough and chewy bunny quite nicely. Inky dark purple, big and peppery, plummy and warm black fruit.
Brie de Meaux sur Toast with a mesclun salad followed, then for dessert riz au lait au caramel moulé, crumble aux eclas de pignons de pin, carambar en creme glacee and mignardise.
SATURDAY
A full day of wine touring wrapped up our week of wine, with two visits to artisanal producers in villages offering an entirely different perspective on Champagne than the large luxury houses in Reims and Epernay.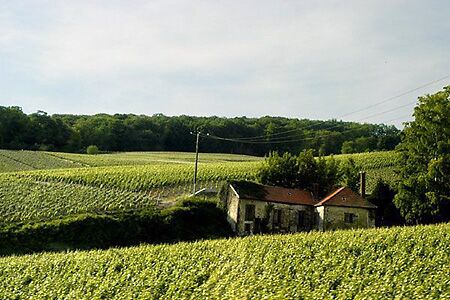 Vineyard vista in the valley of the Marne
Champagne Tarlant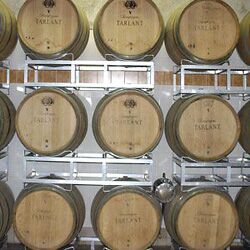 Oak barriques - an uncommon sight in Champagne - hold some of Tarlant's high-end wines.
A few miles west of Epernay, high on a hillside above the Marne River valley, Benoit Tarlant - the son of a multi-generational Champagne-producing family in the village of Ouilly, greeted us warmly and took us straight to the cellars.
Although you'll find no galleries of chalk caves here, Tarlant has managed to excavate into the hillsides sufficiently to provide cool underground storage for its 100,000-bottle annual production (which is small by Champagne standards). The family owns 9.1 hectares of Pinot Noir and Pinot Meunier vines and 3.1 hectares of Chardonnay, and in a procedure a bit unusual for Champagne, ferments part of its production in oak barrels before the Champagne process begins.
As independent wine growers, he said, Tarlant sells none of its grapes to the major houses, and it buys none from other producers: Its wines are estate-bottled, made entirely from fruit grown in its vineyards.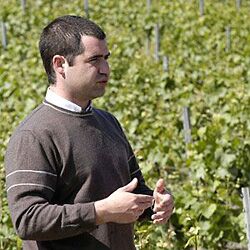 Benoit Tarlant
We tasted Tarlant's three current wines:
Champagne Tarlant "Brut Zero"
Clear straw color. Very complex, apples and honey and characteristic "biscuity" aromas. Bone-dry ("Brut Zero," a rare style, has no sugar added in the dosage) and crisply acidic, it's an intense Champagne.
Champagne Tarlant "La Vigne d'Antan" Blanc de Blancs Extra Brut
A new product from Tarlant, this is an all-Chardonnay blend of 1999 harvest grapes and 1998 reserve wine made entirely from ungrafted grapevines - not "pre-phylloxera" but made from a vineyard planted on its own vitis vinifera rootstock in 1961 on sandy soil that won't support the vine-destroying plant louse. Pale greenish-gold in color with a lasting mousse, it offers lovely apple and white flower aromas; creamy and rich, apple and lemon flavors are very well balanced and refined.
Champagne Tarlant Cuvee Louis Brut
Not a vintage wine but Tarlant's top-end cuvee, it's half-and-half Pinot Noir and Chardonnay from selected vineyards with grapevines averaging 50 years old; it's 100 percent barrel fermented, a blend of 1995 harvest grapes and 1994 reserve wine. Golden in color, it offers a relatively scanty mousse but persistent pinpoint bubbles. Honey and hazelnut and a hint of vanilla make an appetizing aroma, and the fiavors are first-rate: Creamy and rich, steely acid and chalky minerality.
WEBSITE: http://www.tarlant.com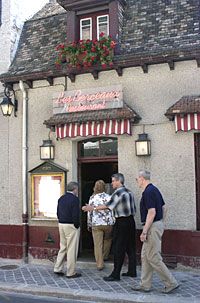 Lunch at Le Berceaux in Epernay
Midday brought another exceptional lunch as we drove back in to Epernay and restaurant Le Berceaux.
A stylish amuse bouche caught both the eye and the palate: Two tiny glasses, a shot glass and a baby snifter, respectively contained crayfish and a few strands of al dente wheat pasta in an Asian-accented sauce of white miso and ginger, and sushi-style tuna dice in gingered sake with a few tiny spring peas; a stick of toasted puff pastry and a cheesy gougere made a more traditional garnish.
These Pacific Rim goodies cried out for wine, but unfortunately it didn't come until the next course, millefeuille de tomate, a wonderful construction of tomato confit (thin, peeled slices of perfectly ripe tomato marinated in olive oil) layered with a creamy, sweet crab salad and artfully plated on a mild, exotic curry flavored cream.
J. de Telmont 2002 "Insolite" Coteau Champenois Chardonnay
The still wine of Champagne, rarely seen outside the region, this is akin to the still Chardonnay that's more usually fermented in the bottle as part of the Champagne blend. Brilliant gold, it offers apple butter and creme brulee, showing significant presence of oak. Minerals and acidity bring structure to lemony white fruit and butter flavors. It's quite "New World" in style, but Champagne minerals and acid save it.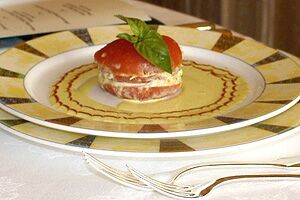 Millefeuille de tomate
With a butter-tender pavé of Charolais beef, lean and
saigné
with a sweet Pinot Noir reduction and a delicious mix of tiny quartered potatoes and mushrooms and buttered spring vegetables, followed by Reblochon cheese, blue-veined Camambert and a Gruyere-like buffalo-milk cheese from the cheese tray:
Patrick Javillier-Guyot 2000 Pernand-Vergelesses
Ruby, not overly dark. Red fruit aromas, vanilla and spice; juicy and tart flavors, a wisp of tannin; developing good earthy notes.
Desserts followed, including a variety of small treats and a dessert amuse, a trio of chocolate, coffee and pistachio ice creams layered in a shot glass with coffee chantilly piped on the top.

Da Sousa
After lunch, we enjoyed a visit to a second artisanal producer, Erick da Sousa, who with his wife Michelle operates a small but respected winery in the village of Avize on the Côte des Blancs. They produce just 60,000 bottles annually from 8;5 hectares, many of them in 60-plus-year-old vines. They grow all their own grapes including all three classic varieties, but Chardonnay predominates as is the custom on the Côte des Blancs. Since 1999 their growing has been entirely biodynamic (an extreme form of organic farming), and they use oak barrels for a few of the old-vine batches that De Sousa feels show sufficient concentration to stand up to oak. (His top wine, called "Caudalie," the French wine-tasting term for "finish" or "length" of aftertaste in wine), is made entirely from old vines, oak-aged wine, an assemblage of vintages that includes every harvest from 1996 to 2003.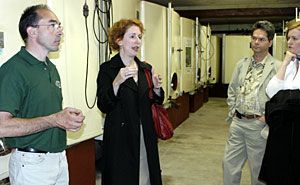 Lauriann Greene translates for Erick da Sousa during a tour of the winery.
Champagne da Sousa & Fils Tradition Brut
(€17.50)
Made from 2000 harvest grapes with reserve wines from 1999 and 1998, it's 50 percent Chardonnay, 40 percent Pinot Noir and 10 percent Pinot Meunier. Brilliant gold, it shows a powerful fountain of bubbles in the glass. Delicious apple and biscuit aromas lead into ripe apple flavors, full and tart, creamy and long.
Champagne da Sousa & Fils Brut Réserve Grand Cru (€22)
Made from 100 percent Chardonnay, it's a pale-brass color. Prickly white fruit and floral perfume yields a delicious, creamy, structured and balanced flavor with chalky mineral character in a long finish. Outstanding.
Champagne da Sousa & Fils Cuvée des Caudalies (€35)
100 percent barrel-fermented Chardonnay, an assemblage of wines from 1995, 1996, 1997, 1998, 1999 and 2000, it's light gold in color, but a musty, damp-basement character reveals that the wine is corked. De Sousa apologizes, dumps the wine, but doesn't offer another. Rather, we go upscale to finish with:
Champagne da Sousa & Fils Cuvée des Caudalies Millesime 1999 Grand Cru (€58)
Pale greenish-gold. Biscuit, apple, fig and date aromas; creamy and rich on the palate, lemons and apples. Delicious, and remarkably priced in competition with other tete de cuvée Champagnes at this quality level.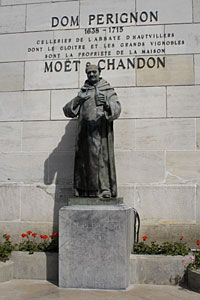 A statue of Dom Pierre Perignon greets visitors to Moët et Chandon's Napoleonic-era headquarters in Epernay.
Moët et Chandon
Finally, we wrap up the week with a visit to one of the biggest names in Champagne: The historic house of Moët et Chandon, founded in 1743 by Claude Moët. The family's forbears were Dutch, and the name to this day is pronounced "Mo-ett," in the Dutch fashion, not the French-sounding "Mo-ay."
Moët et Chandon in general and its flagship wine Dom Perignon in particular have become all but synonymous with luxury consumption, not unlike other high-end brands (like Rolex and BMW) that many seek as much for the brand image as the product itself. But Moët's quality is indisputable, and a visit to its stately premises is not to be missed when you're in Epernay.
Our courteous and helpful guide, Sophie Piquet, walked us through a representative sample of Moët's 28 kilometers of cellars, which - unlike the houses in Reims - had no ancient Roman excavations to take over but had to be dug out by the winery's own workers over a 150-year period during the 18th and 19th centuries.
After our tour of the facilities, we adjourned to a sunny, landscaped garden for a tasting served by Henri Glowacki, one of Moët's staff sommeliers.
Moët et Chandon 1998 Champagne Millesime Blanc Brut
Pale brass, with a rather lazy bubble fountain. Apples and a lemony tang on the nose and palate; smooth. A blend of 50 percent Chardonnay, 45 percent Pinot Noir and 5 percent Pinot Meunier.
Moët et Chandon 1996 Champagne Millesime Rosé Brut
Pretty light bronze ("onion skin") color, with a slight bubble stream. Its aroma is rather faint, with a hint of bubble gum. Tart and prickly on the palate, it's not really showing well.
Moët et Chandon 1996 Champagne Dom Perignon Brut
Pale gold in color, with abundant, lasting streams of bubbles. A bit of sulfury funk on first pouring blows off quickly to reveal clean apple scents. Creamy, fresh and crisp on the palate, balanced and elegant if not overly complex. It's certainly drinkable now, but Dom Perignon, like most high-end vintage Champagnes, will reward the patient collector with increasing richness and complexity after several years of careful cellaring. Still, Sommelier Glowacki was refreshingly, almost startlingly, candid: "'96 is not the best vintage."
Dinner at Hotel Royal Champagne
Back to the hotel for dinner, the tour group's farewell session in the Hotel Royal Champagne's dining room.
With amuses bouches, smoked salmon on toast rounds, puff pastry bites and thin wedges of spinach quiche, followed by an espresso cup of cold soup that appeared to be a cucumber cream accented with a dash of cayenne, and the first course, tuilé de poisson de roche aux tomates confites et courgettes, vinaigrette de soupe, aioli et pain toasté, an appetizing construction of three thin slices of fish layered with confit-style tomato slices and wrapped in thin-sliced zucchini:
Champagne Philipponnat 1998 Grand Blanc
Golden color. Crisp and appley, fresh and clean.
With tournedos de sandre en mousseline et legumes tendres, moelleux de persil, tomates nicoises et pommes palet, sauce Champagne, a steak of delicate, white freshwater fish napped in a Champagne cream and served with vegetable accompaniments:
Charles de Cazanove 1995 "Stradivarius" Brut
Golden color. Fruity, crisp and mouth-filling, hints of almond add complexity to a full-bodied wine with a very long finish.
With "fromages de nos provinces":
René Geoffroy Champagne Premier Cru Rosé de Saignée Brut a Cumières
Pretty rosy pink color. Shy on bubbles, but bold on the nose, lovely forward berry fruit. Crisp, prickly, fruity and tart, an excellent match with three fairly mild cheeses.
Dessert: millefeuille caramélisé aux pommes, creme légere, and mignardises.
Back to Paris and home
Back to Paris Sunday morning, a drizzly two-hour ride through the Marne Valley from Champagne. Happily, the sun came back out just about the time we reached our hotel, and we spent a quiet afternoon unwinding and strolling around the Left Bank. A take-out lunch of falafel on crisp warmed pita from a Lebanese hole-in-the-wall ... a walk through the Jardin des Plantes, a botanical garden with a very 19th century feeling ... and dinner at a random spot on rue de Pot de Fer, a pleasant if rather touristy stretch of sidewalk cafes more noteworthy for quiet Paris-watching than memorable dining. An early wakeup on Monday morning, no problems at Charles de Gaulle airport despite the previous week's Terminal F disaster, a routine trans-Atlantic flight, and now we're home, full of good food, wine and memories.
Burgundy/Champagne Diary 2004 Index

Previous day's report

Interested in our 2005 tour of a French wine region?
Contact me by E-mail at wine@wineloverspage.com and I'll send you a personal invitation when plans are set.



<!- Page Contents End Here ->