The Côtes de Beaune (Thursday, May 27)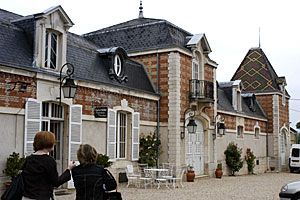 Chateau Génot-Boulanger's tower roofs sport the traditional Burgundian lacquered tiles.
Having spent the first day in Burgundy exploring the Côtes de Nuits north of Beaune and the second in Beaune proper, we turned our attention (and the bus) in the other direction on Thursday, heading south from the village for visits to several producers on the Côtes de Beaune. The northern end of this district (closest to Beaune) is known best for its red wines produced around the villages of Volnay and Pommard. (Those who like to generalize often say that Pommard reds are powerful while Volnay reds show more finesse, but I find Burgundy too subtle for such broad generalities.) A bit farther south is white-wine country around Meursault, a village so completely constructed from the local chalk that even the streetscape looks the palest tan.
Chateau Génot-Boulanger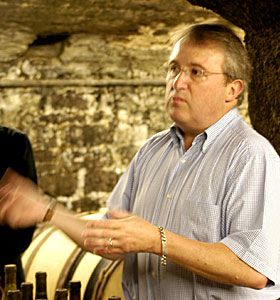 François Délaby-Genot
Following an early post-breakfast start, the genial François Délaby-Genot made us welcome at Chateau Génot-Boulanger, his family's winery on the slope above Meursault, founded by his grandfather in 1974. Génot-Boulanger owns 27.5 hectares (about 66 acres) in 92 Côtes de Beaune vineyards scattered from Chambolle to Mercurey.
We enjoyed tasting six of his wines on a sturdy table set up in the cellar.
Chateau Génot-Boulanger 2000 Mercurey "les Bacs"
Pale gold. Pineapple and lemon aromas with hints of spice and a back note of creme brulee. Fruity, crisp but not piercing; hint of lactic flavor, just a whiff of dairy. Complex and balanced.
Chateau Génot-Boulanger 2000 Meursault "Clos du Cromin"
Toasty, smoky, chestnuts and a whiff of butter. Nicely balanced, rich yet steely, complex.
Chateau Génot-Boulanger 2000 Chassagne-Montrachet "Les Chenevottes" 1er Cru
Light gold, transparent. Tropical fruit aromas of pineapple, figs and dates, with some presence of oak. Rich, mouth-filling and creamy, but a steely acidic backbone provides balance and subtle minerality adds complexity. Very fine wine.
Chateau Génot-Boulanger 2000 Mercurey "Les Saumonts" 1er Cru
Light cherry red. Red fruit aromas are backed by herbaceous and pleassantly earthy notes. Spicy and structured, sweet fruit and snappy acidity on the palate with an attractive dash of white pepper.
Chateau Génot-Boulanger 2000 Beaune-Grèves 1er Cru
Clear garnet. Red fruit, earth and a tangy lactic aroma accent; snappy acidity holds up juicy cherry-berry fruit and spice flavors; drying tannins appear in the finish.
Chateau Génot-Boulanger 2000 Corton Les Combes Grand Cru
Dark cherry color. Good earthy aromas and fresh red fruit. Concentrated, balanced flavors, raspberry and cherry and snappy lemon-squirt acidity; smooth, elegant tannins. Délaby-Genot says to hold it 15 years in a good cellar, five years in a not-so-good cellar.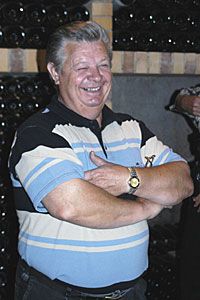 "Round and well padded" - Morey's friendly proprietor.
Bernard Morey
Both Délaby-Genot and our host at the next stop, Bernard Morey, delightfully uphold the stereotype of Burgundian wine producers as jovial, hearty farmers, more inclined to laugh than to lecture. Morey, who loves to draw guffaws by likening himself to his wines - "round and well padded" - demonstrated that point by leading us through a tasting of 10 of his wines.
He owns 15 hectares (over 35 acres) of vineyards in and around Chassagne-Montrachet, and purchase the production of another 5 hectares to make a total of 10,000 cases of wine in an average year, about 60 percent of it white. About two-thirds of his wine is exported, about 20 percent to the U.S. (Entreated by Canadians in the tour group, he allowed as how it "gives him pimples" to export to Canada, where he's opposed to the provincial liquor control authorities operating as monopolies.)
Here's my report on his wines:
Morey 2002 Bourgogne Pinot Noir
Clear garnet. Pretty Pinot scent, floral red fruit. Simple but nicely balanced, fresh fruit and mouth-watering acidity; a hint of tannins and just a homeopathic whiff of white pepper in the finish.
Morey 2002 Chassagne-Montrachet Rouge
Dark garnet. Pure cherry fruit, dry and tart. Good balance, smooth but substanta\ial tannins call for cellar time.
Morey 2002 Chassagne-Montrachet "Clos Saint-Jean" 1er Cru
Dark garnet. Cherries and anise aromas, pure if a bit restrained; tight and closed with youth. Flavors are similar but more forward, fill the mouth with ripe, concentrated tart cherry fruit. Tannins are obvious, but silky smooth.
Morey 2001 Chassagne-Montrachet
Funky reductive aromas with a sulfury burnt-match pungency at first, but this quickly gives way to cherry fruit and smoky charred-oak characteristics; ripe fruit, leather and spicy oak jostle on the palate, with green tannins showing in the finish.
Bernard Morey's farmhouse domaine.
Morey 2002 Chassagne-Montrachet Blanc
Clear straw color. Ripe juicy apples on the nose; more tropical in flavor, pineapple and a hint of toasted coconut followed by attractive minerality.
Morey 2002 Chassagne-Montrachet "Les Baudines" 1er Cru
Pale gold. Tropical, pineapple aromas lead into ripe, full and juicy tropical-fruit flavors, mouth-filling and luscious, built on acidity and minerals for structure.
Morey 2002 Chassagne-Montrachet "Les Embrazées" 1er Cru
Pale gold. Pineapple and figs, subtle and complex aromas. Intense and concentrated in flavor, apple butter and spice, minerals and firm acidity. Excellent structure.
Morey 2002 Chassagne-Montrachet "Morgeot" 1er Cru
Golden. Pineapple, honey and hazlenut in a complex and appealing aroma. Ripe and rich fruit, juicy and luscious, but there's plenty of acidity for balance. Delicious, makes you want to gulp it.
Morey 2001 Chassagne-Montrachet "Morgeot" 1er Cru
Pineapple and stony minerality. Luscious, juicy tutti-frutti, acidic structure beneath, but lush fruit is the predominant character.
Morey 2002 Chassagne-Montrachet "La Maltroie" 1er Cru
Apples and pineapple, buttred toste and subtle smokiness. Ripe, buttery and luscious fruit, very rich, with acidity emerging in the finish.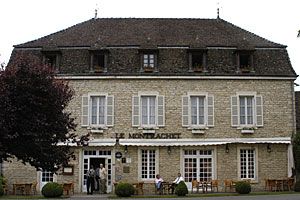 Lunch at La Montrachet in Puligny-Montrachet
Suddenly it was time for lunch, and there we were with reservations at La Montrachet (pictured) in Puligny-Montrachet, 3.80.21.30.06, Website http://www.le-montrachet.com. A first-rate establishment and a memorable meal ... the consistently high level of quality restaurants in France rarely fails to amaze me.
With gougeres, shrimp golden-fried in a spicy, light, tempura-style better, a "moderne" amuse-bouche of tiny shot glasses filled with a salmon mousse and sprigs of wild asparagus, and a traditional Burgundian first course, jambon persille:
Domaine Roux Pere & Fils 2002 Saint-Aubin La Ducelle
Clear straw color. Crisp apple and snappy lemon, crisp and acidic, with a chalky minerality beneath.
With the main course, dorade with crisp fresh fennel and a frothy cream sauce:
Domaine Jean Pascal & Fils 2001 Puligny-Montrachet
Pale gold. Toasty and subtle, full body and steely acidity in good balance.


Domaine Prieur
More good things followed lunch, with a stop at Domaine Prieur in Meursault, where proprietor Martin Prieur offers a clear graphical representation of his 20 properties with a large map and row of (empty) bottles, each attached by a length or red or green yarn (for red or white wine) to a pin showing each vineyard's location. (Pictured above.)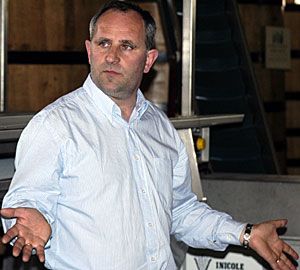 Martin Prieur
He generously opened several 2003 barrels for tastings of the hot-summer vintage, including several samples of '03 whites, which like the '03 reds show a rich, concentrated, relatively low-acid character that's easy to like even if it invites comparing-and-contrasting with California Chardonnays.
Domaine Prieur 2003 Beaune Champs Pimont 1er Cru
Pear nectar aroma, amazing. Ripe and juicy pear and apple flavors, full body, good acidity, significant residual sugar. M. Martin says the wine was harvested one month earlier than usual, amid concerns that fast-ripening white grapes under this unnatural heat would yield a low-acid wine lacking freshness. He's happy, now, but says he'll likely rack it from the barrels right after the French vacation period in August, close to a year earlier than usual.
Domaine Prieur 2003 Puligny-Montrachet Les Combettes 1er Cru
Ripe, juicy apples on the nose and palate, framed by sweet, spicy oak. The oak isn't yet integrated, but it's easy to taste past it to find a tasty, fresh and powerful wine, not quite as over-the-top as the Champs Pimont.
Domaine Prieur 2003 Beaune Clos de la Feguine 1er Cru
Dark garnet in color, its jammy, dried-fruit aromas are markedly figgy; big and powerful, it's almost reminiscent of a big Zinfandel on the palate. Not overly acidic, but substantial substitutes fill in the supporting role in its structure.
Domaine Prieur 2003 Volnay Clos des Santenots 1er Cru
Dark garnet. Very raisiny, dark and juicy; concentrated dried black fruit. Intense, deep black-fruit flavors are accented by anise and lemon juice in a wine of noteworthy concentration and length.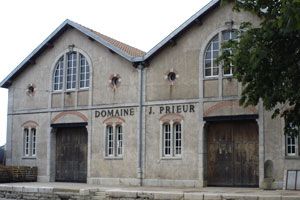 Domaine Prieur
Domaine Prieur 2003 Echezeaux Grand Cru
Ruby-violet. Beautiful scents of cherry, roses and spice are delicate, not overwhelming. Ripe and balanced and very, very long. Although a young barrel sample, it's already a delight, and Prieur notes that the Côte de Nuits, having less of an extreme heat problem in 2003 than the Côte de Beaune, is "almost classic." After Cotetidot I'm not so certain about that, but this Echezeaux is certainly impressive.
More unbottled tastings, three Grand Crus from the 2002 vintage, to be bottled this summer:
Domaine Prieur 2002 Corton Bressandes Grand Cru
Dark garnet, a delicate and complex bowl of red fruit. Full and balanced, delicious in flavor; market acidity and marked but palatable tannins. Now in tank, to be bottled in July, but Prieur recommends holding it for at least three years before drinking.
Domaine Prieur 2002 Clos Vougeot Grand Cru
Very dark for a Burgundy. Brooding black fruit and complex "forest floor" on the nose. Beautiful "sweet" red-fruit flavors over cleansing acidity. Tannins substantial but very fine and smooth; even so, he says he'll conduct a "very light" fining before bottling to ameliorate some of the tannic astringency.
Domaine Prieur 2002 Musigny Grand Cru
Dark violet in color. Red fruit and aromatic floral aromas, heady and intense. Mouth-filling and ripe, sweet fruit and mouth-watering acidity in good balance. to be bottled in 1 1/2 months without filtration or fining; showing very well already.
Chateau de Pommard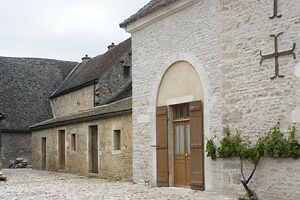 The new (restored section at right) meets the old as renovation progresses at Chateau de Pommard.
The final stop of the afternoon came at a well-capitalized, impressive winery where corporate owners are extensively restoring the 1726-built Chateau de Pommard to house a luxury hotel and restaurant as well as a winery carrying on the Chateau's historic label. The producer has 18 hectares of vines that they call "traditionally grown," using such old-fashioned techniques as horses in the vineyards rather than tractors. (The natural cultivation by the horses' hooves - and perhaps their droppings as well - are said to be good for the vineyard soil."
It's an impressive facility, but I can't honestly say that the wines ranked among the day's best. Both the high-end Chateau de Pommard (which will sell at the winery for €39) and the just-plain Pommard (younger vines, €22) struck me as straightforward, middle-of-the-road, but lacking excitement.
2000 Chateau de Pommard
Clear ruby. Floral, red-fruit aromas are subtle and complex. Sweet red-fruit flavors are borne on snappy acidity, with a rather drying tannic finish. Young.
1997 Pommard "Les Chantreries"
Light ruby, not much darker than a rosé. Sweet red fruit and leather aromas and bright wild-cherry flavor, crisp acidity and rather bitter tannins in the finish.

Dinner at Lameloise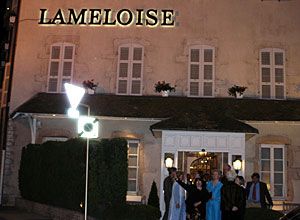 Dinner this evening was a highlight of the trip, a leisurely, evening-long meal at Lameloise in the Côte de Beaune village of Chagny, a recipient of Michelin's top three-star rating, widely ranked among France's best. We dressed up for dinner, brought a lot of excited anticipation to the table, and enjoyed a flawless meal. (Well, almost flawless. I also brought a restaurant critic's perfectionist toolkid and spotted two or three very minor nits and glitches, hardly worth mentioning except for hard-core foodies or the neverending quest for perfection. For those who fit this category, feel free to check my "food critic's footnote" at the end of this page.)
A remarkable series of amuses bouches came first: Crayfish wrapped in a tiny roll of thin-sliced carrot stuffed with a fine julienne of carrot, cucumber and scallion on a tiny fluted paper cup, a remarkable combination of flavors and textures; a gougere with a college education, a feather-like puff-pastry square dotted with poppy seeds and sandwiched with a root-vegetable puree; and a white ceramic Chinese spoon bearing a tightly rolled slice of dried beef and a tiny sprig of flatleaf parsley on a tangy white puree, plus rustic, pale-tan baguettes and crusty country bread. Then, with an appetizer of two chilled rounds of tender foie gras poached in red wine and artfully served with a bit of terrine, field greens, fig marmalade and a swash of trumpet mushroom puree with warm, crusty slices of pain grillé:
Jean Thévenet 2000 Domaine de la Bongran Macon-Villages Cuvée Tradition E.J. Thévenet
Despite the downscale appellation, this is one of the most sought-after Macons, a rich and complex White Burgundy capable of competing at a much higher level. Golden in color, it breathes a scent symphony of apples, almonds and honey; full and tart, quite rich on the palate, with a slight edge of fresh-fruit sweetness that makes it a natural with foie gras. (Here Lauriann and Jean-Pierre showed their skill as sommeliers, making this choice in place of the more customary Sauternes; it worked well with the meat and was much easier to follow with other wines for the other courses than a dessert-style wine would have been.)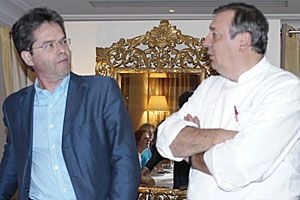 Tour co-director Jean-Pierre Sollin (left) introduces Chef Jacques Lameloise.
The next course featured fish, bar doré sur sa peau en éailles, a boat-shaped piece of tender white sea bass with an edible "sail" of fried eggplant sliced paper-thin,, held up on a mast of toasted vermicelli, set sail on a sea of tiny mixed-vegetable brunoise with a light olive-oil and balsamic vinaigrette.
Domaine Joseph Matrot 1999 Puligny-Montrachet 1er Cru "Les Chalumeaux"
Pale gold. Its aroma was somewhat closed at first, an effect exaggerated by it being served surprisingly cold. It emerged from its shell with airing and warming, however, unvealing a rich, full tropical flavor in a wine that seemed more powerful than the 13.5 percent shown on the label.
Another amazing amuse followed, a small cocktail glass artfully filled with three colorful layers: Coarsely grained tomato sauce, tender lobster and a silken smoked-salmon chantilly, dotted with roe and garnished with a sprig of fresh dill. Then the main course, filet d'agneau aux herbes fraîhes cuit dans sa croûte de feuilletage, a rare piece of tender boneless lamb with a herb pesto in the center, wrapped in puff pastry and served on a veal reduction with an artful swash of sage oil, garnished with roasted garlic, forest mushrooms, and an artful, bite-size short stack of thin-sliced potato, eggplant, zucchini and tomato garnished with a tempura-style fried sage leaf. The accompanying wine:
Jean Boillot & Fils 2000 Volnay 1er Cru "Les Chevrets"
Sweet red fruit and earthy leather make an appealing and complex aroma mix; tart-cherry fruit and tangy acidity appear in balance in the flavor, young but drinking very well.
With fromages selected from the cart (I went with bites of Brillat-Savarin, Citeaux, Epoisses and a farm chevre from the Maconnais, served with fruit and nut breads and red table grapes:
Domaine François Lumpp 2000 Givry Premier Cru "Crausot"
Straw color. Fresh apple scent seems a bit simple, but its delicious flavor offers a greater dimension, juicy and fresh, apples and sweet meyer lemons and chalky minerality, clean and long, with a shimmering citric tang in a clean and very long finish.
Desserts followed in what seemed an unending stream: The formal dessert course, griottines au chocolat noir et leur sorbet sur une marmelade d'oranges, a deep, dark tart-cherry puree wrapped in bite-size envelopes of toasted pastry, accompanied by an easter egg of rich chocolate sorbet, candies, fresh fruit and a dollop of marmalade, was only one stop along this sweet road, which also included a dessert amuse, an ice-cold ball of creamy coffee ice cream in a frozen shot glass ... and an endless stream of mignardise, tiny bite-size sweets, chocolates and pastries, just in case you still have room. And espresso, of course ... and ... where did the evening go?
A FOOD CRITIC PICKS A FEW NITS:
When I'm wearing another of my professional hats as a restaurant critic in Louisville, I don't let the joy of an excellent meal and service keep me from appropriate criticism when it comes to a critical review, and it's only fair to Lameloise to offer it the same respect. So, in the course of a truly memorable meal that was world-class by every standard, I couldn't help jotting down a few minutiae that served as beauty marks on the face of an otherwise perfect meal:
Although the servers greeted everyone with a friendly "Bon soir, monsieur, bon soir madame" on our arrival, we were left to seat ourselves. Not that I need the help pulling out my chair, it seemed a bit odd not to have servers attending as we took our seats and napkins at a three-star eatery.
My wife nearly dumped a wine glass when she discovered a 1/2-inch misalignment between tables at her place, a fault line that was masked by heavy damask until she tried to put down the glass on an unexpectedly uneven surface.
Water wasn't promptly delivered at first.
White wines were served surprisingly cold ... the whites required time and palm-holding, snifter-style, to warm up enough to show their stuff. I found this bizarre in a Michelin three-star and idly wondered if they had done it as a "special service" to Americans, not knowing that our group was about two-thirds Canadian.
Service flagged suddenly and perceptibly about halfway through the meal ... I'm guessing another large party arrived and suddenly stretched the service staff thin. Water and bread refills stopped coming, without explanation or apology.
AND OFFERS PRAISE WHERE IT'S DUE:
Minor matters? Of course they are. This was one of the most memorable dinners of my life, and I've had some good ones. But when a restaurant earns three stars and rests on an exalted reputation, it invites the closest scrutiny, or so it seems to me.
On the other hand, Lameloise stood fully up to its exalted reputation for the highest quality ingredients, prepared with eclectic innovation and loving care, a very broad cellar, and, except for the few issues mentioned, highly professional service. After first determining your preference for still or sparkling water, they would unerringly make the correct choice when topping off your glass. Does a diner suffer a food allergy or even a mere preference? An offending dish is whisked away discreetly and replaced with something just as good - a lovely green-pea mousseline with a bacon chantilly, for instance, to substitute for a lobster-hater's amuse. Small touches mean a lot, and Lameloise delivers.
This feast concluded our 3 1/2 days in the Burgundy region on a very high note indeed. Tomorrow morning we would be off early to Champagne for a quick two-day tour of another top French wine region.
Burgundy/Champagne Diary 2004 Index

Previous day's report | Next day's report

Interested in our 2005 tour of a French wine region?
Contact me by E-mail at wine@wineloverspage.com and I'll send you a personal invitation when plans are set.



<!- Page Contents End Here ->