Two Beaune Negociants (Wednesday, May 26)
After two intense days of morning-to-midnight food and wine, a little break was welcome, and participants took advantage of a morning on our own to explore Beaune on foot and relax a little, browsing the excellent wine-and-food bookstore Athenaeum de la Vigne et du Vin (7, rue de l'Hôtel-Dieu, 3.80.22.12.00), strolling through Beaune's biweekly vilalge market (pictured below), and lunching at an anonymous salon de thé (pizza and a paté en croute) before returning to "power wine tasting" in the afternoon.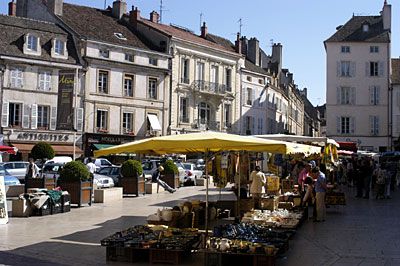 We visited two Beaune negoçiants, one very large and one very small. (I regret having no photos from these visits - I toted my bulky digital SLR all day but found it useless, thanks to having carelessly left its memory chip back in the hotel room.)
Bouchard Pere et Fils
Housed in the stately Chateau de Beaune, a 15th century castle that incorporates part of the village wall in its structure and that stands over extensive underground wine cellars, Bouchard Pere et Fils is a major Beaune negoçiant (a firm that purchases grapes or finished wine in bulk, "elevates" it by additional vinification and blending and sells it under its own labels)
The Bouchard family settled in Volnay in 1775 and was originally in the clothing business, said our guide, Stephanie, but decided to go into the more lucrative wine business in 1779. Following the Revolution a decade later, when many of the land holdings of the Church and the nobility were broken up and sold to citizens, Bouchard purchased vineyards throughout the Cote de Beaune.
Bouchard came under new ownership in 1995, cleaned out the cellars and discarded many older wines that Stephanie described as "not good," and in the eyes of many wine enthusiasts has shown significant improvement in many of its bottlings in vintages since then. The extensive cellars still contain more than 13,000 bottles, including 3,000 from 19th Century vintages going back as far as 1846.
Seven wines were presented for tasting in the Bouchard cellars, following a Burgundian custom that seems odd to tasters from other places: quality whites are served after the reds, not before.
Bouchard Pere et Fils 2000 Monthelie
Light garnet, with pleasant spicy cherry-compote aromas and a hint of "animaux." Tart red-fruit flavors over rather "green" vegetal tannins.
Bouchard 2000 Clos de la Mousse Beaune Premier Cru
Clear garnet, jewel-like. Red-cherry fruit and pleasant, subtle "barnyard" aromas. Ripe and tart, crisp acidity and fine tannins; good wine.
Bouchard 2000 Volnay Caillerets Volnay Premier Cru "Ancienne Cuvée Carnot"
Dark reddish-purple. Perfumed and floral, a hint of licorice. Exceptionally well balanced, fresh tart-cherry fruit and mouth-watering acidity, with a hint of spicy white pepper in the very long finish.
Bouchard 2000 Le Corton Grand Cru
Deep cherry and earthy "animal" aromas. Full, "sweet" red-fruit flavor over spicy oak; intense and mouth-filling, good structure, acidity and length.
Bouchard 2001 Meursault Les Clous
Light straw color. Ripe apple and pineapple aromas. Crisp and clean flavor, apples and lemons; pure, lingering fruit over steely minerality.
Bouchard 2000 Beaune Clos Saint-Landry Beaune Premier Cru
Clear straw color. Very spicy aromas, apple pie and butterscotch. Crisp and full flavor, warm pie spices carry over from the nose.
Bouchard 2000 Corton-Charlemagne Grand Cru
Clear straw color. Apples, toast, smoke, chestnut and caramel aromas. Flavors follow the nose, rich and intense; powerful, balanced and long.
Camille Giroud
Just a few blocks from Bouchard, outside the old village walls, the well-known American wine merchant and expert Becky Wasserman-Hone presides over the negoçiant firm Camille Giroud, an old, small but respected company that has been in the Burgundy business since 1865. Lucien Giroud, who had been owner from 1942 until his death around 1990, had built a collection of artisanal producers and was known for Burgundies of structure and power, wines meant for aging. "Some fear tannin," Wasserman-Hone said. "He embraced it." After Giroud's death, his sons ran the company for a while, but conflicting approaches jeopardized its future, and a group of American investors (including the California wine figure Anne Colgin) purchased the company and retained Wasserman-Hone to run it. She in turn has hired David Croix, a young but impressive wine maker, to elevate the wines.
Before an extensive tasting, Wasserman-Hone delivered what she called a "rant," but one that I certainly agreed with, about wine critics who declare Burgundy vintages "good" or "bad" "without having tasted them." The 2000 vintage, for instance, she called "fine and drinkable early" in spite of lackluster reports; while the 2001, which she declared "great in the Côte de Nuits," is diffiult to sell, many unwary potential customers unwilling to risk them because of overly broad negative reports by the "wine press."
David Croix showed us the cellars, which contain upwards of 30,000 bottles, some dating back to 1937, before grabbing more 2003 samples from waiting barrels. In general, I found the Camille Giroud '03s a bit more refined at this early point than the "California-style" blockbusters tasted the previous day at Cotetidot, but they were still mighty dark and ripe for Burgundies.
Camille Giroud 2003 Bourgogne Rouge
Very full and ripe, spicy and floral aromas. Jammy, sweet cherry and raspberry flavors lifted with fresh-fruit acidity and silky tannins. Drinking remarkably well for an early barrel sample, hard to believe that it will go into the market in the neighborhood of €7.
Camille Giroud 2003 Santenay
Dark garnet. Cherry and fennel and brown spice aromas. "Opulent" on the palate, big and bold, but not a mere "fruit bomb," structured and minerally and long.
It's possible, Croix observed, that since Burgundy's "climats" (vineyards distinguished by their specific "terroir") are generally rated on their historic ability to produce fully ripe fruit, it's just possible that the vineyards normally considered most desirable might have produced overripe fruit in 2003, while less sought-after vineyards, normally less likely to achieve ripeness, could come out just right, turning the usual hiearchy on its head. Doesn't seem likely to me, and I doubt that Croix really meant it, since he then proceeded to draw a sample from a barrel of a 2003 Granc Cru that was doing just fine ...
Camille Giroud 2003 Clos Vougeot
Very dark garnet color. Anise, truffles, smoke and oaky vanilla dance with plums and dried fruit. Ripe and intense flavors, sweet black fruit, acid and chalky minerals and drying tannins. Very concentrated, showing a lot of character in spite of young-barrel awkwardness.
Then it was back upstairs for a tasting of Camille Giroud wines representing "three generations" - three recent bottlings by David Croix, two from the '90s by Lucien Giroud's sons, and one well-aged 1976 by Giroud père.
Camille Giroud 2002 Beaune-Villages "Le Bons Fecivres"
Dark reddish-violet. Cherries and "forest floor" aromas; a burst of ripe-cherry flavor followed by cleansing acidity, tart and lingering.
Camille Giroud 2002 Vosne-Romanée
Very dark garnet. Freswh, ripe cherry aromas; tart cherry and lemon-squirt acidity on the palate.
Camille Giroud 2001 Savigny-les-Beaune
Dark garnet. A hint of "reductive" sulfuriness blows off, thankfully, to reveal red cherry and tasty earthy flavors. It's tart and still tannic, but good, ripe and sweet cherry fruit carries it well.
Camille Giroud 1997 Volnay 1er Cru "Les Carrelles"
Ruby, not too dark. sweet cherry and raspberry on the nose and palate over a hint of leafy "forest floor." Fruit and earth on the palate, delicious; acidity seems mellow at first but emerges more sharply as the wine crosses the palate. Tannins are smooth but still surprisingly youthful; there's plenty of life in this one.
Camille Giroud 1993 Beaune 1er Cru "Les Teurons"
Dark garnet. Subtle and appealing "sous bois" and "forest floor" aromas lead into sweet red-fruit flavors framed by appetizing acidity and smooth tannins. A delicious wine, just one more data point in support of the resolution that this "controversial" vintage was in fact a very good one.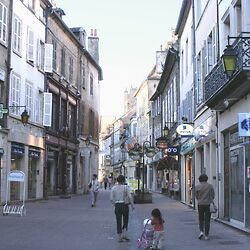 A little off the beaten path as twilight falls on a May evening in Beaune.
Camille Giroud 1976 Gevrey-Chambertin "Laveaux Saint-Jacques"
Ruby, showing a clear edge with little browning. Mushrooms and forest floor character of well-aged old Burgundy of a top vintage still cloaks dark cherry fruit, earthy and subtle. Lovely sweet fruit remains on the palate, intence and balanced with clean, fresh acidity.
This
is why people cellar Burgundy, and best of all, it still has plenty of life left - Wasserman-Hone believes it will go another 10 to 15 years, and who's to argue?
On our own again for dinner, with all of Beaune available, we end up back at the little Bistrot Bourguignon, an instinctive move that speaks well of its welcoming atmosphere and excellent fare. Frankly, after conspicuous consumption of wonderful, multi-course meals twice on most days of the French Wine Explorers tour, we're quite happy to break away to this friendly little neighborhood joint for a simple salad or single plat, enjoying interesting modest Burgundies from the Cruvinet by the glass without another tourist in sight. Except us, of course.

Burgundy/Champagne Diary 2004 Index

Previous day's report | Next day's report

Interested in our 2005 tour of a French wine region?
Contact me by E-mail at wine@wineloverspage.com and I'll send you a personal invitation when plans are set.



<!- Page Contents End Here ->