About the Côte d'Or
Early in 2004, warming up for this trip, I devoted a series of 30 Second Wine Advisor articles to an overview and tutorial about Burgundy, briefly discussing various regions and illustrating the articles with tasting reports on a case of decent Burgundies from the 2001 vintage, a year of decent Burgundies that tend to go for good prices because the "major critics" under-rated them. For your interest, here are links to the articles:

• Introducing Burgundy: Pouilly-Fuissé (Dec. 26, 2003)
• Introducing Burgundy: Chorey-les-Beaune (Jan. 2, 2004)
• Introducing Burgundy: Côtes-de-Nuits (Jan. 9, 2004)
• Introducing Burgundy: Meursault
(Jan. 16, 2004)
• Introducing Burgundy: Rully (Jan. 23, 2004)
• Introducing Burgundy: Morey-Saint-Denis (Jan. 30, 2004)
• Introducing Burgundy: Nuits-Saint-Georges (Feb. 6, 2004)
• Introducing Burgundy: Chambolle-Musigny (Feb. 13, 2004)
• Introducing Burgundy: Accruing status (Feb. 20, 2004)
• Introducing Burgundy: Generic to grand cru (Feb. 27, 2004)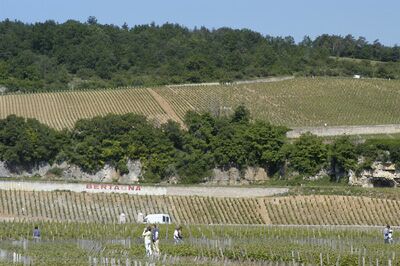 The eastward slope of the Côte de Nuits shows clearly in this view of Bertagna's Clos de la Perrière vineyard
The Côte de Nuits (Tuesday, May 25)
Our three days based in Beaune would be spent entirely on the Côte d'Or, the center of high-end Burgundy production, and were organized geographically: Tuesday was reserved for the Côte de Nuits, the stretch of southeast-facing hillside that begins a few kilometers north of Beaune and stretches north toward Dijon. The N74 highway, a two-lane road, runs along the base of the slope, with the more favored vineyards on the hillside to the left as you drive north, with generic Bourgogne vineyards on the flat land to the right.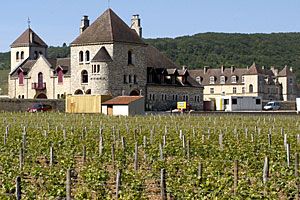 The Clos du Vougeot
Clos du Vougeot
Before the day of tasting began, there was time for a quick visit to the Chateau du Clos du Vougeot, a historic castle based on a 9th century Cistercian monastery that had been a center for the development of Burgundian wine. The Cistercians, who made wine to use in the Mass, for their own consumption and to sell, guided the development of wine in Burgundy through the Dark Ages and invented the concept of "climat," with wines identified by individual vineyard and evaluated on the basis of each vineyard's terroir, its unique soil, exposure and microclimate. "The knowledge of the monks gave the quality of the wine," said Beatrix, our tour guide.

Domaine Bertagna
The day's first winery visit was Domaine Bertagna, just a few hundred meters from the Clos du Vougeot. The 21-hectare property was developed in the 1950s by Algerian businessman Claude Bertagna and now belongs to British owners. A fairly sizable property by Burgundy standards, it comprises 21 hectares (about 50 acres) and wine maker Claire Forestier produces about 65,000 bottles of wine annually from 15 vineyards, five of them Grand Crus. Bertagna's wines see relatively minimal intervention in the vineyard (but are not organic).
We tasted four wines:
Domaine Bertagna 2002 "Dames Huguettes" Bourgogne Hautes Côtes de Nuits Pinot Noir (€10)
Pretty ruby color, not too dark. Lovely raspberry and spice aromas lead into bright red-fruit flavors with lemon-tangy acidity. There's a bit of tannic astringency in the finish.
Domaine Bertagna 2001 Vougeot 1er Cru Clos de la Perrière Monopole (€40)
From a protected vineyard that borders Musigny at the back and Clos du Vougeot to the south, this is often the first of Bertagna's vineyards harvested. Clear garnet, with brilliant violet glints. Spicy vanilla and ripe red-fruit aromas show an obvious presence of new oak. Toasty, clove and cinnamon scents and a whiff of white pepper carry over to the palate with good complexity and balance.
Domaine Bertagna 1999 Clos Saint Denis Grand Cru (€60)
Deep garnet color. Intense, tart cherry and plum aromas with toasty oak and vanilla, a charred oak grace note oddly reminiscent of a good Bourbon. Ripe, concentrated fruit flavors, good structure and balance, finishes with mouth-watering acidity and smooth tannins. Lots of life ahead, but showing well today.
Domaine Bertagna 2001 Vougeot Blanc Premier Cru(€40)
Bright straw color. Luscious tropical scents, pineapple and mango. Delicious tropical flavors blend with steely minerality and a rich texture in a clean, lingering flavor.
Lunch at l'Alambic in Nuits-Saint-Georges
Following Bertagna, we lunched at l'Alambic restaurant in the village of Nuits-Saint-Georges (pictured) and matched each course with wines of the region.
With the first course, veloute cremeaux de celeri, salpicon de voldice, croustilles de jamon de pays, a creamy, celery-scented soup:
Domaine Dujac 1999 Morey Saint-Denis
Clear, light-gold. A bit tight and closed, but subtle tropical fruits emerge with swirling and time in the glass. Tart and crisp, long, but awkward now, needs a little time.
With canard en deux façons, mancyon confit, magret rôti, gratin navets a l'orange (duck "two ways," a drumstick confit and a roast boneless breast roasted with turnips and a hint of orange.
Henry Gouges 1999 Nuits-Saint-Georges
Clear dark garnet wine, with ripe red-cherry aromas and a distinct whiff of animal fur ("wet dog," whispers my wife, and I'm afraid she's right. It works in an earthy villages burgundy, though, as a distant accent, not a dominating force, and the tart, still-tannic wine goes nicely with the duck.
The meal ended with a delicious round of mild white farmer cheese in a bath of heavy cream (Faiselle de Gilly a la creme) and nougat glacé.
Clos de Tart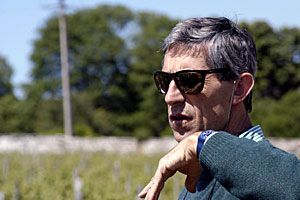 Sylvain Pitiot
One of the features I enjoy about the French Wine Explorers' wine-tasting itineraries is their eclectic diversity. Any wine-road trip with Lauriann and Jean-Pierre can be counted on to provide a few happy surprises, a few trips to little-known producers that rank as discoveries, and a few stops at the classic spots that define a region. Clos de Tart falls into this latter category, a single parcel all under one owner ("monopole"), this 19-acre Grand Cru that has had only three owners in its 850 years. It was run by the nuns of the Abbey de Tart from the 12th century until the French Revolution, then came under family ownership, and was taken over by the Mommessin family during the Depression in 1932. The current proprietor, Sylvain Pitiot (who is also a wine writer and author of an excellent book about Burgundy) said the property is entirely organically farmed, although not "biodynamique." ("I respect that, but it's not for me," he said. "Not yet."
So far in 2004 the weather has been perfect, he said, quietly so as not to tempt fate. "Today, all is well. Not too early, not too late. Tout le bien, all is OK."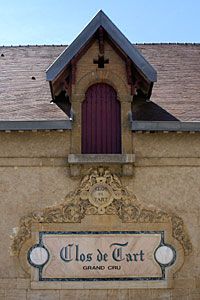 Discussing trends in wine, Pitiot acknowledged that Clos de Tart has consciously shifted its style since 1995, moving toward greater ripeness, more intensity, a house style not as "lacy," using his word in English, as in the past. This can't be attributed directly to the hand of the prominent critics, he said, but simply reveals that critics like Robert M. Parker Jr., Clive Coates and Steve Tanzer (his choice of examples) reflect the changing tastes of consumers in the marketplace rather than driving that change. "Most people don't have cellars nowadays," he said. "They don't want to wait 10 or 15 years to enjoy the wine."

Pitiot noted that Clos de Tart makes two wines every year, the grand vin and a second wine (labeled "Le Forge"), selecting the best grapes each year for the Clos de Tart. The percentage of the vineyard's production that goes into the grand vin varies with each vintage. In an excellent vintage such as 1991, all the grapes are used for the top wine. In a poor year like 1997, all go into La Forge and there is no grand vin. We tasted the just-bottled 2002 vintage, of which Pitiot said all but 8 percent was good enough for Clos de Tart.
Clos de Tart 2002
Garnet in color. Very attractive scents of cherries, violets and cinnamon. Ripe, luscious and tart on the palate, impressive despite service at cellar temperature heightening its acidity. Pitiot said the grapes were picked Sept. 23, 2002, with a controlled yield of only 1.3 to 1.4 tons per acre. The grapes were so ripe, he said, that they showed potential alcohol of 14.3 to 14.8, a record as of that date but one that was quickly surpassed by the 15-plus percent potential alcohol of 2003.

Confuron-Cotetidot
After a quick stop near Vosne for a side trip - a "pilgrimage" - to view the Romanée-Conti vineyard, source of one of the world's most sought-after (and expensive) wines, we moved on to meet a small, artisanal producer, Jack Confuron-Cotetidot, who owns 11 hectares (about 25 acres) of premier cru and grand cru vineyards in Vosne-Romanéee, Nuits-Saint-Georges. A jovial gent whose family has been making wine in Burgundy since the time of Louis XIV, he led us into the cellar for an extensive tasting of young wines still in barrels.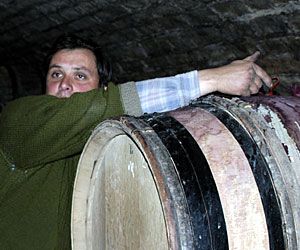 Jack Confuron-Cotetidot draws a barrel sample for tasting.
BARREL TASTINGS:
It should be noted that wines tasted from barrel typically give only a very general impression of what the finished bottled wine might be like. Additional fermentation, exposure to oak and aging will change their character; and it's most likely that the wine maker will blend the individual barrel tasted with the contents of other barrels that may result in a finished wine that bears little resemblance to a barrel sample less than a year after the vintage. But that being said, it's fun to get an early peek at the wine of the new vintage, and a few barrel samples may give at least a glimpse of how the wine might fare.
Confuron-Cotetidot 2002 Vosne-Romanée
Violets and vanilla on the nose; perfumed and tannic. Intense, balanced, oak not entirely integrated at this point. "Wine is like makeup on a woman," Cotetidot joked. "A little is nice. Too much is ... too much."
Confuron-Cotetidot 2002 Gevrey-Chambertin
Clear, rather light in color. Light and subtle spice, almost a chalky note of minerality. Bright acidity on the finish.
Confuron-Cotetidot 2002 Chambolle-Musigny
Clear, not too dark. Perfumed and spicy, sweet red fruit. Oak shows, but it's good oak.
The three preceding wines will sell for €19 at the winery; the next will be €26. Cotetidot says he sells 30 to 40 percent of his wine at the winery door and plans to keep it that way; he likes providing wine to his neighbors, not just to collectors in other countries.
Confuron-Cotetidot 2002 Vosne-Romanée 1er Cru Suchot
Light garnet color. Subtle, a bit closed, but there's lovely red fruit and spice brooding in its depths. Ripe, full and heady florel notes are much more apparent when you swish the wine in your mouth than when you sniff it. Good acidity, and the tannins, while substantial, are smooth as silk already. Impressive wine.
Confuron-Cotetidot 2002 Nuits-Saint-Georges ier Cru
The blend of two vineyards, so it's a Premier Cru but without a vineyard name under the law. Raspberry and cherry aromas are delicious; even as a barrel sample it's already subtle and complex.
Now, something I had been waiting all day for: The first taste of Burgundies from that torrid 2003 vintage.
Confuron-Cotetidot 2003 Vosne-Romanée
Anise and fennel, warm and pruney, full and sweet; grapey and very tannic. Typical of barrel samples, it's awkward and disjointed. But baby fat and growing pains can't conceal that there's remarkable wine in there. It may not be "classic" Burgundian, as it's powerful and deeply extracted - Cotetidot said he left his grapes on the vine to ripen and gain physiological maturity three weeks later than some of his neighbors did, finally harvesting on Sept. 8. But it's going to be interesting.
Confuron-Cotetidot 2003 Vosne-Romanée 1er Cru Suchot
Pruney, Port-like; tropical fruits and dried figs, sweet and intense. Clean, fresh fruit and snappy acidity. It's intense, and hard to predict - we're on unplowed ground here and even the experts won't have a basis of comparison for a Burgundy like this. But it's got promise, even if the promise proves to be a Burgundy more in the style of Santa Barbara than the Côte de Nuits.
Dinner at Bernard Morillon in Beaune
Back to our hotel after a long day in the vineyards, our group gathered later for a formal dinner with three good Burgundies at Bernard Morillon, the hotel's highly rated dining room.
With gougeres and an amuse bouche of shellfish aspic and a "petite salade Bourgogne" garnished with ham, pork and a pair of snails:
Prosper Maufoux 1998 Chassagne-Montrachet 1er Cru "Les Chenevottes"
Transparent, golden. Rich aromas of pineapple, toast and chestnuts, complex and appealing. Round and full tropical fruit on the palate, not as acidic as some, but plenty of structure.
With Charolais beef presented "bleu" the French term for very, very rare (just the way I like it), but a rather thin and chewy portion, which is not).
Domaine Lucien Boillot & Fils 2000 Gevrey-Chambertin 1er Cru "Les Cherbaudes"
Delicious Pinot aromas, ripe cherry and "tomato skin," perfume and spice. Tart and slightly tannic, a sturdy structure for ripe tart-cherry fruit.
Armelle et Bernard Rion 1999 Nuits Saint Georges 1er Cru "Les Damodes"
Clear, dark garnet color. Perfumed raspberry aromas, sweet red fruit and mouth-watering acidity in excellent balance on the palate.
Fromages: choices from the cart, including Epoisses and Reblochon for me, and an attractive dessert featuring a pair of crisp cocoa-flavored crepes sandwiched around thick-sliced ripe tart-sweet strawberries.
Burgundy/Champagne Diary 2004 Index

Previous day's report | Next day's report

Interested in our 2005 tour of a French wine region?
Contact me by E-mail at wine@wineloverspage.com and I'll send you a personal invitation when plans are set.



<!- Page Contents End Here ->