Chablis (Monday, May 24)
The first day of our wine tour began bright and early on a sunny if still cool and breezy Paris Monday. Our group of about a dozen wine travelers met for the first time at the centrally located Hotel Westminster near the Opéra in Paris, gawked at an oversize, burgundy-color tour bus large enough to hold about four groups our size, and then clambered aboard for the 2-hour trip east to Chablis.
Chablis, a part of the Burgundy region but separated from the main part of Burgundy by a considerable distance, makes a good starting point because it's just a little over halfway from Paris to Beaune and thus affords an opportunity for a pleasant break in the long bus ride.
Chablis lies just shy of the northernmost point at which Vitis vinifera wine grapes can be grown with commercial success in Europe, a distinction that it shares in general with Champagne, Alsace and Germany's Mosel. And like those regions, it produces predominantly white wines under climate challenges that include bud-killing spring frosts and vine-killing winter freezes; achieving full ripeness is always an interesting gamble. But Chablis's limestone-chalky soil serves its Chardonnay vines well, offering good drainage, a light, sun-reflecting color, and an intriguing minerally terroir that places them among the world's most sought-after wines. (Indeed, the name "Chablis" has been viewed internationally as such a desirable term that it has been widely, if inappropriately, adopted as a generic term for white wine.)
The Chablis appellation surrounds the tiny village of Chablis, with most of the preferred vineyards on the south-facing slope of a gentle valley. The two regional appellations are Chablis and the "lesser" Petit Chablis. Within Chablis, the most favored named vineyards gain the designation Premier Cru and Grand Cru.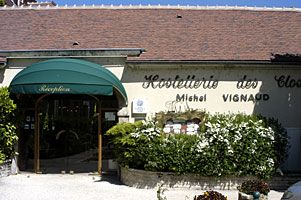 We arrived just in time for lunch at Hostellerie des Clos, an attractive restaurant, unstarred but of one-star quality, in the village of Chablis.
With gougeres, a tiny amuse bouche cup of lobster bisque, and an intriguing appetizer, a cylinder of tender, finely shredded chicken in aspic topped with a pretty flower pattern of thin-sliced carrot (pictured below):
Domaine de Marroniers 2000 Chablis
Clear, light brass color. Complex aromas of white citrus fruit, minerals and earthy lees. Tart white fruit and notes of hazelnut on the palate.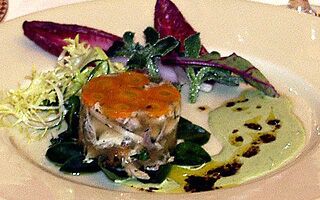 With a main course of salmon-like char with a subtle, creamy Chablis sauce:
Dauvissat 1999 Chablis Premiere Crus Vaillons
Golden. Chalky, mineral and white-fruit aromas; a hint of toasted chestnuts in the long and complex flavor.
After lunch, our first winery visit was at Michel Laroche, a respected Chablis producer with its winery in the village, where we learned that around the world, 20 bottles of faux "Chablis" are sold for every one bottle of the real thing.
Three wines were presented for tasting.
Domaine Laroche 2002 Chablis "Saint Martin"
Pale straw color. Slight sulfury reductive notes at first, quickly give way to crisp lemon and tart, stony minerality; a simple wine, perhaps, but one of considerable structure and balance. Bottled not under traditional cork but a high-tech Stelvin metal screwcap. Laroche is one of the first serious producers in France to begin this shift, at least on its lower-end wines.
Domaine Laroche 1998 Premiere Cru Les Beaufoys
Stones and honey, delicate hints of truffle. Crisp and minerally, clean and round.
Domaine Laroche 2001 Chablis Grand Cru Les Blanchots
Citric, spicy, a whiff of cinnamon and apple-pie scents. Full, almost sweet appley fruit flavors, tart and cleansing. Young but impressive.
From Laroche, we returned to the bus for a quick and scenic hour-and-a-half ride down the Autoroute to Beaune and the Côte d'Or, where we checked in to our quarters for the week, Hotel Le Cep, and had the evening on our own to stroll the village. We dined at Le Bistrot Bourguignon, 8 rue Monge, 3.80.22.23.24, a casual little neighborhood spot with good, simple dishes and a 15-unit Cruvinet wine-dispensing system serving villages Burgundies by the glass. We ended up dining there twice, and I recommend it for those occasions when you tire of haute cuisine and seek honest, affordable fare and interesting wines by the glass.
Burgundy/Champagne Diary 2004 Index

Previous day's report | Next day's report

Interested in our 2005 tour of a French wine region?
Contact me by E-mail at wine@wineloverspage.com and I'll send you a personal invitation when plans are set.



<!- Page Contents End Here ->