Paris (Saturday-Sunday, May 22-23)
If there's one thing I've learned from fairly frequent wine-and-food trips to Europe, it's this: It's worth the extra time and expense to arrive a day or two before your serious wine touring begins, just for the sake of getting acclimated and over the initial fatigue, whether you define it as "jet lag" or merely "I've been sitting upright in an undersize airline seat all night, and I'm tired."
We followed this advice for our 2004 French Wine Explorers tour and fared well, taking it easy for a quiet weekend in Paris (which greeted us with sunny if somewhat chilly and blustery May skies).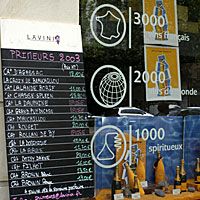 Bordeaux futures listed outside Lavinia.
Undaunted, we dug out the jackets that we hadn't expected to need and jumped on the metro to Lavinia, the huge, trendy new international wine shop in the city's posh la Madeleine district. (Our visit, and a light lunch and wine tasting in Lavinia's cafe, was featured in the Monday, May 24
Thirty Second Wine Advisor
.
Click here for my report
.)
The rest of the afternoon was devoted to exploring the neighborhood around our hotel, Hôtel des Grands Hommes 17, place du Panthéon, 01.46.34.19.60.
The monumental, almost sterile look of this historic plaza and the blocky 19th century buildings of the Sorbonne nearby seemed vaguely offputting at first, but the hotel was well-managed and comfortable, and we quickly discovered more typical Parisian streets nearby, including a quarter with a lot of Asian eateries and shops, prompting us to forgo French pleasures on our first evening in the city in favor of a delicious and affordable dinner at a Tibetan restaurant,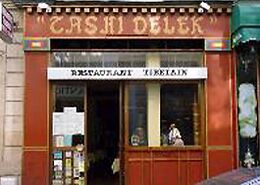 Tashi Dèlèk, 4, rue des Fossés Saint-Jacques, 01.43.26.55.55. Tibetan lentil soup, a rice-noodle dish, and a gently spicy lamb curry. With Alsatian beer. An offbeat way to spend an evening in Paris, but as good a way as any to celebrate the eclectic style of the university district.
A good night's sleep, coffee and baguettes and a 10-minute walk to Notre Dame to celebrate Sunday morning with a short session of listening to traditional Gregorian chant in the historic cathedral's lofty nave, and then it was off to a quiet Parisian brunch at home - the home of our friends Randy and Evelyne, that is, who entertained us and other friends with Eve's excellent cooking (tapenade, salade, and delicious chicken and mushrooms) with an all-Languedoc trio of wines:
Domaine des Pascales "Le Rivage" Muscat Demi-Doux Vin de Pays de Cassan
Clear greenish-gold. Ripe, fresh Muscat aromas, Rich mouthfeel, off-dry but not fully sweet, with good acidity to balance. Slight, pleasant bitterness in the finish.
Yves Pastourel & Fils 2003 Cuvée des Lilas 2003 Muscat Sec Vin de Pays d'Oc
Very pale straw color. Sulfury reductive aromas from this recently bottled wine seemed offputting at first, but before Eve could dump the bottle, they quickly blows off to reveal light grapefruit aromas and an intriguing dry Muscat flavor, unctuous in texture but bone-dry, clean and long, with a hint of peach-pit bitterness in the finish.
Mas Bruguire 2001 La Grenadière Pic Saint-Loup Coteaux du Languedoc
Dark reddish-violet, black fruit, fragrant pepper. Full and ripe black fruit flavor and snappy acidity in good balance. Syrah-based and delicious, bolsters my already strong opinion that Pic Saint Loup can compete on even terms with the best of France.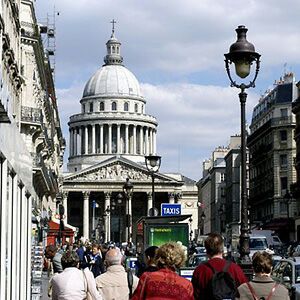 The Panthéon
There's one thing to know about staying in a hotel near the Panthéon: Because this noble structure sits at the peak of a Left Bank hilltop, there's no Metro stop in the immediate vicinity, and you'll have to walk uphill to get home no matter which direction you're coming from. This isn't a bad thing, since it forces at least modest exercise following Parisian excess. We made the trek after brunch, getting back to the hotel just about time to head back out for dinner to meet another pair of friends: Our old pal Eden, a world-class "foodie" and regular participant in our Food Lovers' Discussion Group, and her friend Scott had coincidentally arrived in Paris this day, and she made reservations for us at Mon Viel Ami, a sleek new restaurant on Ile St. Louis (69, rue St. Louis en l'Ile, 01.40.46.01.35) with a long, community table, that appears to be particularly popular with traveling Anglophones.
We dined on assorted appetizers including rocket and warm field-lettuce salads and fresh sardines with grilled vegetables, and main courses of ray, duck and sandre, and chose a half-bottle each of red and white to go along:
H. Bourgeois 2002 Sancerre Les Bonnes Bouches (€21)
Pale straw color. Fresh and bright, crisp and clean. Citric lemon dominates a fresh and acidic flavor in a food-friendly white.
N. Potel 2000 Savigny les Beaune Les Serpentieres (€27)
Dark garnet. Ripe red fruit and tart acidity in another good food match.
The four of us strolled the length of Ile de Cité and crossed the Seine to the Left Bank before heading off in separate directions for our hotels; not even a chilly, strong breeze could really take the joy away from a spring evening walk through the center of Paris.
Burgundy/Champagne Diary 2004 Index

Next day's report

Interested in our 2005 tour of a French wine region?
Contact me by E-mail at wine@wineloverspage.com and I'll send you a personal invitation when plans are set.



<!- Page Contents End Here ->