<!TODAY'S TEXT STARTS HERE!>

A fragrant pair for spring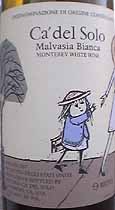 Ca' del Solo 1997 Malvasia Bianca Monterey White Wine ($9.49) Despite the very Italian-sounding name and the wine's fine Italian style, this delicious dry white is pure California, made by Bonny Doon, a winery known for both the quality of its wines and the sense of humor of its wine maker, Randall Grahm. It's a clear pale-gold in color, with an amazing floral scent that wafts from the glass, evoking the image of a blossoming apple orchard on a sunny spring day. Its full-bodied flavor is crisp and tart, showing hints of apple, lemons and limes, with lovely apple-blossom notes hanging on in a very long finish. (March 29, 1999)

FOOD MATCH: Good with linguine in white clam sauce, although a sturdier seafood dish might have offered better balance with this aromatic wine.


I Campetti 1997 Almabruna Maremma Toscano Bianco ($17.99) This one really is Italian, made from Viognier, a variety known for intense floral aromas. The wine is clear and golden, with a pleasant scent of wildflowers that my wife, the gardener, likens to evening primroses. I'll take her word for that; sniffing the glass instantly brings up a mind picture of a walk through a spring meadow. Crisp and very tart, the wine's juicy white-fruit flavor and snappy acidity make it a natural with food. U.S. importer: Vintner Select, Cincinnati; a Marc de Grazia Selection. (April 1, 1999)

FOOD MATCH: Surprisingly well-matched with ham steaks.

These wines were featured in The 30 Second Wine Advisor, my free weekly E-mail bulletin of quick wine tips, advice and tasting notes. Click here to join the E-mail list!

Have you tasted these wines?
E-mail me your tasting notes,
and I'll consider adding them to this page.

All my wine-tasting reports are consumer-oriented. In order to maintain objectivity and avoid conflicts of interest, I purchase all the wines I rate at my own expense in retail stores.