<!TODAY'S TEXT STARTS HERE!>

Two Joguet Chinons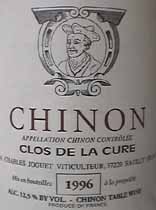 If you think of red wines as invariably full-bodied and hearty, the light, tart reds of Chinon in the Loire may come as a surprise. Made from the Cabernet Franc grape, these wines are generally light-bodied but tartly acidic -- which sometimes makes them a particularly pleasant match with food -- and often show a distinctive "green," herbaceous quality.

Charles Joguet 1996 Close de la Cure Chinon ($14.99)
Dark garnet in color. Highly aromatic scents of blueberries and a marked, not unpleasant quality of cooked green beans rise from the glass. Fresh, acidic, it's light-bodied but full-flavored, with tart berry and vegetal flavors. U.S. importer: Kermit Lynch Wine Merchant, Berkeley, Calif. (March 25, 1999)

FOOD MATCH: Expecting a lot of aromatics in the wine, I crafted a Near Eastern-style chicken pilaf laced with cinnamon and allspice flavors, and the aroma combination worked very well.


Charles Joguet 1997 "Cuvée Terroir" Chinon ($11.99)
Very hazy ruby color. Tart cherry and green vegetal aromas lead into a crisp red-fruit flavor, quite lean and tart, but pleasant Cabernet Franc flavor carries through. U.S. importer: Kermit Lynch Wine Merchant, Berkeley, Calif.(March 28, 1999)

FOOD MATCH: Fine with a cassoulet-style leftover duck and white-bean casserole.
These wines were featured in The 30 Second Wine Advisor, my free weekly E-mail bulletin of quick wine tips, advice and tasting notes. Click here to join the E-mail list!

Have you tasted these wines?
E-mail me your tasting notes,
and I'll consider adding them to this page.
All my wine-tasting reports are consumer-oriented. In order to maintain objectivity and avoid conflicts of interest, I purchase all the wines I rate at my own expense in retail stores.