GETTING STARTED | WINE NOTES | SEARCH SITE | DISCUSSION FORUMS | 30 SECOND WINE ADVISOR | CONTACT US

<!TODAY'S TEXT STARTS HERE!>

California wines, Italian grapes

A bit bored with the usual grape varieties, I easily succumbed to temptation when a local shop put out a group of affordable new releases under the "Il Podere dell' Olivos" label, a series of California wines made from Italian grape varieties by Jim Clendenen, a wine maker also known for his connection with the Au Bon Climat winery. From Tocai Friulano to Teroldego, Refosco and more, these fine food wines have given me a happy set of alternatives to the usual Cabernets, Merlots and Chardonnays in recent weeks.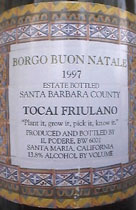 Borgo Buon Natale 1997 Santa Barbara County Tocai Friulano ($10)
Apparently the label for Podere dell' Olivos's whites, this clear, straw-color wine boasts remarkable scents: Conifer aromatics, pine and cedar, dancing with ripe white tropical fruits like mangoes and kiwis. Full-bodied, dry and crisp on the palate, fresh-fruit flavors are framed by bracing acidity. Another must-have for the Anything-But-Chardonnay crowd. (March 21, 2000)
FOOD MATCH: Surprisingly well matched with a kung pao stir-fry with turkey breast meat and peanuts in a sweet-hot brown sauce.

Il Podere dell' Olivos 1997 California Barbera/66% - Nebbiolo/34% Riserva Ragazzo Legnoso ($9.99)
Slightly hazy dark ruby, with fresh red-fruit and good herbal notes ... basil? Lavender? Something like that. Full and ripe fruit flavors and zippy acidity, fresh and cleansing, a delightful wine. (March 25, 2000)
FOOD MATCH: Excellent match with a chicken pilaf with cinnamon and spicy adding a Near Eastern touch.

Il Podere dell' Olivos 1996 Central Coast Teroldego ($10)
Inky dark ruby, with warm, plummy aromas, licorice and spice. Full and ripe black fruit flavor, very tart with lemon-squirt acidity. (March 22, 2000)
Il Podere dell' Olivos 1996 Santa Barbara County Bien Nacido Vineyard Refosco ($10)
Dark garnet. Appetizing berry scent with delicate wildflower overtones, very appealing. Crisp fruit flavors are consistent with the nose, clean and fresh over cleansing acidity. First-rate wine! (March 28, 2000)
FOOD MATCH: Both went well with a light meal of skinless chicken breast sauteed with garlic.

Have you tasted these wines?
E-mail me your tasting notes,
and I'll consider adding them to this page.
All my wine-tasting reports are consumer-oriented. In order to maintain objectivity and avoid conflicts of interest, I purchase all the wines I rate at my own expense in retail stores.
Back to Current Tasting Notes Index