GETTING STARTED | WINE NOTES | SEARCH SITE | DISCUSSION FORUMS | 30 SECOND WINE ADVISOR | CONTACT US
<!TODAY'S TEXT STARTS HERE!>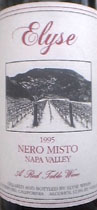 Elyse 1995 Napa Valley Nero Misto Red Table Wine ($14.99)
Very dark garnet, this unusual wine breathes delicious cherry-berry flavors with wispy tendrils of fennel twining around the fruit. Juicy and tart, fresh fruit and lemon-squirt acidity make an appetizing and very Italianate quaff, not unlike a Chianti in spirit.
"Nero Misto" means "mixed black," and the label indicates that it is "reminiscent of the old California-Italian field blends," adding that it is made from "a unique selection of lesser-known black grapes." No further information was forthcoming, but the small print gave a phone number and the invitation to call for details.
It didn't take long to get in touch with Nancy Cuthbertson, who with her husband Ray is owner of the winery. Nancy said each year has been different, but the '95 featured almost a dozen varieties: Half Petite Sirah, one-fourth Zinfandel, and the rest a dizzying array of Napa Gamay, Carignane, Grenache, Mourvedre, Mondeuse, Cinsaut, Alicante Bouschet ... well, you get the idea.
Sadly, economics has taken its toll. Those lovable old Italian-style vineyards are gone, replanted to more commercially viable varieties; and the 1998 Nero Misto was the last. If you find one on the shelves, grab it and enjoy it, taking just a moment to remember what a significant share of Napa heritage is held by the old Italian immigrant families who planted vines like these. (March 23, 2000)
FOOD MATCH: A marriage made in heaven with a Southwestern style char-grilled ribeye, dry-rubbed with ancho chile powder and cumin and stuffed with a bit of Spanish Serrano ham and Mexican white cheese.

Have you tasted this wine?
E-mail me your tasting notes,
and I'll consider adding them to this page.
All my wine-tasting reports are consumer-oriented. In order to maintain objectivity and avoid conflicts of interest, I purchase all the wines I rate at my own expense in retail stores.
Back to Current Tasting Notes Index