<!TODAY'S TEXT STARTS HERE!>

Two good Italian reds

For decades, Italy has jousted with France for the title of world's largest wine producer, and Italy usually wins, with its vineyards covering just about every region of the Italian "boot." But Italian wine has only recently begun to overcome the image of rough Chianti in wicker-wrapped bottles, useful (if at all) only to wash down spaghetti and pizza. These two flavorful reds ought to go a long way to erase that old prejudice, in the unlikely event that anyone still has it.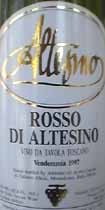 Altesino 1997 Rosso di Altesino Vino da Tavola Toscano ($10.99)
From Tuscany, home of Chianti, this wine bears the "wine of the table" designation presumably because it's not made from the traditional blend of Sangiovese and other grapes required to bear the Chianti label. It may be all Sangiovese, or it may have a dash of Cabernet Sauvignon or other non-Italian grapes; the label doesn't say, but the bottom line is clear: The wine is reasonably priced, and good. It's a dark ruby in color, with a ripe aroma of black cherries, a wisp of smokiness and an aromatic, "tarry" scent that hints of menthol. Full and juicy fruit flavors mirror the nose in a flavor that invites a second taste. U.S. importer: Winebow Inc., NYC; Leonardo Loscascio Selections. (March 14, 1999)
FOOD MATCH: The wine's forward fruit and crisp acidity make it an exceptional match with a bowl of creamy macaroni and cheese.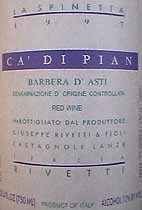 Rivetti 1997 La Spinetta "Ca' di Pian" Barbera d'Asti ($14.99)
Very dark-reddish purple in color, this hearty red from Asti in Piemonte (the Alpine foothills in Italy's far northwestern "shoulder") is made from Barbera, a grape somewhat familiar in the U.S. because of its use in a few California wines made by Italian-American families like Martini. Light floral and black-fruit aromas lead ionto a tart and ripely fruity flavor of black cherries and lemon-squirt acidity. Substantial tannins impart an astringency that suggests it will benefit from cellar time, but ample fruit makes it thoroughly enjoyable now. U.S. importer: Vin Divino Ltd., Chicago; a Marc deGrazia Selection. (March 13, 1999)
FOOD MATCH: A worthy companion to a simple roast chicken.

These wines were featured in The 30 Second Wine Advisor, my free weekly E-mail bulletin of quick wine tips, advice and tasting notes. Click here to join the E-mail list!

Have you tasted these wines?
E-mail me your tasting notes,
and I'll consider adding them to this page.
All my wine-tasting reports are consumer-oriented. In order to maintain objectivity and avoid conflicts of interest, I purchase all the wines I rate at my own expense in retail stores.