<!TODAY'S TEXT STARTS HERE!>

A Tour of the Languedoc

The following article is summarized from a talk and tasting presented by Robin Garr at the March 12, 1999 annual meeting of Sister Cities of Louisville Inc. Louisville and Montpellier, capital city of the Hérault region of Languedoc, have enjoyed a "sister city" relationship for some 50 years.

Languedoc is one of the largest wine regions in France in terms of acreage, production and the relative importance of wine producing to the local economy. Until quite recently, though, size didn't equate to respect, and the wines of this region were lightly regarded at best. Languedoc made a lot of wine, but it was almost invariably simple table wine: Maybe one step up from the raw stuff that came from Algeria ... but not a giant step.

As recently as 1981 -- when I was The Louisville Times' City Hall reporter and followed the late and then-controversial Louisville Mayor Bill Stansbury and his cronies on what they called a "trade mission" to Montpellier -- they looked closely at the region's wine as a potential export.

In fact, it took this idea another 15 years or so to come to pass. It's only in very recent times, with a boom in high-end, quality wine around the world, that some of Languedoc's top producers are starting to produce and export fine, dry table wines competitive in a world market -- wines like the four we're tasting tonight.

But while Languedoc's wines may not have always been good, its wine industry has certainly been big. With three-quarters of a million acres of land in vineyards, Languedoc alone has more vineyard acreage than all of the United States, and one-third of all the vineyards in France. A great deal of that is still simple jug and tank wines, however; with one-third of the vines, Languedoc produces only 10 percent of the nation's AOC wines, the top-end products with controlled-appellation status. Again, the wines we're sampling this evening reflect that tip-of-the-iceberg group.

These wines also boast roots very deep in history. The vineyards that thrive on the hilly slopes along a Mediterranean coastal arc from Narbonne east to Montpellier, the wine regions we now know as Corbieres, Minervois and Coteaux du Languedoc claim a continuous history of more than 2,000 years, dating back to early Roman settlements along the coast.

I've always found Languedoc's red wines more interesting than their whites, although the Picpoul de Pinet we tasted this evening shows enough character to earn a place as a highly respectable white.

The reds tend to be dry, hearty and robust, with fragrant peppery aromas and flavors and often a strong herbal quality of lavendar and thyme that supposedly evokes the garrigues, the lovely natural herbal scent that many of you will remember smelling as you hike the countryside around Montpellier.

All of tonight's reds come from the hillsides of the Coteaux du Languedoc, a sort of hilly amphitheater that faces southward in a broad ring that encompasses Montpellier and the seacoast. If you'll visualize the palm of your right hand as a map of the region, with the city of Montpellier and the seacoast as the base of your palm, then you'll find the way to Saint-Chinian at the tip of your little finger, Faugères on your ring finger, Montpeyroux on your first finger and Pic Saint Loup on your thumb.

The Carignan grape is probably most commonplace in the region and is a player in just about all its red wines, but the top labels, including most of today's selections, add -- and are improved by -- doses of Syrah, Grenache, Cinsault and Mourvèdre.

The white wine came from Picpoul de Pinet, which is close to the seacoast just west of Montpellier, not far from the seaport town of Sête.

Hugues Beaulieu 1996 Picpoul de Pinet Coteaux du Languedoc ($6.99)
One of the wines I remember from my 1981 visit, this fresh, fruity white is made from a very old grape traditionally known for its acidic tartness -- "piquepoul," I'm told, translates as "lip stinger." The acid seems toned down in this straw-colored wine, however, which offers pleasant musky melon and citric scents and a soft, citric flavor that went well with assorted appetizers as an aperitif for the evening gathering. Importer: Kysela Pere & Fils, Ltd., Winchester, Va. (March 12, 1999)

Pic-Saint-Loup -- named after a scenic mountain peak -- is the easternmost of the top Languedoc regions, and its Syrah-based wines like this one remind a lot of people of the highly regarded reds of the neighboring Rhone.

Chateau La Roque 1995 Cupa Numismae Pic Saint Loup Coteaux du Languedoc ($12.99)
Vintage in and vintage out, this reserve bottling from Chateau La Roque -- which gets its name from an ancient coin discovered in the vineyard -- is one of my favorite Languedoc reds. Tonight's sample -- my fifth tasting of the 1995 over the past couple of years -- is a very dark purple, with the expected aromas of ripe black fruit and spicy oak that evoke chocolate-covered cherries. Its full-bodied flavor offers good, clean fruit and tart acidity in balance, with the soft tannins of earlier tastings resolving now into a mellow smoothness. U.S. importer: Kermit Lynch, Berkeley, Calif. (March 12, 1999)

Languedoc's hills start turning into mountains in Montpeyroux, where the region rises up toward France's Massif Central. It's a wild, scenic place, and its dry hillsides have the ability, in good hands, to produce powerful wines of great concentration.

Domaine d'Aupilhac 1995 Coteaux du Languedoc Montpeyroux ($12.99)
This dark-garnet wine shows the characteristic scent of garrigues, the classic herbal scent of lavendar that infuses Languedoc and Provence, along with delicious black fruit, loads of tannins and zippy acidity in a full, firm flavor. U.S. importer: Kermit Lynch. (March 12, 1999)

Domaine Peyre Rose 1992 Clos Syrah Léone Coteaux du Languedoc ($14.99)
Inky and opaque, with garrigues and leathery, slightly "barnyard" aromas swirling around brooding black fruit. Big and intense, there's plenty of fruit in the flavor, but firm tannins and tightly wound flavors suggest it will benefit from still more cellar time. U.S. importer: Willett Distributing, Alexandria, Ky. (March 12, 1999)

"Rustic" is a word that's used, not always as a compliment, to describe the full-bodied reds of Faugères, but Alquier's wines rise above this regional reputation to make refined and complex wines that are giving wine lovers around the world a new opinion of Languedoc.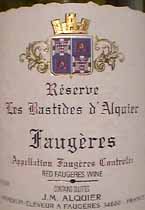 J.M. Alquier 1996 Réserve les Bastides d'Alquier Faugères ($15.99)
Chosen as "wine of the evening" by a substantial majority of the group, this one is fully consistent with my notes from a recent (Jan. 29) tasting: Dark garnet, with perfumed fruit aromas, floral and earthy, nuanced by rose petals, orange peel and a hint of almond. Flavors are consistent with the nose: red fruit and crisp acidity, clean and long. U.S. importer: Kermit Lynch. (March 12, 1999)

Have you tasted these wines?
E-mail me your tasting notes,
and I'll consider adding them to this page.
All my wine-tasting reports are consumer-oriented. In order to maintain objectivity and avoid conflicts of interest, I purchase all the wines I rate at my own expense in retail stores.