GETTING STARTED | WINE NOTES | SEARCH SITE | DISCUSSION FORUMS | 30 SECOND WINE ADVISOR | CONTACT US
<!TODAY'S TEXT STARTS HERE!>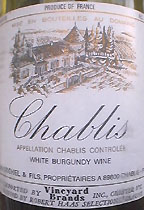 Louis Michel & Fils 1996 Chablis ($17.99)
Light straw color, with a fresh scent of juicy cooking apples. Full appley fruit and lemony acidity on the palate, so ripe that it seems fat at first; but steely acid quickly wraps it in a sturdy structure. Characteristic Chablis "mineral" and light hints of damp wool appear as the wine warms in the glass. A low-end Chablis, perhaps, but it attractively demonstrates what Chardonnay can be ... but so often isn't. U.S. importer: Vineyard Brands Inc., Chester, Vt.; Robert Haas Selections. (March 6, 2000)
FOOD MATCH: Fine with sauteed chicken breasts topped with Spanish serrano ham and Mexican farmer cheese and tucked into a flour tortilla with a dab of tomatillo salsa.

Have you tasted this wine?
E-mail me your tasting notes,
and I'll consider adding them to this page.
All my wine-tasting reports are consumer-oriented. In order to maintain objectivity and avoid conflicts of interest, I purchase all the wines I rate at my own expense in retail stores.
Back to Current Tasting Notes Index