<!TODAY'S TEXT STARTS HERE!>

A bubbly from New Mexico

A local restaurant critic once drew an unintentional laugh when she referred in a dining review to Gruet as "a French Champagne." In fact, it's made in New Mexico, of all places, and over the years has developed a surprisingly good reputation for quality and value. This particular bottling bears no regional designation, suggesting that it may be made from grapes brought in from an anonymous elsewhere. But it's made in New Mexico, all right, and whatever its source, in my opinion, it's superior to most California bubblies in its price range.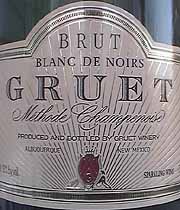 Gruet non-vintage Blanc de Noirs ($13.99)
It's a clear, pale-gold in color, with a frothy mousse that falls back fast, leaving a modest stream of bubbles. Very yeasty aromas at first give way to fresh, crisp apples; frothy, crisp and fresh on the palate, it's simple but quite clean and pleasant. (March 3, 1999)
FOOD MATCH: Not only did the popping cork lend a sense of festivity to a simple meal, it actually went very nicely with a vegetarian (spinach and portabello mushroom) pizza.

ADDITIONAL INFORMATION: Thanks to Tom Hill for providing the following additional background on this wine on the Wine Lovers' Discussion Group.
Glad you like our home-grown product; it's a great value for a Sparkling wine. The wine is made in Albuquerque. The grapes are grown on their estate down in Truth or Consequences, about 120 miles south of Albuquerque. Over on the east side of the Elephant Butte reservoir on very sandy soil, irrigation being essential to keep the grapes alive. Both Pinot Noir and Chardonnay, with a bit of Pinot Meunier I recall.
The family is, in fact, from France and have a small champagne house there in the Champagne region. The pronunciation, as they say it, is Groo-ay. It is easily the best wine produced here in New Mexico. They also produce a bit of still Chard that's quite good.
Also, Stillman Brown, winemaker/owner of Jory winery in Calif/Paso Robles, makes wine here in New Mexico, mostly under his Stillman Brown label. He has a Luna County/Mesilla Valley Sauvignon Blanc, grown further south around Deming, that is pretty good.
So NOW you know the rest of the story.
Have you tasted this wine?
E-mail me your tasting notes,
and I'll consider adding them to this page.
All my wine-tasting reports are consumer-oriented. In order to maintain objectivity and avoid conflicts of interest, I purchase all the wines I rate at my own expense in retail stores.