GETTING STARTED | WINE NOTES | SEARCH SITE | DISCUSSION FORUMS | 30 SECOND WINE ADVISOR | CONTACT US
<!TODAY'S TEXT STARTS HERE!>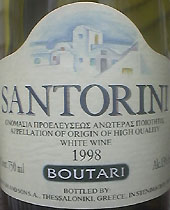 Boutari 1998 Santorini ($12.99)
Pale straw color, with ripe melon and citrus scents. Crisp and fresh flavor, citric fruit and rather full-bodied for a white. Very tart acidity hangs on with ripe fruit in a long finish. U.S. importer: Paterno Imports, Lake Bluff, Ill. (March 3, 2000)
FOOD MATCH: Although I normally think of this as a great seafood wine, it also married nicely with a simple stir-fry of pork loin and bok choy Chinese cabbage.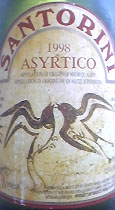 Santorini 1998 Asyrtico ($7.99)
Clear gold, with highly aromatic scents of citrus and green, "sappy" notes characteristic of the grape (usually rendered "Assyrtiko" in English). Full and bright, flavors follow the nose, tart and "green," almost reminiscent of chewing a stalk of hay. Juicy white fruit is balanced with zippy acidity in a long, clean finish. U.S. importer: Hand Picked Selections, Warrenton, Va. (Feb. 24, 2000)
FOOD MATCH: An excellent, if cross-cultural match with a Southwestern U.S. invention, pork chops pan-grilled with a delicate chipotle cream.

Boutari 1994 Vin de Pays d'Imathia Merlot-Xinomavro ($7.99)
Almost an anti-parody of modern marketing, this wine's simple label reveals almost more technical information about the contents than most of us would care to know. The wine inside, however, is quite pleasing, more so than the low-end price (perhaps an effort to "dump" an unknown wine that wasn't selling) would suggest. Very dark ruby in color, it shows spicy oak and ripe blackberry aromas, and a jammy blackberry flavor, full and ripe, that gives way to lemon-squirt acidity and soft tannins in the finish. U.S. importer: Paterno Imports, Lake Bluff, Ill. (Feb. 25, 2000)
FOOD MATCH: A natural partner with lamb-chops grilled souvlaki-style with a marinade of lemon, olive oil and herbs.

The Boutari Santorini was featured in The 30 Second Wine Advisor, my free weekly E-mail bulletin of quick wine tips, advice and tasting notes. Click here to join the E-mail list!

Have you tasted these wines?
E-mail me your tasting notes,
and I'll consider adding them to this page.
All my wine-tasting reports are consumer-oriented. In order to maintain objectivity and avoid conflicts of interest, I purchase all the wines I rate at my own expense in retail stores.
Back to Current Tasting Notes Index