<!TODAY'S TEXT STARTS HERE!>

Two "Pac Rims" from Bonny Doon

Randall Grahm, the wine maker of California's Bonny Doon winery, is probably known as much for his outlandish sense of humor as for the generally high quality of his wines, and nowhere does this equation come more clear than in the packaging -- and the contents -- of his "Pacific Rim" series of dry white table wines.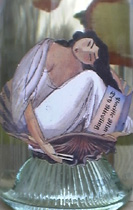 A free-form geisha, for instance, adorns the front of his tasty dry Riesling (pictured at right); the "back label" is actually four separate images of nigiri-zushi, each turned so the sushi picture faces inside, visible through the wine in the bottle. Why does he do this? It's hard to say; perhaps it's just natural for a guy who writes (and presumably thinks) in free-association prose like this from the back of the Gewurz: "Our heart's deepest longing, whether in the realm of romance or restauration is for union, completion or fusion. The idea of the Pacific Rim appeals (by circular logic) to our idea of and thirst for knowing well our hearts' unshakable allegiance to the familiar, the heimlich."
Bonny Doon 1997 Pacific Rim Dry Riesling ($9.99)
Bearing no appellation, being made from an multi-national cuvee of California, Washington State and Nahe (Germany) grapes, this Riesling strikes me as more "Germanic" than most U.S. West Coast examples of the genre. Clear pale-straw in color, with pleasant musky melon and tangerine aromas, it's full, fresh and citric, crisp and trocken-level dry, more suited to the banks of the Rhine than the Pacific. (March 2, 1999)

Bonny Doon 1997 Pacific Rim Monterey Gewürztraminer ($12.99)
Clear, light gold in color, this wine takes a grape that's normally aromatic and pushes it to the limit. A huge musky aroma blasts from the glass, showing an odd and unfortunate note of cooked cabbage at first. Luckily it soon gives way to more palatable canned litchee aromas. Full-bodied and rich, intense white-fruit flavors follow the nose, mouth-filling and dry and slightly bitter, showing a tingly "spicy" quality that's often claimed for Gewurz but rarely observed in practice. An odd wine, almost a caricature -- visualize a used-car salesman in a loud suit, with a noisy demeanor but a heart of gold. (March 2, 1999)

FOOD MATCH: Pacific Rim cuisine for Pacific Rim wines: A cool dish of "bong bong chicken" with cucumbers and cellophane noodles and mildly spicy peanut sauce made a decent match with both wines, perhaps a bit much for the Riesling but sufficient to tame that crazy Gewurz.


Have you tasted this wine?
E-mail me your tasting notes,
and I'll consider adding them to this page.

All my wine-tasting reports are consumer-oriented. In order to maintain objectivity and avoid conflicts of interest, I purchase all the wines I rate at my own expense in retail stores.