<!TODAY'S TEXT STARTS HERE!>

US/Oz Rhone Ranger 'Shootout'

The popularity of Rhone-style red blends is spreading so quickly around the world these days that it should take a savvy wine lover only a moment or two to figure out the hot new Australian acronym, "GSM," as an allusion to a deliciously fruity wine made from a tasty blend of Grenache, Syrah and Mourvèdre grapes.

In the interest of perspective, I set up a friendly "shootout" between Rosemount's highly regarded and much-awarded GSM (1995 edition) and a California "Rhone Ranger" from Zaca Mesa in approximately the same price range, tasting the wines side-by-side from unmarked glasses and rating them before pulling the brown bags off the bottles so I could see which was which.

I'd say both combatants remained standing at the end of the evening; I enjoyed them both but found them stylistically quite different.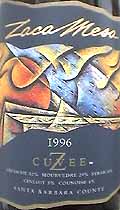 Zaca Mesa 1996 Santa Barbara County "Cuvee Z" ($13.99)
Dark ruby, with pleasant aromas, shy at first, berries and anise, with the earthy "tree bark" that's a trademark of Mourvèdre becoming more evident with time in the glass. Very juicy, almost grapey fruit and fragrant black pepper flavors, much more forward than the nose, with the earthy Mourvèdre qualities forming a persistent ground bass. A good "food wine," it seems to gain complexity and flavor interest with the hens (see below). Made from a blend of Grenache (52%), Mourvèdre (29%), Syrah (10%), Cinsaut (5%) and Counoise (4%). (Feb. 27, 1999)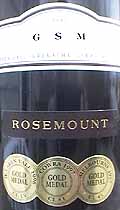 Rosemount 1995 McLaren Vale "GSM" ($17.99)
Dark garnet color (viewed alongside the Zaca Mesa it makes a good example of the standard jewel metaphors for red wines, garnet showing a purplish glint while ruby veers toward the warmer red hues). Ripe red fruit and fragrant pepper aromas almost leap from the glass, very attractive. If this one is fading somewhat with age, as other notes have suggested, it must have been amazing a year ago. Big, spicy and fresh flavor, cherry-berry fruit and lemon-squirt acidity. Sweet new oak is subsumed by the fruit at first but becomes a little more evident with time in the glass, and, oddly, seems to be brought out more by the food match, which for some reason accentuates the wood. Still, it's a ripe and fruity wine, "outrageous" in a good sense. The back label indicates that this wine is made from Grenache (50%), Syrah 40% and Mourvèdre (10%) and aged for 18 months in American oak. U.S. importer: Rosemount Estates Inc., Sonoma, Calif. (Feb. 27, 1999)

FOOD MATCH: As with the previous night's dinner and wine, I got excellent suggestions from members of the Wine Lovers' Discussion Group, deciding to pair these reds with roast free-range Cornish hens stuffed with a dressing of andouille sausage, pecans and Italian Pugliese bread. It worked very well indeed, especially with the Zaca Mesa, as noted above.


Have you tasted these wines?
E-mail me your tasting notes,
and I'll consider adding them to this page.

All my wine-tasting reports are consumer-oriented. In order to maintain objectivity and avoid conflicts of interest, I purchase all the wines I rate at my own expense in retail stores.