GETTING STARTED | WINE NOTES | SEARCH SITE | DISCUSSION FORUMS | 30 SECOND WINE ADVISOR | CONTACT US
<!TODAY'S TEXT STARTS HERE!>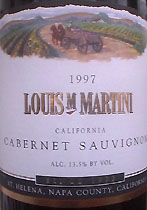 Louis M. Martini 1997 California Cabernet Sauvignon ($12.99)
One of the pioneer Napa wineries, one of the first I ever visited, and still one of my favorites, Louis M. Martini is sometimes overlooked by trend-setters because it has a bit of a reputation as a mass-market label. I'm not sure this is fair, though. I find Martini's wines invariably stylish, easy to enjoy, and - especially in the case of the Cabernet - showing a remarkable ageworthiness that you might not predict, given their easy accessibility in youth.
Dark ruby, with a full, minty blackcurrant scent, characteristic California Cabernet Sauvignon. Juicy and ripe, appealing fruit flavors follow the nose, with tart fresh-fruit acidity and a light, palatable tannic "fuzz." Excellent value, and as is typical of Martini's Cabernets, far more ageworthy than its modest price suggests. (Feb. 27, 2000)
FOOD MATCH: Excellent match with garlicky roasted turkey legs; the dark, oily meat "tames" the tannins and brings the fruit forward.

This wine was featured in The 30 Second Wine Advisor, my free weekly E-mail bulletin of quick wine tips, advice and tasting notes. Click here to join the E-mail list!

Have you tasted this wine?
E-mail me your tasting notes,
and I'll consider adding them to this page.
All my wine-tasting reports are consumer-oriented. In order to maintain objectivity and avoid conflicts of interest, I purchase all the wines I rate at my own expense in retail stores.
Back to Current Tasting Notes Index