GETTING STARTED | WINE NOTES | SEARCH SITE | DISCUSSION FORUMS | 30 SECOND WINE ADVISOR | CONTACT US
<!TODAY'S TEXT STARTS HERE!>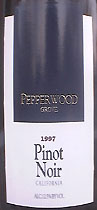 Pepperwood Grove 1997 California Pinot Noir ($6.49)
Ask me if there's a stylish Pinot Noir with some varietal character for well under $10, and I would probably have said, "Impossible!"
But Pepperwood Grove (which also surprised with the high quality of its bargain-priced 1997 Syrah) comes through with a $7 bottle that, while it's no Burgundy, certainly ranks as one of the best Pinot buys around.
Clear garnet in color, it shows pleasant cherry fruit and tomato-skin aromas; big, juicy and simple flavors may lack complexity, but at this price it's a surprisingly characteristic California Pinot and a real bargain. (Feb. 25, 2000)
FOOD MATCH: A good if unexpected match with a version of vitello tonnato, replacing the usual veal with pork under a rich tuna-anchovy sauce.

Have you tasted this wine?
E-mail me your tasting notes,
and I'll consider adding them to this page.
All my wine-tasting reports are consumer-oriented. In order to maintain objectivity and avoid conflicts of interest, I purchase all the wines I rate at my own expense in retail stores.
Back to Current Tasting Notes Index