<!TODAY'S TEXT STARTS HERE!>

Two bargain Portuguese reds

With the single but significant exception of Port, the wines of Portugal haven't attracted much attention outside their nation's boundaries in recent years. Suddenly, however, I'm starting to see a number of tasty and affordable Portuguese wines at bargain prices on the local market. These two come from the Alentejo region, an agricultural plain -- sort of the Portuguese analogue to America's breadbasket Midwest -- across the Targus River from Lisbon. These wines are both a bit "rustic" and simple, but they make very pleasant quaffing and go well with food, and there's no quibbling with the bargain-level price.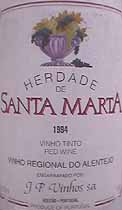 Herdade de Santa Marta 1994 Vinho Regional do Alentejo ($7.99)
Very dark ruby color. Black pepper and grapey fruit on the nose and palate. Juicy and ripe, it quaffs well; a good pizza or spaghetti wine, made from a blend of five grapes dominated by the Portuguese Periquita. U.S. importer: Admiral Wine Imports, Irvington, N.J. (Feb. 21, 1999)
FOOD MATCH: Worked very well indeed with a spicy but not fiery Cajun-style meatloaf.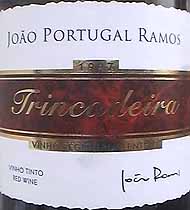 João Ramos 1997 Trincadeira Vinho Regional Alentejo ($9.99)
Made from the Trincadeira grape, a near relative of Periquita, this is a very dark ruby-colored wine with pleasant floral and red-fruit aromas. Full, juicy and soft, it seems to lack structure at first, but crisp, lemony acidity comes through in the finish. U.S. importer: Kysela Pere et Fils Ltd., Winchester, Va. (Feb. 22, 1999)
FOOD MATCH: The ripe, fresh fruit makes it an unexpectedly good match with corned beef and cabbage; it would also go well with ham.

This wine was featured in The 30 Second Wine Advisor, my free weekly E-mail bulletin of quick wine tips, advice and tasting notes. Click here to join the E-mail list!

Have you tasted these wines?
E-mail me your tasting notes,
and I'll consider adding them to this page.
All my wine-tasting reports are consumer-oriented. In order to maintain objectivity and avoid conflicts of interest, I purchase all the wines I rate at my own expense in retail stores.