GETTING STARTED | WINE NOTES | SEARCH SITE | DISCUSSION FORUMS | 30 SECOND WINE ADVISOR | CONTACT US
<!TODAY'S TEXT STARTS HERE!>
"Wine of the Year"?
Sez who?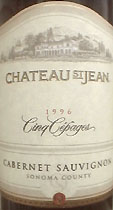 Among those of us who would like to democratize the world of wine and make it accessible to everyone, there's hardly a social faux pas more horrid than making fun of a peer's opinion about a wine.

But when the taster in question is as large a target as America's largest-circulation wine magazine, Wine Spectator, and the opinion in question as bizarre as its decision to declare Chateau St. Jean 1996 Cinq Cépages its "Wine of the Year," apparently based on tastings of samples provided directly by the winery before the wine was released, prompting a dramatic runup in the wine's street price, it is awfully hard to resist taking a poke.

Cinq Cépages, with more than 11,000 cases of the 1996 made and a manufacturer's suggested retail price of $28, is actually not Chateau St. Jean's flagship red; that title is held by its limited-production (500 cases) Cabernet Sauvignon Reserve, with a suggested retail price of $60 for the 1994. Cinq Cepages is labeled as Cabernet Sauvignon, too, indicating that it contains at least 75 percent of that grape; but as the name (literally, "Five grape varieties") implies, it's actually a blend of the five red Bordeaux grapes, Cabernet Sauvignon, Cabernet Franc, Malbec, Merlot and Petite Verdot. The winery is a property of Beringer.

I had occasion to taste the 1996 Cinq Cépages (and, by coincidence, the 1995) during my visits to New York and Boston earlier this month. In both cases I irreverently dubbed it "sink seepage" but seriously judged it a fruity, approachable wine of the style that sells well on restaurant lists by the glass. I had a hard time, though, comprehending what drove The Spectator's team of critics to such flights of fantasy that they ranked it No. 1 among "The Top 100 Wines of 1999" in their Dec. 31 edition, observing as follows:
"The rise of the 1996 Chateau St. Jean Cabernet Sauvignon Sonoma County Cinq Cépages to our Wine of the Year won't surprise those who've tasted this remarkably rich and polished wine as it has evolved. With its uncommon depth, ripe, juicy flavors and plush, velvety texture, Cing Cépages won votes and admiration from our editors for its quality (a 95-point rating on the Wine Spectator 100-point scale), its $28 price and its availability."
This called for a closer, more objective analysis, and finding a sample wasn't going to be easy. Thanks to the publicity, the small allocation in my home town, Louisville, blew off the shelves at the straight retail price before I knew it was here. Luckily, my pal Bob Henrick in neighboring Lexington spotted a few bottles there for $29.95 and picked up one for me.
I brought it home and decided that the fairest way to get a reality check would be to share it with my unsuspecting spouse, Mary W. Johnson. Mary loves good wine and has a discerning palate, but she's not the "wine geek" that I am, and didn't have a clue about Cinq Cépages, its cachet or its notoriety.
I served it casually, on a week night, keeping a straight face and turning the label away from her place, and got her involved in a "can you name it" game with her, hoping her patience wouldn't run out before the end. Here's how it went:
ROBIN: Whaddya think?
MARY: (sniffing) Hmm. Roses. Cedar. Definitely floral. Hibiscus? And this is really gross, there's a smell in there like roach poison. Well, not that bad, but like the perfume they put in roach poison so you can stand to use it.
ROBIN: (snickering) So ... French or California?
MARY: California. Definitely. All that fruit and oak.
ROBIN: Excellent! Want to guess the variety?
MARY: (sniffing and thinking) Pinot Noir? No, maybe Zinfandel? Whatever it is, it's sure iconoclastic.
ROBIN: Mmm. Let's come back to that. Do you think it's expensive, mid-range or cheap?
MARY: Cheap? Unless it's a "cult" Zin.
At this point, I lift the veil and tell her the full story.
MARY: Wine of the year? You've got to be kidding! Give me another glass.
That's pretty much the way I felt. Good quaffing wine, full of fruit. Went nicely with a quick week-night risotto. Wine of the Year? You've got to be kidding.
Here, finally, are my formal notes:
Chateau St. Jean 1996 Cinq Cépages Sonoma County Cabernet Sauvignon ($29.95)
Very dark ruby. Oaky vanillins dominate forward floral and fruity aromas. Big, juicy fruit flavors, appealing and easy to gulp but essentially one-dimensional, black fruit and sweet oak, with oaky vanillins gaining predominance in the finish and taking over from the fruit as the wine airs in the glass. Wine of the year? Helloooo??? (Feb. 22, 2000)
FOOD MATCH: Went well to wash down a quick risotto with Italian sausage, peppers and onions.
AFTERTHOUGHT: The next day, on a whim, I poured out the leftovers and replaced them with Concha y Toro 1994 Maipo Valley (Chile) Cabernet Sauvignon, a $4.99 wine that had been sitting on a wine rack for a few months. Fruity, oaky and one-dimensional, it seemed to fall into the same general flavor profile as the Cinq Cépages. Doing the straight-face thing again, I offered Mary a sniff, wondering if she would pick up on the substitution. "The hibiscus is all gone," she said. "And it's really sour. Is this the same wine?" Not bad for someone who says she's not really into wine!
Comments from Readers
KATHY: I tasted this wine, (double blind) and 6 other Meritage wines. To help me were 6 other people, three of them wine distributors. At $41.35 retail in my store, It made forth place, just above the Lyeth (that I tossed in for fun)! BV blew it away and Millenium (which is a jump in price, but not when you consider what I've seen Cing Cep. up to now- $60). Also... I displayed stacks of St. Jean all year long, my reward? Two bottles of their prized wine. Sad, Sad, soo...
R. van der L. I tasted this wine this February in Breckenridge CO at the Cafe Alpine (great meal and wonderful wine list). My wife and I liked the wine but it was hard to understand why it had gotten that "Best of the Year" rating. Not unlike a lot of other $25 wines -- a bit better than your critical comments, but just a nice, full, Cab with little complexity. The restaurant was also a bit surprised about the Wine Spectator rating. Thanks for your good articles.
Steve G.tasting notes:
Color is great dark ruby.
Nose also excellent but too much vanilla as is the problem with the taste - I think this is a common problem with Cal Cabs but it sells so... I thought the wine better than you and your wife did (although I liked the review). It is still too tight and will be better way down the road. The "rat poison" your wife smelled came across to me as another level of flavor as I did not associate the smell with poinson. I may therefore have been able to enjoy flavor developing after that that you might have shied away from (as I would upon discovering rat poison). On the other hand maybe I should add a touch of strychnine to my spice cabnet. I think wine makes you feel more than taste. By this I mean it recalls images and emotions through assocations in the smell and taste. If you get "rat anything" from a bottle it will not do well. But if you follow this idea, naming a wine of the year is ridiculous as tasting evokes personal responses - by definition different for different people. Love the web site.
Have you tasted this wine?
E-mail me your tasting notes,
and I'll consider adding them to this page.
All my wine-tasting reports are consumer-oriented. In order to maintain objectivity and avoid conflicts of interest, I purchase all the wines I rate at my own expense in retail stores.
Back to Current Tasting Notes Index