GETTING STARTED | WINE NOTES | SEARCH SITE | DISCUSSION FORUMS | 30 SECOND WINE ADVISOR | CONTACT US
<!TODAY'S TEXT STARTS HERE!>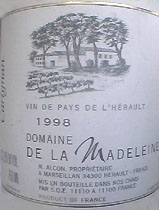 Domaine de la Madeleine 1998 Vin de Pays de l'Hérault Carignan ($9.99)
Like a lot of other grapes, Carignan doesn't get much respect. Unlike a lot of grapes, it doesn't really deserve much. The plonkish grape that dominated the old Algerian wine industry when Algeria was a French colony and still a major wine producer; and still the primary grape of Languedoc, harking back to the not-so-distant time when Languedoc was known mostly for its cheap, forgettable table reds, Carignane is better known for dark, ripe one-dimensionality than anything like finesse or flavor interest. The fact that a few scattered wine makers - like this one - can do something interesting with it doesn't really make me jump to buy Carignane when I see it on the shelf.
That being said, this one's not a bad table quaff for under $10. Very dark reddish-purple, it breathes plummy fruit and fragrant pepper aromas. Its flavor is warm and rather plummy, with full-bodied red fruit and crisp acidity. Good at the table and a fair value, if hardly a memorable wine. U.S. importer: Hand Picked Selections, Warrenton, Va. (Feb. 18, 2000)
FOOD MATCH: Works to wash down Cornish hens, butterflied and roasted with a baste of hoisin sauce and Asian spice.

Have you tasted this wine?
E-mail me your tasting notes,
and I'll consider adding them to this page.
All my wine-tasting reports are consumer-oriented. In order to maintain objectivity and avoid conflicts of interest, I purchase all the wines I rate at my own expense in retail stores.
Back to Current Tasting Notes Index