<!TODAY'S TEXT STARTS HERE!>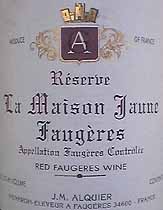 J. M. Alquier 1996 Réserve la Maison Jaune Faugères ($13.99)
A sibling to the Alquier Réserve les Bastides tasted on Jan. 29, this one offers a blend of Grenache, Mourvèdre and Carignane to its slightly more pricey brother's Syrah. It's equally good value, though, showing delicious complexity at a mid-range price point. Black pepper and violets and "tree bark" aromas over intense black fruit invite a taste, which does not disappoint: Deep, juicy and tart, with soft tannins in the background that firm up in a very long finish. U.S. importer: Kermit Lynch Wine Merchant, Berkeley, Calif. (Feb. 16, 1999)

FOOD MATCH: Well chosen to stand up to the flavors of an aromatic but not fiery quinoa "risotto" with chicken-ginger sausage and light Thai spices.


After dinner, continuing our inquiry into the excellent Henriques & Henriques Madeiras -- see my recent reports on their Bual and Malmsey -- we opened another of this firm's offerings:

Henriques & Henriques non-vintage Sercial 5 Years Madeira ($17.99)
Clear amber color. Full yet delicate aroma, mixed nuts and citrus, lemon peel. Slightly sweet flavor but not "sticky," with that very tart, lemony acidic zing that's typical of good Madeira. Long and lean, with lemon-peel flavors predominant in the finish. U.S. importer: Europvin USA, Emeryville, Calif. (Feb. 16, 1999)

Have you tasted these wines?
E-mail me your tasting notes,
and I'll consider adding them to this page.

All my wine-tasting reports are consumer-oriented. In order to maintain objectivity and avoid conflicts of interest, I purchase all the wines I rate at my own expense in retail stores.