<!TODAY'S TEXT STARTS HERE!>

A Louisville wine dinner
Mike Conner (left) and Jeff Pfohl.

It was a Merrie Little Bande indeed that gathered at our house last night for an offline evening of good wine, good food and good fellowship. Present and accounted for were Eric and Ginny Stauffer (from Indianapolis), their child Jake and friend Vanessa; Mike Conner from Knoxville and his wine-loving pal Jeff Pfohl (in from New Mexico); and Matthew and Amy Cooper from Lexington, Ky., and my wife, Mary and me. Over a mound of Caesar salad and an oversize pan of a straight-ahead lasagna (chosen specifically to be friendly to as wide a range of wines as possible), we opened quite a variety of aperitifs and dinner wines, finishing up with a trio of Banyuls (and an appropriately "sinful" heavy chocolate dessert) and, as a finishing touch, a good Tokaji Aszú.

I think it's fair to say that a good time was had by all. Here's the tasting report:

APERITIFS

Louis Jadot 1997 Grand Clos de Loyse Chateau des Jacques Beaujolais-Villages Blanc ($11.99)
Clear straw color, with fresh apple and crisp fruit aromas and flavors. Characteristic Chardonnay, shows its kinship to neighboring Macon. U.S. importer: Kobrand Corp., NYC. (Feb. 13, 1999)

Lustau Single Cask Dry Oloroso Sherry, Almacenista Maria Luisa Coveñas ($32.99)
Brilliant amber color, with delicious and exceptionally complex aromas, walnuts and almonds and orange peel. Full and rich, bone-dry flavor, intense and very, very long. U.S. importer: Europvin USA, Emeryville, Calif. (Feb. 13, 1999)

Nigl 1995 Kremstal (Austria) Grüner Veltliner Ried Gärtling
Pale straw color. White fruit and that classic slate-like Austrian "mineral" aroma. Crisp, tart and dry, well-balanced and clean in a long finish. U.S. importer: Milton S. Kronheim & Co. Inc., Washington, D.C.; a Terry Theise Estate Selection. (Feb. 13, 1999)

FOOD MATCH: All worked well with assorted cheeses; the spectacular Sherry and a wedge of Stilton made an especially delicious match.

MAIN COURSE
Eric Stauffer (left) and Matt Cooper

Havens 1996 Carneros Syrah
Inky dark reddish-purple. Full, peppery fruit, big and ripe, prunes and plums and mulberries. Develops an earthy quality with breathing that's close to "barnyard," but certainly stays on the palatable side of the ledger. (Feb. 13, 1999)

Paradigm 1994 Napa Valley Oakville Zinfandel
Dark garnet. Delicious "bramble fruit" aroma of blackberries and raspberries, full and ripe; big and fruity on the palate, with a distinct herbaceous edge of green veggies. (Feb. 13, 1999)

Henschke 1985 Cyril Henschke Barossa Valley (Australia) Cabernet Sauvignon
Dark ruby with an orange-amber glint. Lots of aromatics on the nose, mint, eucalyptus and anise over black fruit. Very high in acidity with plenty of surving fruit and aromatics consistent with the nose. Odd, not unpleasant, seems better balanced with food than on its own. U.S. importer: Negociants USA Inc., California. (Feb. 13, 1999)

Chateau Grand-Puy-Lacoste 1975 Saint Guirons Pauillac
Hazy dark-garnet, with vegetal aromas, green and leafy, and little evidence of fruit on the nose. Much better on the palate, delightfully ripe if delicate, full of the delicious "sweet fruit" character of older Bordeaux. Growing old but far from moribund. U.S. importer: Robert Chadderdon Selections, NYC. (Feb. 13, 1999)

FOOD MATCH: As anticipated, a simple lasagna (using Sicilian pasta, mild fennel-laced pork sausage, Italian buffalo-milk mozzarella and whole-milk ricotta with a pleasantly herbal but not overly spicy or acidic homemade tomato sauce made a hearty and relatively neutral foil for a variety of robust reds.

DESSERT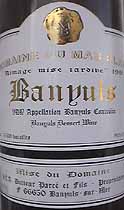 Dr. Parcé Rimage Mise Tardive 1991 Domaine du Mas Blanc Banyuls ($22.99)
Dark ruby, with ripe and delicious blackberry aromas and a full flavor that follows the nose, ripe and sweet, with good tart-fruit acidity for balance. U.S. importer: Vineyard Brands Inc., Birmingham, Ala.; Robert Haas Selections. (Feb. 13, 1999)

Parcé et Fils Collita 1976 Domaine du Mas Blanc Banyuls
Hazy reddish-amber. Vinous, alcoholic scent, blueberry jam. Ripe, leathery, organic, sweet as blueberry jam, still plenty of luscious berry fruit. Gets a bit funky with time in the glass but still holding up well. (Feb. 13, 1999)

M. Chapoutier 1995 Banyuls Vin Doux Naturel ($17.99/500 ml)
Clear bright ruby. Startlingly different in character from the Parcés, with perfumed floral and minty aromas with a distinct medicinal note of witch hazel. Sweet and simple, not up to the other two Banyuls on the table. U.S. importer: Paterno Imports, Lake Bluff, Ill. (Feb. 13, 1999)

FOOD MATCH: Banyuls does go with chocolate, especially with the flourless chocolate espresso cake with raspberry sauce recipe that we learned from Eric, a truly outrageous dessert that incorporates a pound of chocolate, a pound of butter, a cup of strong espresso, a cup of brown sugar and eight, count 'em, eight eggs. The chocolate brings out amazing raspberry flavors in the wine, which in turn complements the cake's raspberry sauce. Amazing!

And finally, sipped by itself at evening's end:

Disnókö 1993 Tokaji Aszú 5 Puttonyos
Clear, bright amber-gold. Ripe golden raisins in a rich, heady aroma, typical of Tokaji, with conifer-type aromatics, pine and spruce, playing in counterpoint. Fresh and fruity on the palate, intensely sweet, with good tart acidity for balance. U.S. importer: William Deutsch & Sons Ltd., Armonk, N.Y. (Feb. 13, 1999)

Have you tasted these wines?
E-mail me your tasting notes,
and I'll consider adding them to this page.

All my wine-tasting reports are consumer-oriented. In order to maintain objectivity and avoid conflicts of interest, I purchase all the wines I rate at my own expense in retail stores.