GETTING STARTED | WINE NOTES | SEARCH SITE | DISCUSSION FORUMS | 30 SECOND WINE ADVISOR | CONTACT US

<!TODAY'S TEXT STARTS HERE!>

Three good kosher wines

Planning a small gathering to celebrate the birth of her child, our friend Eileen asked us to provide wine for the event. "It has to be kosher, she said. But none of that sweet grapey stuff!"

Not a problem. Although many people, especially in the U.S., associate "kosher" with "Mogen David" and "Manischewitz" and their thick, grape-jelly style, I soon learned that this is in no way a requirement for kosher wine, which in fact (barring a variation called meshuval, which I won't get into here) may be made identically to other dry table wines in the European tradition, the only issue being that it is produced under rabbinical supervision.

The three wines below, one from California and two from Israel, passed muster with the group and went well enough with brunch fare ... even bagels with cream cheese and lox!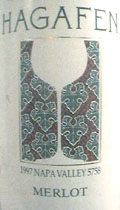 Hagafen 1997-5758 Napa Valley Merlot ($16.99)
Dark garnet, ripe black-cherry and chocolate scents. Ripe, fruity, oaky fresh-fruit sweetness at first, dries out in a pleasantly tart and tannic finish. Appealing Merlot. The only wine I've ever seen that carries its vintage in both the civil and Jewish calendars. (Feb. 13, 2000)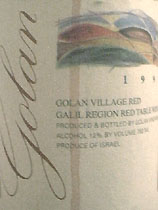 Golan 1996 Golan Village Red Galil Region (Israel) Red Table Wine ($9.99)
Dark ruby. Grapey and caramel aromas. Dry, fruity and quite tart. Quaffable, good food wine. A blend of Gamay Noir, Napa Gamay, Pinot Noir and Syrah. (Feb. 13, 2000)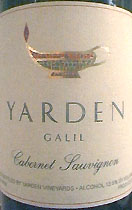 Yarden Galil non-vintage Galil (Israel) Cabernet Sauvignon ($19.99)
Very dark reddish-purple, Light, pleasant blackberry scent. Tart berry fruit flavor. Odd, interesting, pleasant but very un-Cabernet-like. (Feb. 13, 2000)

Have you tasted these wines?
E-mail me your tasting notes,
and I'll consider adding them to this page.
All my wine-tasting reports are consumer-oriented. In order to maintain objectivity and avoid conflicts of interest, I purchase all the wines I rate at my own expense in retail stores.
Back to Current Tasting Notes Index