<!TODAY'S TEXT STARTS HERE!>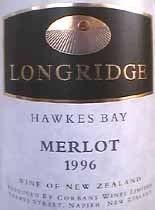 Longridge 1996 Hawkes Bay (New Zealand) Merlot ($9.99)
Although New Zealand's red wines suffer the stereotypical image of being weedy and thin, I've found the Merlots from Longridge -- a label of the large Corbans firm -- to be consistently full and pleasing. This one's no exception. Clear garnet in color, it breathes earthy aromas of black-cherry and spice, with a light, not unpleasant veggie note. Good sour cherries and sweet oak combine in a flavor that's cleansing and tart. U.S. importer: Dreyfus, Ashby & Co., NYC. (Feb. 9, 1999)

FOOD MATCH: Very good match indeed with roast free-range chicken on a bed of quinoa.

Covey Run 1995 Columbia Valley (Washington) Merlot ($16.95)
Inky dark garnet. Oaky vanillins supersede black fruit with an odd note that my wife, who grew up on a farm, identifies as quicklime. Ripe, juicy tart-cherry flavors offer more fruit on the palate than in the nose, with sweet oak and tart, almost sour acidity. Big and full, but somehow awkward, hot and rough in the finish. Despite the significant price differential, I'd pick the Longridge over it on style points. (Feb. 8, 1999)

FOOD MATCH: Fine with pan-grilled, pepper-crusted sirloin.


Have you tasted these wines?
E-mail me your tasting notes,
and I'll consider adding them to this page.

All my wine-tasting reports are consumer-oriented. In order to maintain objectivity and avoid conflicts of interest, I purchase all the wines I rate at my own expense in retail stores.