<!TODAY'S TEXT STARTS HERE!>

Two for pizza and more

Regarding pizza as one of nature's most nearly perfect foods, I've never thought of the term "pizza wine" as a pejorative. Pizza's luscious mix of molten, creamy cheese, sweet-tart tomato sauce and crisp, breadlike crust are enough to make a meal in itself; and if you keep the cheese and heavier toppings under control, it's arguably not just nutritious but healthful. The wine should be Italian, of course, and a dry red, crisp enough to cleanse, soft enough to quaff. Chianti and Valpolicella, two good names somewhat devalued by modern mass-market labels, regain their historic stature when you choose good examples ... and you don't have to drink them with pizza.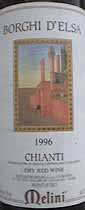 Melini 1996 Borghi d'Elsa Chianti ($9.49)
Clear ruby with a distinct orange hue. Spicy aromas, cinnamon and allspice, over fresh red fruit. Crisp and tart flavor, consistent with the nose, simple and quaffable. Not a contemplative wine, but fine for washing down ... well, you know. U.S. importer: Frederick Wildman and Sons Ltd., NYC. (Feb. 5, 1999)
FOOD MATCH: Sausage pizza.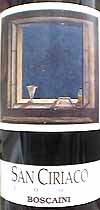 Boscaini 1997 San Ciriaco Valpolicella Classico ($14.99)
Dark garnet, with an appetizing sour-cherry and strawberry aroma that leads into a juicy, tart red-fruit flavor that's clean, zippy and lasting. A very appealing wine. U.S. importer: Dreyfus, Ashby & Co., NYC. (Feb. 7, 1999)
FOOD MATCH: Anchovy and black-olive pizza.

These wines were featured in The 30 Second Wine Advisor, my free weekly E-mail bulletin of quick wine tips, advice and tasting notes. Click here to join the E-mail list!

Have you tasted these wines?
E-mail me your tasting notes,
and I'll consider adding them to this page.
All my wine-tasting reports are consumer-oriented. In order to maintain objectivity and avoid conflicts of interest, I purchase all the wines I rate at my own expense in retail stores.