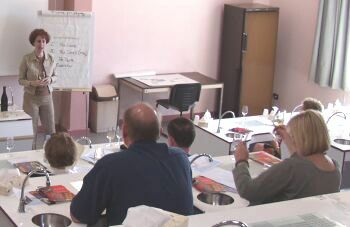 Suze-la-Rousse, Cairanne (Wednesday, June 12)
After a quick tour of Chateau Suze-la-Rousse, the Renaissance-era hilltop castle that dominates the village of Suze-la-Rousse, our group spent the morning in the modern, clinical tasting laboratories at the Université du Vin, where Lauriann Greene presented an extensive introduction to wine tasting and overview of the vineyards and wines of the Rhone Valley and Provence, to provide context for the winery visits and tasting that we'll be doing this week. (Photo at right.)
To get our palates calibrated, we sampled three regional wines for tasting and analysis in the classroom setting:
Domaine du Paternel 1997 Cassis - Clear golden-bronze in color, rather dark; aromatic banana oil and apple aromas were overlain with almond and hazelnut scents, which - together with the dark color - suggest a white meant for early drinking but held a few years past its peak. Citric, tart and very long in the finish, it was still an intriguing example of an offbeat Provence white.
Domaine Pélaquié 1999 Côtes du Rhône Villages Laudun - Dark garnet, clear but not brilliant. Unfiltered? Plummy fruit and raw-meat aromas, a whiff of herbs, but the aromas overall are low in intensity. Sweet fruit flavors, peppery and soft at first, showing some alcoholic warmth and hot tannins.
Domaine la Monardière 1998 Vacqueyras Vieilles Vignes - Dark ruby color. Black fruit and spicy-sweet oak aromas, plums and herbs. Full and balanced flavor, good structure, warm alcohol and tannins.
Lunch at Le Garlaban in Suze-la-Rousse
A quick walk down the cobblestone streets of the old village brought us to Le Garlaban (31, rue des Remparts), a Provencal restaurant with a small but pleasant flower-bedecked courtyard, where we enjoyed a simple but appealing red from the local cooperative:
La Suzienne 2000 Côtes du Rhône "Le Mistralou" - Clear ruby color. Berries and spice, simple, tart and fresh. Nothing to contemplate, but delicious with a hearty, varied lunch that included:
Sage-scented lamb sausage and artichoke hearts wrapped in caul fat, sea bass fillets on salt-cod and potato brandade and browned butter and tangy cow's-milk cheese with fresh oregano and green olive oil, followed by a baked pear stuffed with marzipan butter and dusted with crushed ginger snaps alongside a bit of ginger sorbet.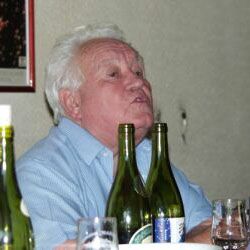 Domaine Mazurd & Fils, Tulette
The proprietor of Domaine Mazurd (photo at left as he swishes and tastes one of his wines) produces Côtes du Rhône from 110 hectares around the village of Tulette. In addition to modest "bag in box" and vrac wines (dispensed directly from the vats to local customers' bring-your-own jugs and containers), he produces a line of wines of surprisingly good value, not exported to the U.S.
Domaine Mazurd 1995 Côtes du Rhône (€5) - Ruby color; very peppery and surprisingly fresh berry fruit for a seven-year-old basic Côtes du Rhône. It's 90 percent Grenache, 10 percent Syrah.
Domaine Mazurd 1994 Côtes du Rhône Villages (€8) - Forty percent Syrah, aged in new oak, this villages bottling is bright ruby in color and still markedly oaky after eight years. Spicy wood dominates bright fruit in an idiosyncratic, surprisingly youthful wine.
Domaine Mazurd 1990 "Cuvée Speciale" Côtes du Rhône (€12) - Light cherry in color, this 100 percent Grenache wine is perfumed and floral, redolent of berries and fragrant pepper. Expressive of pure, juicy fruit, it's almost impossible to believe that this wine is 12 years old.
Domaine Mazurd 1993 Cuvee Mazurka (€7.50) - Clear ruby color, ripe and round, fresh and peppery.
Chateau de Gourdon 1995 Côtes du Rhône (€10) - Bright ruby in color, juicy berries and spicy oak with a burst of fragrant pepper on the nose and palate. It's 70 percent Grenache, the rest Syrah.
Domaine Mazurd 1995 l'Or du Rhone Côtes du Rhône (€8.80) - 100 percent Grenachemade from 102-year-old vines, it's a bright cherry color with a ripe scent of spicy berries; tart, juicy and fresh, it's full but balanced in spite of a stunning 15 percent alcohol.
The Dentelles du Montmirail form a background for vineyard workers at Domaine Richaud in Cairanne.

Domaine Richaud, Cairanne
Our last winery visit of this long day took us to Cairanne, another of the Côtes du Rhône villages permitted to add the local name to the label. A small but modern producer, Richaud makes excellent wines that show the region's typical full, round character. Relatively tiny in production at 50,000 bottles per year, it reaches only New York City and Northern California with its imports to the U.S.
Domaine Richaud 2000 Côtes du Rhône Villages Cairanne Blanc (€11) - Clear straw color, perfumed and floral; full and rich white fruit and a hint of almonds in a complex and pleasing white made from Roussanne, Marsanne, Viognier, Grenache Blanc and Clairette.
Domaine Richaud 2001 Côtes du Rhône "Les Garrigues" (€6) - Very dark ruby color. Perfumed, herbal and intense, lives up to its name with a remarkable blast of herbal "garrigues," the local name for the aromatic rosemary, thyme and sage that grow over the dry hills of Provence and add their scents to the summer air. A great value.
Domaine Richaud 2000 Côtes du Rhône Villages Cairanne (€7.50) - Very dark reddish-purple. Warm and plummy fruit, a hint of anise. Full, structured and tannic, deep and balanced fruit.
Domaine Richaud 1999 Côtes du Rhône Villages Cairanne Cuvée l'Ebrescade (€13.50) - Inky blackish-purple, warm scents of raspberries, herbs and fennel. Big and juicy fruit creates an impression of sweetness at first, opening into warm, tart and tannic flavors in a huge and structured wine.
A long day of tasting brought us back to Avignon full and satisfied but with little enthusiasm for a fancy dinner. We took an ethnic left turn and dined lightly at a Vietnamese eatery in Avignon, washed down with draughts of icy Tsingtao beer.
Rhone/Provence Diary 2002 Index

Previous day's report | Next day's report

Tour Bordeaux with us next year!
<!- Page Contents End Here ->