<!TODAY'S TEXT STARTS HERE!>

Two from the Italian Piedmont

One of my favorite wine regions around the world is the Piemonte ("Piedmont" or, literally, "Foothills") of Northwestern Italy, where Italy meets France at the edge of the Alps. While the great Nebbiolo-based wines such as Barolo and Barbaresco may represent the pinnacle of the region's wines -- both in quality and price -- it pays not to overlook the more affordable, characteristic and delicious red wines made from Dolcetto and Barbera, as these two goodies from the neighboring towns of Alba and Asti reveal.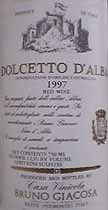 Bruno Giacosa 1997 Dolcetto d'Alba ($11.99)
Dark ruby color. Very pleasant scent of spring violets, a frequent and delightful characteristic of Piemontese reds. Soft, juicy fruit flavor, dry but so intense that it conveys an impression of fresh-fruit sweetness. Crisp, lemony acidity lends structure and balance. Delicious! U.S. importer: Winebow Inc., NYC; Leonardo Locascio Selections. (Feb. 2, 1999)
FOOD MATCH: Fine with roast chicken.

Prunotto 1997 "Fiulot" Barbera d'Asti ($9.99)
Dark garnet, with pleasant black-cherry aromas and a hint of fennel. Very full-bodied, almost overripe plummy fruit, but there's tart acidity to hold it in balance and soft tannins to offer structure. U.S. importer: Winebow Inc., NYC; Leonardo Locascio Selections. (Feb. 3, 1999)

FOOD MATCH: Works well with a hearty chicken-and-cabbage risotto.


Have you tasted these wines?
E-mail me your tasting notes,
and I'll consider adding them to this page.

All my wine-tasting reports are consumer-oriented. In order to maintain objectivity and avoid conflicts of interest, I purchase all the wines I rate at my own expense in retail stores.