GETTING STARTED | WINE NOTES | SEARCH SITE | DISCUSSION FORUMS | 30 SECOND WINE ADVISOR | CONTACT US
<!TODAY'S TEXT STARTS HERE!>
"No sulfites added"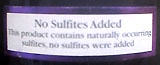 The reality that only a handful of severe asthmatics are sensitive to sulfites in food products to the contrary notwithstanding, the mandatory warning about sulfites on wines sold in the U.S. has created a climate in which a lot of people assume that there must be something wrong with those nasty little synthetic critters.


In fact, as discussed in our 30 Second Wine Advisor last March, "Sulfites in wine: Why the warning label?, all wines contain sulfites. Sulfites are created naturally as a byproduct of fermentation in the wine-making process, and they have also been added by wine makers for thousands of years as a natural preservative.

Sulfites are no joke for people diagnosed with sulfite sensitivity; but this affliction is so rare that the U.S. Food and Drug Administration's Adverse Reaction Monitoring System, reported just six cases of sulfite reaction in the U.S. in 1995, and that was from all food sources, not just wine.

Even so, a handful of manufacturers, perhaps sensing a good marketing concept, have rushed to the market with wines labeled "no sulfites added." Although these wines still carry natural sulfites from fermentation, they typically fall below the level of 10 parts per million of sulfites that requires the warning label.

I ran across such a wine the other day, a Merlot from the Badger Creek winery in Washington State, advertised by a retailer who should have known better as "sulfite-free," which it is not. The wine's back label was more forthcoming, explaining:
"No Sulfites Added"
This wine was made from selected grapes grown in our certified organic estate vineyard. It contains naturally occurring sulfites, which are a product of fermentation. No additional preservatives are used. Organically grown, no added sulfites - pure and simple. Store in a cool, dark place or refrigerator.
Now, here's the bad news: Apparently demonstrating the reality that wine without preservatives doesn't stay preserved, the product in this bottle proved to be a very poor wine. Fortunately, two other Merlots tasted recently - treated with the traditional sulfites and selling for a few dollars less - were more rewarding in the taste department.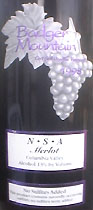 Badger Mountain 1998 "N*S*A" Columbia Valley (Washington State) Merlot ($14.99)
Hazy dark ruby, with funky, spicy fruit flavors that start out as canned green beans and open up in the glass to "horsey," "barnyard" aromas of brettanomyces contamination, could pass for a very rustic Languedoc. Soft and herbaceous in flavor, consistent with the nose, rather lacking in structure and balance. Not a very good wine, although it's hard to tell where the effects of sulfiting leave off and the effects of winemaking begin. (Feb. 2, 2000)
FOOD MATCH: Served with lamb stew, not particularly palatable.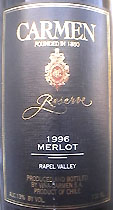 Carmen Reserve 1996 Rapel Valley (Chile) Merlot ($10.99)
Clear, dark reddish-purple, with good black-cherry and dark-chocolate aromas that carry over in a tasty chocolate-covered cherry flavor impression, ripe and full, with lemony acidity in the finish. Easy drinking, should probably be consumed soon, before the bright fruit fades. U.S. importer: Brown-Forman Beverages Worldwide, Louisville. (Feb. 2, 2000)
FOOD MATCH: Fine with an Italian-style lamb stew with white beans.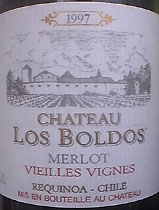 Chateau Los Boldos 1997 Requinoa (Chile) Merlot Vieilles Vignes ($6.99)
Very dark reddish-purple. Perfumed fruit and spicy oak aromas, hard to parse out as Merlot but pleasant enough; bright, fresh fruit flavors, juicy and tart. Pleasant quaff at a low-end price. U.S. importer: Dreyfus, Ashby & Co., NYC. (Feb. 3, 2000)
FOOD MATCH: Fine with a pan-grilled T-bone.

Have you tasted these wines?
E-mail me your tasting notes,
and I'll consider adding them to this page.
All my wine-tasting reports are consumer-oriented. In order to maintain objectivity and avoid conflicts of interest, I purchase all the wines I rate at my own expense in retail stores.
Back to Current Tasting Notes Index