<!TODAY'S TEXT STARTS HERE!>

Two affordable dry Sherries

I can hardly think of a better example to illustrate a dissertation of the taste and texture of wine than Sherry, a powerful, fortified wine from Spain with a rich, heavy mouthfeel attributable to high alcoholic content and, in some cases, intense sweetness. Not all Sherries are sweet, however, and today's notes feature two dry Sherries -- the relatively light and delicate Fino and a dark, rich but not-so-sweet Amontillado (the subject of Poe's famous story).

Made by an unusual process involving exposure to air (normally a no-no in wine making) and an exotic yeast called flor, Sherry is distinctly different from traditional table wines. But it's a delightful difference, and the simple fact is that Sherry is one of the few really world-class wines still selling at a bargain price. It's almost unbelievable that wines of this quality are available for less than $10.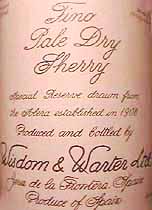 Wisdom & Warter Ltd. non-vintage Fino Pale Dry Sherry ($8.49)
Clear light gold in color, this Sherry breathes a delicious scent of walnuts and crisp, ripe apples. Crisp fruit and cracked-nut flavors follow the nose, richly textured and tart. Bone-dry, its walnutty flavor remains consistent in a long, clean finish. U.S. importer: Excelsior Wine & Spirits, Farmingdale, N.Y. (Jan. 31, 1999)
FOOD MATCH: Best as an aperitíf or for after-dinner sipping; an intriguing match, however, with French onion soup.

Wisdom & Warter Ltd. non-vintage Extra Amontillado Sherry ($8.49)
Brilliant clear amber, the color of a good Bourbon whiskey. Lovely walnut, orange-peel, almond and spice aromas invite a taste, and the flavor rewards, full and rich, perhaps just a touch of sweetness, but with a good core of lemony acidity, it communicates itself as warm and dry. Very fine wine and a remarkable value. U.S. importer: Excelsior Wine & Spirits, Farmingdale, N.Y. (Jan. 27, 1999)

FOOD MATCH: Delicious after dinner, but also makes a surprising match with such varied dishes as fried clams and blue cheese.
These wines were featured in The 30 Second Wine Advisor, my free weekly E-mail bulletin of quick wine tips, advice and tasting notes. Click here to join the E-mail list!

Have you tasted these wines?
E-mail me your tasting notes,
and I'll consider adding them to this page.

All my wine-tasting reports are consumer-oriented. In order to maintain objectivity and avoid conflicts of interest, I purchase all the wines I rate at my own expense in retail stores.