<!TODAY'S TEXT STARTS HERE!>

Three good reds from Southern France

Two flavorful reds from Languedoc and one from Lirac, a region on the right bank of the Southern Rhone that virtually borders on Languedoc, form a tasty and relatively affordable trio for today's tasting report. As Languedoc rises from its old status as a lightly regarded producer of jug wines, two of the several leading regions for wines of quality -- as illustrated by the examples below -- are Faugères and the subdivision of the Coteaux du Languedoc called Pic Saint-Loup. Lirac is a bit reputation-impaired, as well, but at its best, its light, fragrant and fruity reds (like this one) can offer good value.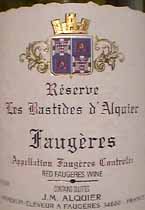 J.M. Alquier 1996 Réserve les Bastides d'Alquier Faugères ($15.99)
Dark garnet in color, this exceptional wine breathes perfumed fruit aromas, floral and earthy, with wafts of dried rose petals and orange peel and a lovely hint of almond. Good ripe red-fruit flavors are consistent with the nose; fresh fruit well balanced with crisp acidity, clean and long. Although its price point is a bit above the bargain bin, it already stands likely to rank as one of my best wines of 1999. U.S. importer: Kermit Lynch Wine Merchant, Berkeley, Calif. (Jan. 29, 1999)
FOOD MATCH: Excellent with roast chicken.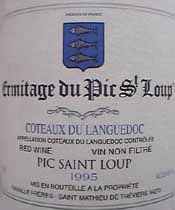 Ermitage du Pic St Loup 1995 Coteaux du Languedoc ($10.99)
Clear, dark ruby with fragrant mint and herbal aromas, tarry and smoky aromatics over mixed-berry fruit. Juicy and ripe flavors, earthy and herbal elements and berries, in synch with the nose. Full and complex, a lot of character for a very good price. U.S. importer: Kermit Lynch Wine Merchant, Berkeley, Calif. (Jan. 30, 1999)

FOOD MATCH: A stunning match -- herbs playing against herbs -- with an Italian lamg dish braied with rosemary and juniper berries.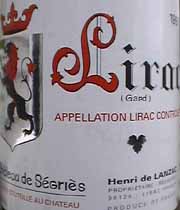 Château de Ségriès 1997 Lirac (Gard) Cuvee Reservee ($9.99)
Clear dark ruby. Black pepper and fresh-cut roses burst from the glass in a rustic but delicious fragrance. Full, juicy fruit is laced up with floral black pepper and soft acidity in a simple, rather short but appealing flavor. U.S. importer: Kysela Pere et Fils Ltd., Winchester, Va. (Jan. 31, 1999)

FOOD MATCH: Good quaff with homemade Cincinnati chili (which is really Greek spaghetti with meat sauce).


Have you tasted these wines?
E-mail me your tasting notes,
and I'll consider adding them to this page.

All my wine-tasting reports are consumer-oriented. In order to maintain objectivity and avoid conflicts of interest, I purchase all the wines I rate at my own expense in retail stores.