<!TODAY'S TEXT STARTS HERE!>

Five Affordable Bordeaux

A string of lackluster vintages coupled with rising prices have largely put me off Bordeaux in recent years, but generally fine quality in 1995 and '96 has brought me back. While the prices for the top properties still take your breath away, there's plenty of fine Bordeaux to be had for $20 or less, as the following notes reveal. (Notes presented in order of cost, lowest first.)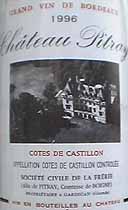 Chateau Pitray 1996 Cotes de Castillon ($8.99)
Best Buy!
Clear garnet, with pleasant blackcurrant and cedar aromas. Full and tart fruit flavor, clean and fresh; soft tannins and crisp acidity provide structure. Surprisingly characterful Bordeaux for a bargain-basement price; its roots in a stereotypically "lesser" district, east of St.-Emilion, may account for that, but this one rises above its origins. U.S. importer: William Grant & Sons Inc., NYC. (Jan. 24, 1999)
FOOD MATCH: Perfect with T-bones.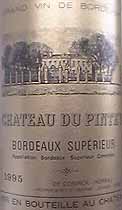 Chateau du Pintey 1995 Bordeaux Supérieur ($9.99)
Dark ruby color. Red fruit, apples and currants, in a pleasant perfumed aroma, and a juicy, tart flavor that's consistent with the nose. Clean, light, a bit short in the finish, it's a good table wine for the price, if atypical Bordeaux. U.S. importer: The Stacole Co., Boca Raton, Fla. (Jan 28, 1999)
FOOD MATCH: A good partner with pork chops braised with onions.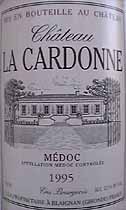 Chateau la Cardonne 1995 Médoc Cru Bourgeois ($14.99)
Widely regarded as an excellent bargain Bordeaux during the '80s, Cardonne slipped for a number of years, in my opinion, to the extent that I quit buying it entirely for a while. So I was delighted to hear reports from several friends that it was back on form with the '95, and brought reasonably high expectations to this wine. Sorry, but I just don't get it, especially since it's selling here at a higher-than-average price point for the brand. It's a clear garnet color, shading to purple, with a faint herbal aroma hinting at juniper and sage with an odd, perfumed whiff of "shoe leather." Soft and thin on the palate, it shows leathery and distinct menthol notes but not much fruit, and failed to open up significantly after several hours in the glass. U.S. importer: Seagram Chateau & Estates Wines Co., NYC. (Jan. 23, 1999)
FOOD MATCH: The wine's pungent aromatics make it a little problematical with roast Cornish hens.
Chateau la Cardonne 1994 Médoc Cru Bourgeois ($14.99)
Although I had passed on the 1994 for reasons amply stated above, I decided to try it to see how it compared with Cardonne's 1995. Surprisingly, I thought it was considerably better, although I could spot a family resemblance in those odd menthol notes. Dark garnet, it breathes menthol and licorice aromas but surrounds them with black fruit; it's quite tannic on the palate, but again, ample dark fruit comes through to save the day. U.S. importer: Seagram Chateau & Estates Wines Co., NYC. (Jan. 28, 1999)
FOOD MATCH: Quite good indeed with pork chops, which help tame the tannins.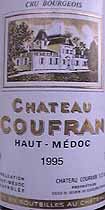 Chateau Coufran 1995 Haut-Médoc Cru Bourgeois ($19.99)
Clear ruby in color. Light, fresh perfumed fruit aromas and a touch of aromatic cedar open into a simple rendition of classic Bordeaux "cigar box." Crisp, fresh fruit flavors glide over soft tannins and fresh, not excessive acidity; increases in complexity as it opens up in the glass. Not underpriced but a fair value. U.S. importer: Kobrand Corp., NYC. (Jan. 23, 1999)

FOOD MATCH: Good with roast Cornish hens.


Have you tasted these wines?
E-mail me your tasting notes,
and I'll consider adding them to this page.

All my wine-tasting reports are consumer-oriented. In order to maintain objectivity and avoid conflicts of interest, I purchase all the wines I rate at my own expense in retail stores.