GETTING STARTED | WINE NOTES | SEARCH SITE | DISCUSSION FORUMS | 30 SECOND WINE ADVISOR | CONTACT US
<!TODAY'S TEXT STARTS HERE!> Is "plonk" a pejorative? As I understand it, the British slang for ordinary wine doesn't mean merely "cheap," but "boring." No wine should be boring, but there's no shame in a good wine being cheap. The real question - and the answer may be different for each of us - is how much we are prepared to forgive if the price is right.
Both the wines rated here, for example, seem a bit light-bodied and thin. My wife, sipping the Duca Leonardo without knowing what was in her glass, mused, "It's thin. It tastes like Chianti with a little water in it." She sniffed, took another sip, and added, "But I like it. It's interesting." And that, to me, is what distinguishes good cheap wine from "plonk."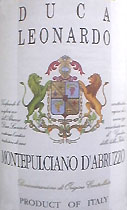 Duca Leonardo 1997 Montepulciano d'Abruzzo ($3.99)
Dark ruby in color, with a light sour-cherry scent and tart-cherry fruit flavors. Tart with fresh-fruit acidity on the palate, on the thin side, but it's clean and snappy, and the flavors wake up when it's served with the freesh tomatoes and tangy herbs on a pizza Margherita. U.S. importer: La Gioiosa - USA, Atlanta. (Jan. 27, 2000)
FOOD MATCH: Pizza, of course!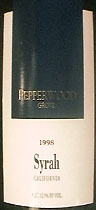 Pepperwood Grove 1998 California Syrah ($5.99)
Dark ruby, with typical Syrah aromas of black fruit and fragrant pepper, with a slightly odd back note of green bell peppers. Bright, peppery fruit flavor, a bit on the light-bodied side, but with decent fruit and zippy lemon-squirt acidity for balance. (Jan. 28, 2000)
FOOD MATCH: Fine with a pan-grilled T-bone.

These wines were featured in The 30 Second Wine Advisor, my free weekly E-mail bulletin of quick wine tips, advice and tasting notes. Click here to join the E-mail list!

Have you tasted these wines?
E-mail me your tasting notes,
and I'll consider adding them to this page.
All my wine-tasting reports are consumer-oriented. In order to maintain objectivity and avoid conflicts of interest, I purchase all the wines I rate at my own expense in retail stores.
Back to Current Tasting Notes Index