GETTING STARTED | WINE NOTES | SEARCH SITE | DISCUSSION FORUMS | 30 SECOND WINE ADVISOR | CONTACT US
<!TODAY'S TEXT STARTS HERE!>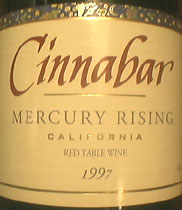 Cinnabar 1997 Mercury Rising California Red Table Wine ($16.99)
I've just recently discovered Cinnabar, a tiny, impressive winery in the Santa Cruz Mountains south of San Francisco, and I can't resist sharing winery owner Tom Mudd's poetic comments (from the www.cinnabar.org website) about the winery's name:
Cinnabar is a beautiful pinky-red mineral of mercury. Alchemists in the 14th century sought a way to transform base metals into gold or silver. They valued cinnabar because when it was heated and the vapors condensed, liquid mercury (quicksilver) was produced. Mercury is heavy and lustrous like silver; the problem was that it is a liquid at room temperature. Therefore, cinnabar both inspired the alchemist in his quest and was considered an essential part of the transformation. As a winemaker, Tom considers himself a modern day Alchemist, inspired by a beautiful mountain vineyard, and thrilled to be taking part in another miraculous transformation, the conversion of rainwater to wine.
Cinnabar's "Mercury Rising," a Bordeaux-style blend of Cabernet Sauvignon, Cabernet Franc, Merlot and Petite Verdot, is a ripe and luscious wine, very dark ruby in color, with a ripe scent of black fruit and spicy oak. Forward, jammy fruit and dark chocolate flavors are laced up with lemon-squirt acidity in a well-balanced wine that's delicious now but obviously won't suffer with time in the cellar. (Jan. 24, 2000)
FOOD MATCH: Roast turkey breast.

Have you tasted this wine?
E-mail me your tasting notes,
and I'll consider adding them to this page.
All my wine-tasting reports are consumer-oriented. In order to maintain objectivity and avoid conflicts of interest, I purchase all the wines I rate at my own expense in retail stores.
Back to Current Tasting Notes Index