<!TODAY'S TEXT STARTS HERE!>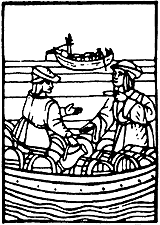 Two from Kermit Lynch

I'm not sure which came first, my discovery of Kermit Lynch's enjoyable little book, Adventures on the Wine Route, or the realization that the wines brought into the U.S. by this Berkeley, Calif., importer almost always pleased me with their flavor interest, diversity and value. Either way, even though I've never met the man (and, it should be noted, The Wine Lovers' Page has no business or advertising connection with him), I almost feel as if I know the guy. And reading his monthly catalog, like reading his book, is almost as enjoyable as sitting around the table after dinner over the rest of a good bottle, talking about wines and wineries and wandering through France.

Although Lynch sells primarily to distributors at the state level and will consider mail order only to wine lovers in the relatively few states "reciprocal" with California for wine shipping, he will send his catalog to wine lovers on request. For information, contact Dan Fredman by E-mail at probono@earthlink.net. If you'd like to buy Adventures on the Wine Route, it's available in paperback for $11.40, 20 percent off retail, through our Wine Bookstore associated with Amazon.com.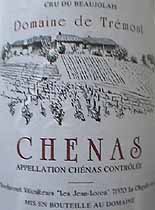 Domaine de Trémont 1997 Chenas ($15.99)
Clear garnet. Aromatic black-fruit aromas, spicy black cherry and blueberry, very pleasant. Very full-bodied, apple-skin and plummy fruit flavors; I'd swear there's a little fuzz of tannin on the finish. Surprisingly robust for a Beaujolais, even a Cru ... and it's fine. U.S. importer: Kermit Lynch Wine Merchant, Berkeley, Calif. (Jan. 20, 1999)
FOOD MATCH: In an experimental cross-cultural match with a Thai lamb curry, the flavors work well but the hot chile peppers and the alcohol in the wine are a bit uncooperative.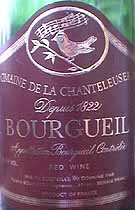 Domaine de la Chanteleuserie 1997 Cuvée Alouettes Bourgueil ($12.99)
Very dark ruby color, with herbaceous black-fruit aromas, dark berries and hints of fresh rosemary and lavendar. Light body but full flavor, an odd and intriguing textural effect; herbs and black fruit are consistent with the nose. An appealing herbal-floral potpourri persists in a long finish. U.S. importer: Kermit Lynch Wine Merchant, Berkeley, Calif. (Jan. 21, 1999)

FOOD MATCH: Excellent with a lamb and mushroom risotto.

These wines were featured in The 30 Second Wine Advisor, my free weekly E-mail bulletin of quick wine tips, advice and tasting notes. Click here to join the E-mail list!

Have you tasted this wine?
E-mail me your tasting notes,
and I'll consider adding them to this page.

All my wine-tasting reports are consumer-oriented. In order to maintain objectivity and avoid conflicts of interest, I purchase all the wines I rate at my own expense in retail stores.