<!TODAY'S TEXT STARTS HERE!>

Two tasty Valpolicellas

The name Valpolicella doesn't get much respect from serious wine lovers, and there's a reason for that: This light, fruity red wine, made from a blend of Corvina and other regional grapes in the Veneto region of Northeastern Italy, is generally pinched between the mass market, which makes a lake of simple, least-common-denominator wine that establishes Valopolicella's world reputation, and the luxury market, which takes a substantial portion of the best Corvina grapes for use in the rich, relatively expensive Amarone.

In between these two extremes, however, a limited amount of quality Valpolicella can be found, much of it grown in the older, traditional zone ("Valpolicella Classico") and often made to stricter requirements of alcoholic strength and bottle age ("Classico Superiore"). These wines are well worth seeking out, and as the retail prices below indicate, they can offer excellent value.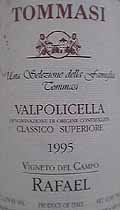 Tomassi 1995 Valpolicella Vigneto del Campo Rafael ($9.99) Best Buy!
Very dark garnet. Ripe blueberry and blackberry aromas with spicy, oaky hints of cinnamon and cloves. Big, fresh fruit flavors are consistent with the nose; juicy and tart with just a touch of characteristic Valpolicella bitterness in a long finish. Excellent wine and a very good value. U.S. importer: Solar Imports Co., Great Neck, N.Y. (Jan. 16, 1999)
FOOD MATCH: Fine match with fettuccine with ragú Bolognese.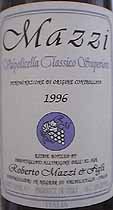 Mazzi 1996 Valpolicella Classico Superiore ($8.99)
Clear light ruby in color, with fresh red-fruit and spicy oak aromas, a whiff of nutmeg. Bright and crisp on the palate, berry and tart apple flavors, fresh and clean. Snappy acidity persists in a long finish. U.S. importer: Vintner Select, Cincinnati; a Marc de Grazia Selection. (Jan. 17, 1999)
FOOD MATCH: Showing Valpolicella's affinity with picnic fare, a happy match with mortadella and provolone sandwiches on fresh flatbread.

These wines were featured in the first edition of The 30 Second Wine Advisor, my new, free weekly E-mail bulletin of quick wine tips, advice and tasting notes. Click here to join the E-mail list!

Have you tasted these wines?
E-mail me your tasting notes,
and I'll consider adding them to this page.
All my wine-tasting reports are consumer-oriented. In order to maintain objectivity and avoid conflicts of interest, I purchase all the wines I rate at my own expense in retail stores.