GETTING STARTED | WINE NOTES | SEARCH SITE | DISCUSSION FORUMS | 30 SECOND WINE ADVISOR | CONTACT US



Chateau La Roque 1998 Pic Saint Loup Cuvee Les Vieilles Vignes de Mourvèdre Coteaux de Languedoc ($9.99) GOOD BUY!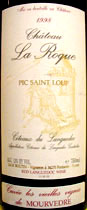 This all-Mourvèdre wine from a top producer in one of the Languedoc's most exciting regions stands out as the best $10 value I have found in a long, long time. It is a very dark ruby color, almost opaque, full and ripe, full of earthy and complex Mourvèdre notes, "tree bark" and "forest floor," prompting my wife to liken it to "a walk in the woods on a rainy autumn day." But there's fresh fruit there, too, raspberry and black-cherry, with lemony acidity to give it structure. This vintage has been around for a while, but the 1999, coming on the market now, is also reported to be very fine. U.S. importer: Kermit Lynch Wine Merchant, Berkeley, Calif. (Jan. 16, 2001)

FOOD MATCH: Delicious with a Provence dish crafted to match: Lamb chunks stewed with aromatic flavors of orange peel, fennel, bay leaf, black pepper and thyme.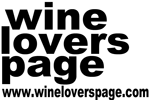 Wine notes in 'shelf-hanger' format:


We publish Wine Lovers' Page tasting reports in the familiar "shelf-hanger" size and format, to make it easy for wine merchants or collectors to print them out, clip and post them where this wine is displayed. We do ask, however, that the Wine Lovers' Page name and URL be left intact, and that these reports be used with the specific wines rated, not different bottlings or vintages.


All my wine-tasting reports are consumer-oriented. In order to maintain objectivity and avoid conflicts of interest, I accept no free samples from wineries or distributors, purchasing all the wines I rate at my own expense in retail stores.

Have you tasted this wine?
E-mail me your tasting notes, and I'll consider adding them to this page.

This wine was featured in The 30 Second Wine Advisor, my free weekly E-mail bulletin of quick wine tips, advice and tasting notes. Click here to join the E-mail list!
<!TODAY'S TEXT ENDS HERE!>
Previous day's wine note
Back to Current Tasting Notes Index