<!TODAY'S TEXT STARTS HERE!>

Two sweet surprises

What makes these two tasty treats surprising? In the first case, mixed advice from wine-loving friends led me to bring diminished expectations to the Cotes du Layon Chaume. Although this region is known for absolutely delicious sweet Chenin Blancs, 1993 wasn't considered an outstanding vintage, attracting adjectives like "troublesome" and even "stinker." Still, Tijou is a top producer, and the consensus was that this one ought to be good if not great. Good call! The second wine may almost seem like a joke: The inexpensive Fetzer Gewurz gets almost no respect when it's young, and it doesn't really deserve much. But I learned years ago, through an experiment on the CompuServe Wine Forum, that it becomes remarkably more interesting after a few years of aging.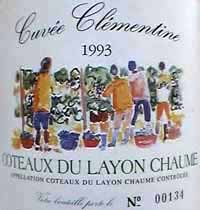 P. Y. Tijou 1993 Cuvée Clémentine Cotes du Layon Chaume ($17.99)
Clear gold. Lovely honeysuckle and rosemary aromas, sweet flowers and herbs over mango, peach and aromatic pine. Heavy on the tongue, fruit nectar structured on a solid core of fresh-fruit acidity, clean and consistent in a long finish. I'd place it at auslese-level sweetness rather than the honey-sweet dessert style you might expect from a riper vintage, but that's fine with me. U.S. importer: Select Vineyards Ltd., NYC; Rosenthal Wine Merchant (Jan. 13, 1999)
FOOD MATCH: After-dinner sipping.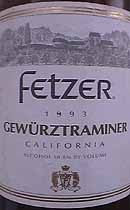 Fetzer 1993 California Gewürztraminer ($4.99 in 1994)
This bottle, carelessly stored at room temperature since 1994 (and forgotten in the refrigerator for the past few months) shows surprisingly "Alsatian" qualities some 4 1/2 years after the vintage. It's a clear gold in color, a bit darker than on my last tasting just over a year ago, and all the youthful spritz is gone. But it still breathes surprising fresh-fruit aromas of peaches, apricots and mangoes, leading into a ripe, juicy fruit flavor with zingy acidity balancing substantial sweetness, with bitter peach-pit qualities coming in on a long finish. It's quite a surprise for a $5 wine that few wine lovers would consider a candidate for cellaring. (Jan. 14, 1999)

FOOD MATCH: None.


Have you tasted these wines?
E-mail me your tasting notes,
and I'll consider adding them to this page.

All my wine-tasting reports are consumer-oriented. In order to maintain objectivity and avoid conflicts of interest, I purchase all the wines I rate at my own expense in retail stores.