GETTING STARTED | WINE NOTES | SEARCH SITE | DISCUSSION FORUMS | 30 SECOND WINE ADVISOR | CONTACT US
<!TODAY'S TEXT STARTS HERE!> On rare occasion a wine lover is lucky enough to get an early glimpse at a wine that's not yet widely known but is almost certain to become a hotly sought-after "cult" item.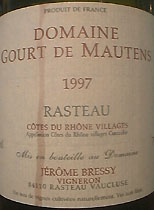 Gourt de Mautens 1997 Rasteau ($20) is just such a wine: Huge, even domineering, unctuous, flavorful and complex, a bruiser at 15 percent alcohol and yet amazingly well balanced, this remarkable Southern Rhone red from Jérôme Bressy is the kind of wine that the big-name critics will score in the upper 90s - when they find out about it.

Inky blackish purple in color, made from 100 percent Grenache, it breathes a deep and remarkable aroma of plums, prunes, cherry cola and licorice with whiffs of incense; it's full-bodied and unctuous, with abundant fruit and perhaps just a touch of sweetness. It's an incredible wine, even more amazing in that it's the product of a vintage generally considered a disaster in its region. The '98 will be even more intense, and it will probably sell for $30. It may inspire insiders' jokes about "Helen Turley meets the Rhone," and it will still be a bargain.


Vintner Select tasting in Louisville:
Two dozen fine French wines

The Gourt de Mautens may have been the most remarkable wine shown in a trade tasting in Louisville yesterday, but it was far from the only winner among two dozen wines shown by the estimable David Schildknecht, French-wine specialist for the excellent Vintner Select wine-import firm of Cincinnati. David showed up at Louisville's huge Party Source wine shop with these wines, and I was fortunate enough to be invited to join in as they tasted through the Rasteau and other new items.

The wines had been opened almost a day earlier for a tasting at Party Source's Northern Kentucky (Cincinnati-area) store and kept chilled under gas (Private Preserve) overnight, and the following notes should take that into consideration. However, they seemed to be showing well and none the worse for that experience.

There wasn't a loser in the bunch, although a half-dozen (in addition to the Rasteau) stood head and shoulders above the pack. In most cases, I've highlighted the particularly noteworthy items with a label image.

Here are my tasting reports:

CHABLIS

A & F Boudin 1998 Domaine Chantemerle Chablis ($18) Pale brass, with good Chablis apple and "mineral" scents. Crisp, tart and full, fruit and steel. Excellent Chablis from a poor, rainy vintage.

LOIRE

Tour St-Martin 1998 Menetou Solan-Morogues ($13) Clear, pale greenish-gold. Grassy! Delicious herbal and green-olive aromas, yummy. Round and ripe, crisp and tart; flavors follow the nose.

Francis Blanchet 1997 Pouilly Fumé Vieilles Vignes ($15) Pale brass color, with floral and mineral (slate) aromas; tart and lean, lots of crisp white fruit surrounded by pungent acidity.

Domaine Closel 1996 Savennieres "Classique" ($15) Clear straw color. Honey and a pleasant medicinal scent, witch hazel. Crisp fruit, a whiff of wet wool; earthy, full but tight. Needs time.

Deletang 1998 Montlouis Sec ($13) Clear straw color, with a pleasant mixed-citrus scent, limes and tangerines. Full, textured fruit flavor, tart and long.

Deletang 1998 Montlouis Sec "Petits Boulay" ($15) Clear straw color. Delicate wildflower and citrus aromas. Tart, crisp and full, clean white fruit and steely acidity, full but not fat.

Deletang 1998 Montlouis Sec "Les Batisse" ($16) Very pale straw color. Tangerine and spice aromas, very pleasant. Flavors follow the nose, full yet steely; like the two Deletang 1998 Montlouis above, a very long finish.

Foreau 1998 Vouvray Sec "Cos Naudins" ($18) Pale straw color. Fresh floral aromas; crisp white fruit and nutmeg on the palate, lean and tart.

Deletang 1996 Montlouis Demi-Sec ($16) Clear brass color, showing ripe pears, pineapple and citrus fruit in a full, delicious scent. Ripe, light fresh-fruit sweetness, honey and juicy apples, crisp and full.

Foreau 1988 Vouvray Demi-Sec "Cos Naudins" ($23) Ten years old and not showing a day of it, this delicious wine is a bright greenish-gold color, boasting luscious scents of pears and apples. Surprisingly dry, it's tart and full, rich and long flavors following the nose.

Ratron 1997 Saumur Champigny "Clos des Cordeliers" ($13) Hazy reddish purple with a brickish hue. Red fruit and green-bean aromas, typical Loire Cabernet Franc. Big, fresh fruit flavor, a burst of ripe strawberries on the palate, fresh and crisp.

BEAUJOLAIS

Domaine La Madone 1998 Beaujolais-Le Perreon "Fût" ($13) Inky dark garnet in color, with deep, vinous strawberry aromas and a whiff of oaky spice. Big, ripe cherry-berry fruit flavor, tart and long.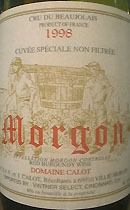 Jean Calot 1998 Morgon "Cuvée Speciale" ($16) Inky blackish-purple, with meaty, peppery aromas, complex and interesting, with an odd but not unpleasant earthiness in the background. Complex and interesting, it's big, full and "chewy," seemingly more like a Rhone than a Beaujolais. This is an unfiltered bottling made specifically for Vintner Select.
Jean Calot 1998 Morgon "Tête de Cuvée" (n/a) For the sake of comparison, Schildknecht presented this bottle - not likely to be available in the U.S. - of the very same wine as the above, drawn directly from the same tank on the same day as his unfiltered bottling above but put through a standard filtration process. It's a clear, dark ruby red with "meaty" red fruit aromas, full berry fruit and spicy white pepper on the palate.
The lesson here is an intriguing one, especially in light of the conventional wisdom that filtration always results in an inferior wine. Comparing these wines, identical except for filtration, it would be simplistic to declare the unfiltered wine was "better." They are both excellent, delicious wines, and they are different.
SOUTHERN RHONE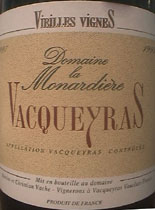 Domaine Monardiere 1997 Vacqueyras "Vieilles Vignes" ($18) Dark garnet, with meaty, peppery black-fruit aromas. Big and ripe, peppery fruit flavors, structured and complex. Outstanding wine; despite the poor reputation of the '97 vintage in the Southern Rhone, this one beats the odds.

NORTHERN RHONE

Pierre Gonon 1996 Saint-Joseph Mauves ($20) Opaque, black. Luscious perfumed black fruit and herbal aromas with a surprising impression of dried red chilies. Big, juicy black-fruit flavor with a whiff of "barnyard," chewy and ripe; blackberries and fennel in the finish. Rustic to be sure, but a very good wine.

Jacques Lemencier 1997 Cornas ($28) Dark reddish-purple, with a remarkable sweet-rhubarb aroma. Big, ripe fruit flavor punches through the curtain of heavy tannins that you'd expect in a young Cornas; good, tart acidity provides structure.

LANGUEDOC

La Sauvageonne 1998 Coteaux du Languedoc "Carte Noir" ($9.50) Inky garnet. Blackberry jam and freshly ground pepper aromas, perfumed and fresh. Bright, juicy black fruit, fresh and clean. Made entirely in stainless steel, never seeing oak, it's a pure manifestation of fruit and a great bargain for less than $10.

L'Aigueliere 1995 Coteaux du Languedoc "Cote Dor&e;acute;e" ($32 in 1998) Although this wine's no longer on the market, Schildknecht brought along this bottle to show off its ability to evolve with age; this wine was reportedly seen going for $110 at a high-end Chicago retailer recently, suggesting that it may be the first "cult" item from the Coteaux du Languedoc. Inky blackish-purple with a brick hue, it shows loads of brett and herbal Provence "garrigues" with big black fruit on the nose and palate. Ripe, juicy fruit and black olives on the palate, tart and full, with a hint of metallic finish from the brett. A big-league wine by any definition, it's got years to go.

PROVENCE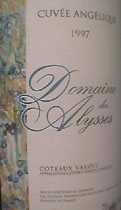 Domaine Alysses 1997 Coteaux Varois "Cuvée Angelique" ($13) Inky blackish purple, with lavender, grilled meat, smoke, black olives and black fruit in a remarkable, earthy and delicious aroma. Full and round, black fruit flavors follow the nose. A certified organic wine grown with no synthetic herbicides, insecticides or fertilizers in the vineyard, it's made from an undisclosed blend of Grenache, Syrah and other grapes, from a property so admirably idiosyncratic that it even grows some Burgundian clones of Pinot Noir. An impressive wine and an amazing value, another item that's bound to increase in price and notoriety as U.S. wine lovers discover it.

Domaine Dragon 1997 Cotes de Provence "Cuvée St.-Michel" ($11) Very dark ruby. Barnyardy, manure-like aromas dominate a complex scent, making this a wine that's sure to be controversial; big, juicy and ripe black-fruit flavors with a pleasant undertone of sweet dried fruit. A fine bargain for those who aren't put off by significant brett.

MONBAZILLAC
Grande Maison 1997 Monbazillac "Cuvée des Anges" ($10/375 ml) Clear pale gold, honey and almond aromas and a tasty hint of butterscotch. Made entirely in stainless steel with no oak, it's fresh and sweet and pleasantly light on the palate.

Grande Maison 1996 Monbazillac "Cuvée Chateau Grande Maison" ($15/375 ml) A higher-end dessert wine from Grande Maison, this one sees 18 months in small oak casks and clearly displays Monbazillac's kinship with its neighbor Sauternes. Bright gold, it breathes delicious honeysuckle, apricot and spice aromas. Honeyed botrytis on the palate, it's apricotty, lusciously sweet and very long. For the price, it's a truly remarkable dessert wine.


Have you tasted these wines?
E-mail me your tasting notes,
and I'll consider adding them to this page.

All my wine-tasting reports are consumer-oriented. In order to maintain objectivity and avoid conflicts of interest, I purchase all the wines I rate at my own expense in retail stores.

Back to Current Tasting Notes Index