<!TODAY'S TEXT STARTS HERE!> Two Excellent Beaujolais
Given Beaujolais' reputation -- especially the recently available annual nouveau -- as a fresh, fruity and ultimately forgettable quaffing wine, it's easy to overlook the other end of the Beaujolais spectrum -- the 10 "villages" entitled to wear the title "Cru Beaujolais" ("Beaujolais Growth") and to bear the name of their village in place of the generic "Beaujolais."

These wines are typically more robust and more complex than everyday Beaujolais, to the extent that they could almost be said to exist on the line between Beaujolais and Burgundy -- as, indeed, the Gamay-based Beaujolais is entitled to share with Burgundy's Pinot Noir the title "Red Burgundy Wine."

Two of the sturdiest of all the Crus are Morgon and Moulin-A-Vent, wines delicious to drink in youth but that -- in contrast with the conventional wisdom of Beaujolais -- actually may improve with a few years of cellar time. It was my pleasure recently to sample this pair of recent arrivals: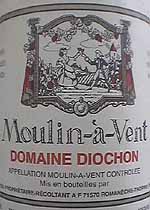 Domaine Diochon 1997 Moulin-À-Vent Cuvée Vieilles Vignes ($15.99)
Very dark ruby color. Black fruit and a hint of blueberries in the aroma, with a pleasant leathery scent as a grace note. Full and juicy fruit flavors, consistent with the nose: Blackberries and blueberries in a tart, bone-dry flavor that lasts. U.S. importer: Kermit Lynch Wine Merchant, Berkeley, Calif. (Jan. 3, 1999)
FOOD MATCH: Especially good with French onion soup; the fruity wine is in its element with the sweetness of long-cooked, caramelized onions.

Louis Jadot 1997 Chateau de Bellevue Morgon ($11.99) Best Buy!
Dark ruby. Deep and aromatic scent of Chambord (raspberry liqueur); ripe, red-fruit flavor on a platform of firm, snappy acidity. Fruity and well-balanced, a delicious wine. U.S. importer: Kobrand Corp., NYC. (Jan. 2, 1999)

FOOD MATCH: Holds its own with a hearty oxtail stew.


Have you tasted this wine?
E-mail me your tasting notes,
and I'll consider adding them to this page.

All my wine-tasting reports are consumer-oriented. In order to maintain objectivity and avoid conflicts of interest, I purchase all the wines I rate at my own expense in retail stores.