<!TODAY'S TEXT STARTS HERE!>

Popular Merlot

Year in and year out, Columbia Crest persists as one of the most popular Merlots, not least because of its long advertising association with Jeff Smith, "The Frugal Gourmet," whose bearded image used to hold forth a handful of bottles in point-of-sale displays at wine shops all over the U.S.

Always eager to evaluate trends if not to keep up with them, I thought I'd start a new year of wine by opening a bottle to see if I could discern what makes it such a hot item.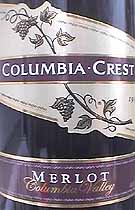 Columbia Crest 1995 Columbia Valley (Washington State) Merlot ($13.99)
Dark garnet in color, with an appetizing aroma of oaky vanillins and sweet black fruit, invites a taste. Flavors follow the nose, juicy fruit and sweet oak. A juicy squirt of cherry-berry fruit and aromatic vanilla at first, softens and fades somewhat as it crosses the palate. No tannins, no excess of acidity, little in the way of a lingering aftertaste. A mellow wine, accessible, even gulpable, it's easy to see why this appeals to folks who are just developing a taste for dry table wines. But there's enough structure and flavor interest here to engage the attention of more serious wine lovers, too, even if it falls a bit short of the top rank. (Jan. 1, 1999)
FOOD MATCH: A little too soft to pair perfectly with the lemony gremolata in a white ossobuco, but it's not a bad match; and it sips very well alone.

Have you tasted this wine?
E-mail me your tasting notes,
and I'll consider adding them to this page.
All my wine-tasting reports are consumer-oriented. In order to maintain objectivity and avoid conflicts of interest, I purchase all the wines I rate at my own expense in retail stores.