GETTING STARTED | WINE NOTES | SEARCH SITE | DISCUSSION FORUMS | 30 SECOND WINE ADVISOR | CONTACT US

<!TODAY'S TEXT STARTS HERE!>

Dinner in Wellington (Nov. 9, 2000)

My first long day, one that for all practical purposes had really begun back in Los Angeles on Monday, wasn't quite at an end yet. I caught a bit of a snooze in the car on the way back down from Martinborough while Sue - a serious sports-car driver temporarily consigned to a rental sedan - expertly negotiated the curves of Rimatuka Hill. Then, as soon as we reached our hotel in Wellington we met fellow Americans Bob and Jenise Stone, who were also traveling in NZ by happy coincidence; grabbed wine bottles and hiked 100 meters or so to Roxburgh Bistro, an excellent Wellington restaurant where he had planned an "offline" dinner with local participants in our Wine Lovers' Discussion Groups.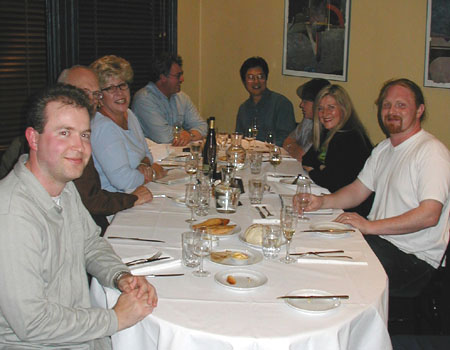 Here's the list of wines, with my brief impressions:
1985 Dom Perignon - Pale gold; losing its mousse but still amply carbonated. Toasty, milk chocolate, full and rich. Delicious.
Fromm 1998 La Strada Marlborough Riesling - Very pale straw color. Lime and mineral, light petrol. Tart-sweet flavors follow the nose. Excellent wine, very Germanic in style.
Dry River 1989 Craighall Estate Riesling - Clear straw. Petrol and pine. Deep and intense, very much alive.
Felton Road 1998 Block 3 Central Otago Pinot Noir - Rosy red. Very ripe cherry, mint and herbal flavors leap from the glass. Full and ripe, fruit forward, perhaps not as acidic as the Martinborough Pinots.
Chateau Tahbilk 1995 Victoria Marsanne - Clear pale gold. Startling sappy and honeyed aroma. Soft and pleasant vegetal flavor over sweet white fruit.
Clearview Estate 1996 Hawke's Bay Reserve Chardonnay - Clear straw color. Candy apples, milk chocolate and earth. Full and tart, fruit flavors consistent with the nose.
Martinborough Vineyard 1994 Reserve Pinot Noir - Dark garnet. Fresh Pinot cherries on nose and palate.
Grgich Hills 1995 Sonoma County Zinfandel - Clear reddish-purple. Bramble fruit and currants, appealing if restrained by Zin standards.
The wines were fine, and so was the food and company; but within an hour or two I began to fade quietly, and as soon as dessert was served I bid my farewells and slouched back to the hotel for my first good night's sleep in quite a while.
<!TODAY'S TEXT ENDS HERE!>
All my wine-tasting reports are consumer-oriented. In order to maintain objectivity and avoid conflicts of interest, I accept no free samples from wineries or distributors, purchasing all the wines I rate at my own expense in retail stores.

Have you tasted these wines?
E-mail me your tasting notes, and I'll consider adding them to this page.