GETTING STARTED | WINE NOTES | SEARCH SITE | DISCUSSION FORUMS | 30 SECOND WINE ADVISOR | CONTACT US
<!TODAY'S TEXT STARTS HERE!>
Jim Dove (left), Stew and An Bacheler.

Au Thoumieux

The coincidental visits to Paris of several Wine Lovers' Discussion Group members led inexorably to the application of one of our most longtime and traditional forum rules: "Wherever two or more of us are gathered together, let there be breaking of bread and popping of cork."

Accordingly, eight of us gathered this evening - Tim and Germaine York, in from Brussels for the weekend; Jim and Rasha Dove, over from St. Louis for a week in Paris; An and Stew Bacheler, also vacationing in Paris from Frenchtown, N.J., and Mary and I, starting to wrap up our two weeks in Europe with a few days of relaxing here before heading home on Thursday.

Tim York and Rasha Dove.

The venue was Au Thoumieux, 79 Rue St.-Dominique, a 7th Arondissement bistro specializing in Southwestern French country fare. It should be noted that this was a recommendation by Steve Plotnicki that proved to offer not only excellent fare but a very good quality-price ratio in both the food and wine departments.

We opened with an aperitif from the wine list, my suggestion based on an intriguing encounter with another Bordeaux Clairet from Blaye during a Right Bank tour on Saturday. This wine may look like a rosé, but sees much more skin contact during fermentation, resulting in a wine that is pink, fruity and fresh but with much of the extraction and color of a red. Chateau Les Maré 1998 Clairet was a light rosy red in color, showing ripe, perfumed berry fruit; crisp and dry. Served chilled, it made a quenching aperitif, and even my wife - who really dislikes rosés, gave it a thumbs up.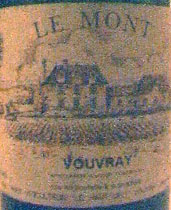 Huet Le Haut Lieu 1969 Le Mont Demi-Sec Vouvray - This treat came from Jim Dove, who said he ran across it in a Paris wine shop today (although we noticed he didn't offer any specifics ... ) It was a rich dark gold color, with rich dried fruit and honey aromas, deep and intense. Brown sugar and lemony acidity flavors play counterpoint with nuances that follow the nose. A wonderful wine, and a great find by Jim, whose generosity in sharing it should be permanently recorded in the WLDG archives. It made an excellent match with a refined duck liver terrine, and a good match with a more coarse and strong-flavored duck paté.


Back to the list for the dinner wines, both decent and affordable young Bordeaux from minor properties:

Chateau Castera 1995 Médoc - Very dark garnet, good cassis fruit on the nose and palate. Fine with lamb and beef entrecote Bordelaise.

Chateau la Croix Chantecaille 1997 Saint-Emilion Grand Cru - Dark ruby, black fruit and floral perfume. Fresh, juicy, leathery; soft but palatable tannins. The earthy qualities made it an exceptional match with my entree choice, an andouillette sausage, a strongly "barnyardy" regional specialty that has in it more of the pig's innards than really bear thinking about.

Have you tasted these wines?
E-mail me your tasting notes,
and I'll consider adding them to this page.

Back to Europe Wine Diary 2000

<!TODAY'S TEXT ENDS HERE!>

All my wine-tasting reports are consumer-oriented. In order to maintain objectivity and avoid conflicts of interest, I purchase all the wines I rate at my own expense in retail stores.

Back to Current Tasting Notes Index