GETTING STARTED | WINE NOTES | SEARCH SITE | DISCUSSION FORUMS | 30 SECOND WINE ADVISOR | CONTACT US
<!TODAY'S TEXT STARTS HERE!>
Vintner Select tasting
DAVID SCHILDKNECHT

Cincinnati's Vintner Select wine-import firm hosted a trade tasting in Louisville this week, showing off several dozen new offerings in the tasteful setting of the city's Zoë Gallery.

Vintner Select's representatives included David Schildknecht, the noteworthy wine buyer whose name is well-known to serious wine lovers throughout the U.S., and Dave Pearce, wine maker of New Zealand's Grove Mill winery, who's visiting a handful of U.S. cities during a quick visit.

The tasting attracted a good crowd of local wine retailers and restaurateurs and upheld the firm's excellent reputation with an admirable selection. Thanks to Schildknecht's generosity, I was able to sample most of the wines on display and quite a few "under-the-table" selections that weren't out for general tasting. Following are my quickly scribbled notes on the wines tasted. Prices are estimated retail based on the wines' listed wholesale prices.

French wines

Domaine Fontan 1998 Vin de Pays des Côtes de Gascogne ($6.99) - Pale brass. Citric, perfumed fruit. Crisp, fresh and simple. Good value.

La Haute Pinglerie 1997 Cheverny ($9.99) - Very pale gold. Light floral, honeysuckle aromas. Crisp and tart, mineral earthiness. Surprising complexity in a $10 wine, showing a different style of Sauvignon Blanc than most of Cheverny's Loire neighbors. Actually a blend of Sauvignon Blanc and Chardonnay, according to David Schildknecht, who notes that Cheverny is one of the few appellations outside Burgundy that requires Chardonnay in a white wine blend.

Foreau 1998 Vouvray Sec ($18.99) - Very pale greenish-gold. A whiff of honey over crisp white fruit. Delicate hazelnut flavor nuances and very tartly acidic. A rare good offering from a horrible, rainy vintage, a happenstance that Schildknecht attributes to Foreau's custom of having a large corps of pickers available for an extended (six-week) term at harvest time. In good vintages, it's their task to select grapes for Foreau's great sweet Loires; in bad ones, at least they're on hand to recover the usable grapes.

Domaine Patrick Javillier 1995 Cuvée des Forgets Bourgogne Mise Tardive ($18.99) - Clear gold, with appetizing aromas of apples, honey and white fruit; good, ripe-fruit flavors well structured with steely acidity. Fine wine ... tasted in conjunction with the Hendry Napa and Lidia Italian Chardonnays rated below, it outshone them both on the basis of sheer drinking pleasure and unobstructed fruit.

Domaine St. Jean de Conques 1998 Merlot Vin de Pays d'Oc ($9.99) - Dark reddish purple, with substantial sulfury aromas, very offputting at first. Dropping a penny in the glass, an old wine-maker's trick, diminishes the sulfur and reveals bright berrylike fruit.

Domaine Calot 1997 Tête de Cuvée Morgon ($15.99) - Clear reddish-purple. Fresh berries and herbal fruit aromas; big, fruity and ripe flavors, a "Burgundian" Beaujolais. Thoroughly atypical of the genre but delicious; Schildknecht notes that it's a wine made to accompany game and red meats.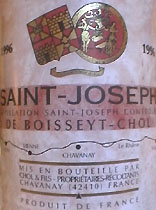 De Boisseyt-Chol 1996 Saint-Joseph ($19.99) - Dark-garnet, with amazing aromas of smoke, meat, game and ripe black fruit; delicious flavors, ripe and intense fruit with nuances that reflect the nose. The artisanal product of a winery not previously exported, this is an incredible wine, perhaps one of the best 10 wines I've tasted this year.
Chateau la Sauvageonne 1997 Coteaux du Languedoc Carte Noire ($8.99) - Dark ruby color with deep, plummy fruit aromas and a big, juicy fruit flavor with a whiff of garrigues, the characteristic herbal scent of the Languedoc. Very good value.

Prieuré de St.-Jean de Bébian 1996 Coteaux du Languedoc ($25.99) - And so it begins, the inexorable rise of the best properties of Languedoc into the pricey territory already held by most of the earlier emerging French districts. This one's worth it, though, showing deep cherry-berry aromas and ripe, juicy and full flavors, good acidic balance framed by discreet oak.
New Zealand wines
Grove Mill Winemaker Dave Pearce.

The Sanctuary 1999 Marlborough Sauvignon Blanc ($11.99) - "Second label" of Grove Mill, generally lighter in style than its sibling. Ripe, exuberant jalapeño pepper aromas and delicious green-chile flavor, very ripe and full; dry but, as is typical of New Zealand Sauvignons, so fruity that it almost seems sweet. Delicious wine if you like this style, as I do.

Grove Mill 1999 Marlborough Sauvignon Blanc ($15.99) - Good green-chile character, more restrained than the Sanctuary. (Pierce indicates that this may be a shipping-bottling issue; this wine won't be released in the U.S. until December.) Full, forward flavors, much more open than the nose, intense fruit and crisp acidity, especially in the finish.


Grove Mill 1998 Marlborough Sauvignon Blanc ($15.99) - Pulled from under the table for comparison with the 1999. Good green-chile aromas, subtle and nuanced, a pleasant surprise for 1998, an exceptionally warm Marlborough vintage that saw most of the region's Sauvignon Blancs ripen into citric wines in a more international style than usual. Very full and intense, similar to the 1999 but showing more finesse.

The Sanctuary 1998 Marlborough Chardonnay ($13.99) - Pale greenish-gold. Excellent ripe, juicy apple flavors; full, round yet crisp in flavor, showing none of the oak or fat sweetness that afflict so many New World Chardonnays.

Grove Mill 1996 Waihopai Valley Winery Landsowne Marlborough Chardonnay ($26.99) - Pearce calls this "the best wine I ever made" but notes that it's no longer produced, the winery having concluded that it made little sense to "compete with ourselves" by making more than one top-end Chardonnay. Breathing both oak and yeast lees aromas, it's definitely showing wood, but immense tropical fruit bursts through, muscular yet lean in a very fine wine.

Grove Mill 1999 Marlborough Riesling ($14.99) - Citric lemon-lime and floral notes, orange-blossom and almost a hint of tangerine. Fresh, lightly sweet with zingy acidity to balance. A lovely Riesling indeed!

Grove Mill 1997 Marlborough Pinot Noir ($23.99) - Light ruby red, with excellent Pinot aromas, earthy and appropriately herbaceous, tomato-skin and black cherry on the nose and palate. Ripe and intense, more than competitive with other New World Pinots at the price point.

Italian wines

(All of Vintner Select's Italian imports are Marc de Grazia Selections, a line that's consistently impressed me over the years for both quality and value. I skip the ones that I've already rated, leaving the following:)

Pallazzone 1998 Dubini Bianco ($6.99) - Pale gold, with pleasant pear and apple aromas. Good, crisp white fruit, dry and fresh; a simple wine but fine sipping for the low-end price.

Castel San Valentino 1998 Alto Adige Pinot Grigio ($11.99) - Pale straw color, with ripe melon fruit and just a whiff of a "damp wool" quality to which I seem to be idiosyncratically sensitive in Pinot Grigio. Full-bodied and rich, with acidity to balance.

Gini 1998 Soave ($11.99) - Pale straw color. Apple and pear aromas; smooth, accessible, fresh and juicy fruit flavors with a good citric snap.

La Spinetta 1997 Lidia Chardonnay del Piemonte ($19.99) - Pale gold. Notably oaky on the nose and palate; lots of tropical fruit and good structure, and that's to its credit; but at least to my palate, the oak gets in the way.

Piazzano 1996 Rio Camerata Chianti ($9.99) - Ruby red, a bit light for the genre. Perfumed cherry fruit, tart and a bit thin. One of the few unimpressive wines in the de Grazia lineup.

Rocca Albino 1996 Barbaresco Vigneto Brich Ronchi ($39.99) - Dark garnet. Brooding black fruit and spicy oak. Big, plummy fruit flavors, massive structure and tannins. Wonderful wine but needs lots of cellar time.

Pira 1995 Barolo Vigneto Margheria ($29.99) - Amber-ruby, surprisingly light in color. Floral aromas; on the palate it's lean but not thin, showing black fruit and herbal notes. Odd and a bit awkward for a Barolo, may be a function of its youth.

Ciacci Piccolomini d'Aragona 1996 "Ateo" ($27.99) - Called "the atheist" not for religious reasons (in fact the winery family is descended from a Renaissance Pope) but because it irreligiously defies the Tuscan wine laws by defiantly adding Cabernet Sauvignon to the traditional Sangiovese blend. It's one of my favorite Tuscans, and I couldn't resist nabbing a taste even though I had already tasted and rated this wine earlier this year. It's actually showing better now than it did in my July 13 tasting, perfumed and ripe; rich, long and so fruity it almost seems sweet.

Livio Sassetti 1994 Pertimali Brunello di Montalcino ($39.99) - Clear garnet, with fresh black cherries on the nose and palate, balanced and refined. Very fine wine.

California wines

Hendry 1997 Hendry Blocks 9 & 10 Napa Valley Chardonnay ($22.99) - Clear gold. Oak dominates the aroma and flavor profile, mingling with vanilla-spice and tropical fruit. Lots of complexity and balance, but it's hard for me to get past the wood. Surprisingly similar to, if a bit more complex than, the Italian Lidia Chardonnay rated above.

Cinnabar 1998 Central Coast Chardonnay ($17.99) - This is a little more like it! Honey and spice aromas, appley fruit and creme brulee, good fruit and slight residual sweetness. It's no white Burgundy, but more driven by fruit and less by wood than many a California Chard.

Alban Vineyards 1998 Central Coast Viognier ($23.99) - Pale gold. Musky, perfumed and exotic tropical fruit aromas; flavors follow the nose, full and ripe. Intriguing, not at all a "Chardonnay-style" Viognier.

Rabbit Ridge 1997 Barrel Select California Merlot ($9.99) - Good cherry-berry aromas and a ripe, fruity, almost sweet flavor; abundant fruit and unobtrusive oak. Good quaffing red, a fine restaurant pour at an affordable price.

Havens 1997 Napa Valley Merlot ($20.99) - Dark reddish-purple. Oak dominant in the aroma, but fruit catches up on the palate; good dark cherries and spicy oak over a firm ground bass of tannins.

Havens 1996 Bourriquot Napa Valley Red Table Wine ($29.99) - A blend of Cabernet Franc and Merlot, this one's impressive: Dark ruby in color, with appealing black-cherry and tarragon aromas, surprisingly evocative of a St.-Emilion. Ripe fruit, bright acid and tannins dance to a well-balanced and elegant tune. Very "European" in style for a California wine, and I'd call that a plus.

Terra Rosa 1997 Mendoza Cabernet Sauvignon ($9.99) - Laurel Glen's low-end (but charming) Cabernet, sourced each year from the best quality low-cost grapes the wine maker can find; last year's was Chilean, earlier models came from California, and this one's from Argentina, though bottled in rented facilities in Graton, Sonoma County, California. Inky dark reddish-purple, it's perfumed and fresh, fruity and tart; a simple but approachable table wine.

Edmunds St. John 1997 Parmelee Hill Vineyard Sonoma Valley Syrah ($35.99) - Another of the day's top hits and one of the few California "Rhone Rangers" I've found that can hold its own against the French competition for quality and value, this one's inky dark blackish-purple with delicious perfumed fruit aromas, black pepper and fresh herbs; full and balanced on the palate, with firm tannins and fresh flavors that follow the nose. Excellent wine.

Have you tasted these wines?
E-mail me your tasting notes,
and I'll consider adding them to this page.

All my wine-tasting reports are consumer-oriented. In order to maintain objectivity and avoid conflicts of interest, I purchase all the wines I rate at my own expense in retail stores.

Back to Current Tasting Notes Index