Seventh Regional Tuscan Wine Competition
Oct. 20-22, 2006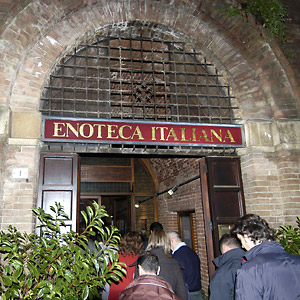 Wine judges and organizers troop into Enoteca Italiana for dinner on a mild, misty Siena night.
As I noted in the Oct. 23, 2006
30 Second Wine Advisor
, my quick trip to Siena, Tuscany as a judge in the Seventh Regional Tuscan wine compeition allowed no time for casual touring or winery visits, so this is no travel report in the usual sense.
What we missed in scenic vistas and picturesque villages and winery visits, though, we more than amply compensated in excellent Tuscan fare and fine Italian wine to go with it.
As an enthusiastic fan of both Italian food and wine, I paid a fair amount of attention to the good things I ate and drank, and took care to scribble at least brief descriptions into my PDA. Here, only lightly edited for clarity - and complete sentences - is my food and wine diary of the short trip, presented in the order I encountered each plate and glass.
Thursday, Oct. 19, Il Mestolo di Gaetano, Siena
Fausto Virgilio, vice director of the Enoteca Italiana, hosted three of the early arriving judges (Sally Easton from the UK, José Lez Secchi from Uruguay, and yours truly), to a dinner at the fine restaurant Il Mestolo di Gaetano (literally, "Gaetano's Ladle"), Via Fiorentina, 81, Tel. +39 577 51531). A seafood dinner began with a small "trio" plate of tuna prepared three ways, a dish modern in culinary style but with distinct Tuscan influences: Thin, sushi-rare slices seared on the edge, atop Tuscan white beans; another diced and citrus-marinated in a seviche style on crostini, and a third bite-size cube of smoked tuna served on a ceramic Chinese soup spoon.
The eponymous proprietor presented a variety of wines from all over Italy, beginning with a bubbly and a dry white:
Il Bosco Oltrepò Pavese Pinot Nero Brut - Crisp, light and creamy, a very fine sparkler.
Antinori 2005 Bolgheri Vermentino - White fruit and a whiff of green pea. Dry, medium-bodied, textured.
Next came a small, simple but well-fashioned seafood risotto, a fine match with Dorigo 2005 Colli Orientali del Friuli Sauvignon - Golden. Very aromatic, ripe and musky cantaloupe, floral and perfumed. Beautiful structure, zippy acidity comes up to meet the fruit.
With fresh sea bass simply grilled with olive oil and lemon, an Alto Adige Gewurz from a producer with a startlingly Anglo-Saxon name, Cornell 2005 Alto Adige Gewurztraminer - Characteristic Gewurz lichees. Big, bold and aromatic, this is the kind of gutsy Gewurz that invites comparison with the Alsatian style.
After dinner with assorted desserts that I was apparently getting a little too jet-lagged to describe - the details are absent from my Palm Pilot and my memory - a fine Italian "sticky": Malvasia della Lipari 2003 Tudi Passito di Salina - Golden raisins and burnt caramel aromas, intensely sweet, with plenty of acidity for balance.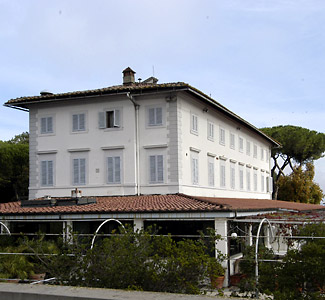 A brief sunbreak affords a brighter view of the venue for the competition, the Hotel Garden just south of the old city of Siena.
Lunch Friday, Oct. 20, Hotel Garden, Siena
Most of the Italian judges arrived Friday morning, and the group gathered for the first time for a relatively simple lunch as we prepared for our first afternoon of work. We opened only a single wine, but it was an impressive one; my first exposure, to the best of my recollection, to an obscure grape and region:
Casale della Ioria 2004 Cesanese del Piglio - Made in Lazio, not far from Rome, 100 percent from the regional Cesanese grape, it's dDark garnet in color, with inviting aromas of spicy black cherries and pleasant earthy "dust." Tart cherry-cranberry flavors are well structured by mouth-watering acidity and a long, pleasantly bitter finish.
It was an iffy match with an exceptionally fine asparagus risotto, but was perfect with the main course, a piece of rare beef tenderloin accompanied by fresh spinach and home-style fried potatoes scented with fresh rosemary.
For dessert, a dense, sweet cake topped with pinoli (pine nuts).
Dinner Thursday, Oct. 20, Hotel Garden, Siena
Busy fighting with the hotel's recalcitrant wireless Internet access, I got down to the first night's dinner just too late to try the aperitif, an Antinori Spumante, and the canapes served as walking-around appetizers had been pretty well picked over.
Things got better fast, though, when the dinner courses and wines came. The first course, Tortino di Polenta con Cuore di Porcini e Taleggio, a molded serving of white polenta wrapped around an earthy blend of fresh porcini and earthy Taleggio cheese, was good enough to make me wish I had two or three, and its flavors were plenty bold enough to stand up to:
Terre Nuove 2005 Nero d'Avila Sicilia - Blackberries and blueberries on the nose and palate, evident but not overbearing spicy oak and good structural acidity. It's also a heck of a value, retailing in Italy in the range of 7€ the bottle.
I was a little dubious about the next dish, but once I suspended disbelief, it was impressive: Risotto con Pere e Pecorino was a savory, not sweet, risotto made with chopped bits of ripe pear with Pecorino cheese and a dash of cinnamon. It really needed a fruity and perhaps gently oaked white, though, and wasn't really right with the otherwise estimable red wine on the table:
Castelpugna 2003 "Ellere" Chianti Colli Senesi - From right there in the neighborhood - "Colli Senesi" is the wine region of "the Siena hills" - it breathes cherries and spice and a reasonable amount of the high-toned volatile acidity that's a frequent participant in the Chianti flavor profile. A good balance of juicy fruit and mouth-watering acidity, not an over-the-top 2003, made it a perfect partner with the next course:
Lasagnette al ragù di anatra was a neat little package best described as a relatively refined, single-serving lasagna fashioned by stacking three coaster-size rounds of crisp, toasted pasta with a dark, earthy shredded duck ragù. It worked well, too, with the next red wine:
Castello di San Sano 2003 Chianti Classico - Clear dark garnet. Black cherries and spice, fine and still young. It was an excellent match for the flavors of the next course:
Costoletta di Maialino con Flan de Mele e Prugne all'Aceto Balsamico was an intensely flavorful although somewhat tough grilled pork chop on the bone. It came with a small "flan," actually an apple and prune compote in a small pastry crust, that wasn't especially wine-friendly, but the chop helped "tame" an imposing but very youthful Tuscan red that will benefit from cellar time:
Cecchi 2003 Morellino di Scansano Riserva Val dalle Rose - Dark garnet, bright edge. Very deep Sangiovese aromas, black cherry, fennel, leather and warm spice. Flavors follow the nose, acidic and quite tannic. Impressive but immature.
I'm not much of a dessert person, but it was hard not to finish a Tortino di Cioccolato con Gelato alla Vaniglia, a dense cupcake-size round of not-too-sweet chocolate with a warm, runny chocolate center, accompanied by a tiny metal cup filled with about two tablespoons of creamy vanilla gelato.
Acquabona 2003 Elba Aleatico - This red dessert wine from the island of Napoleon's exile off the Tuscan coast, was dark purple in color, breathing warm, high-toned scents of black raisins and volatile acidity. Very sweet and high in acid, it was better sipped after dessert rather than with dessert.
Saturday, Oct. 21, Hotel Garden, Siena
Saturday and Sunday's schedule was devoted primarily to wine judging, with full tasting flights in both the morning and afternoon, although this being Italy, hard work did not preclude eating well, with a long break allowing plenty of time for the leisurely enjoyment of a fine "slow food" lunch.
I've often read in English-language cookbooks that other Italians jokingly call Tuscans mangiafagioli ("bean eaters"), an assertion that got me only bewildered looks when I asked actual Tuscans about it. Even so, there were plenty of bean dishes on our menus, and they were uniformly delicious. Zuppa de Fagioli e Farro della Garfagnana was surprisingly reminiscent of my grandmother's old-fashioned bean soup, consisting of three kinds of beans (large white, small white and large red) swimming in a rich soup thickened with farro flour, made from a Tuscan grain related to wheat.
The first wine of the lunch, Talosa 2001 Vino Nobile di Montepulciano, was ruby in color, with a lovely mix of perfumed cherry fruit and earthy beets, nicely balanced with snappy acidity. It was a fine wine, if a little too robust for the soup.
The next wine came from an obscure Tuscan zone, Montecucco, inland from Grosetto and well to the south of Siena: Il Cerro dei Locchi 2004 Montecucco Rosso was a deep reddish-purple color with a fresh, pure if slightly shy scent of cherries. Ripe and juicy fruit and tangy acidity made it a great match with the main course, Costoletta di Vitello gratinata con Lardo di Colonnata e Rosmarino.
Finally, with a very simple dessert, a neatly composed plate of fresh pineapple, kiwi and berries, a Tuscan dessert wine: Il Poggione 2005 Moscadello di Montalcino - Pale gold in color; pours with a quick froth. Apricots and grapefruit aromas, clean and fresh. Sweet but tart, crisp and fairly light; pleasantly bitter peach-pit finish.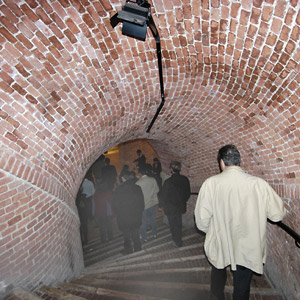 Enoteca Italiana's broad but winding brick-lined staircase seems to descend into the bowels of the earth.
Saturday, Oct. 21, "Gala" dinner in the Enoteca Italiana in the Fortrezza Medicea, Siena
In one of the few forays outside the hotel's conference area, the group bused in to the old city of Siena Saturday night for a visit and dinner at Enoteca Italiana, a must-see visit for wine enthusiasts who visit Tuscany. It's an ultra-modern "wine museum" in the cool cellars of the Renaissance-era brick fortress, Fortrezza Medicea, that formed part of the ancient city walls. Walk down a broad but winding brick-lined staircase that seems to descend into the bowels of the earth, and you'll find bottles of wine beautifully displayed on spare, modern shelves in a sort of wine museum, with sample bottles representing every Italian wine region and virtually all of the country's wine styles, nicely curated with interpretive information and even a high-tech system in which visitors can scan a bar code with a hand-held reader and get back an audio discussion about the specific wine. (Enoteca Italiana, Fortrezza Medicea, Siena, +39 577 288497)
As we strolled around the Enoteca we sampled bites of Pecorino and other Tuscan cheeses and sipped from flutes of Gavioli 1999 Brut Toscano, a Champagne-method Tuscan bubbly. Pale gold in color, its aromas focused on yeast and apples. On the palate it's bone-dry, fizzy and very tart.
Later the group adjourned upstairs, where tables had been set up in another ancient brick-walled, vaulted corridor. The Enoteca does not normally serve meals other than small bites, and it has no formal kitchen, but event organizers did a fine job with a rustic Tuscan pasta, salume and room-temperature main dish brought in from the hotel
With plates of thin-sliced salume and prosciutto, another Tuscan from an obscure district, the Montecarlo DOC surrounding the olive oil capital, Lucca, not far inland from Pisa: Fattoria del Teso 2004 Montecarlo DOC Rosso, a blend of Sangiovese and Canaiolo with a little Cabernet and Merlot. It's a very dark wine with bold aromas of black plums and licorice. Flavors follow the nose, dry and very acidic. It made a fine match with the sausages, and even better with an intriguing Tuscan fresh pasta dish, Pici di Spianatoia, a thick, fresh, hand-rolled long pasta about the size of bucatini or perhaps extremely thin grissini breadsticks, topped with a thick, savory meat ragù.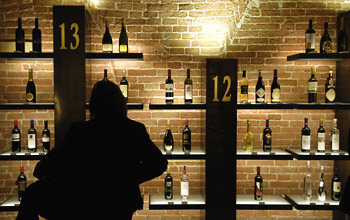 An Enoteca Italiana visitor examines bottles of Italian wines neatly displayed on the institution's shelves.
The main course was a simple Tuscan meat dish, served at room tempetature:
Cosciotto di Vitello al forno con Verdure Grigliate
, thin-sliced roast veal with a sweet-tart red-wine reduction, accompanied by thick slabs of grilled eggplant redolent of olive oil, garlic and parsley.
It was accompanied by yet another Tuscan red from a less-familiar district, Mantellassi 2001 Morrellino di Scansano Riserva "Le Sentinelle," a Sangiovese-based Super Tuscan from the vicinity of the seaport town Grosseto. Somewhat in the points-chasing style, it was very dark, with forward scents of deep black fruit shaped by smoky oak; black cherries, fennel and charred wood in an almost liquor-like finish. It was on the robust side, a little too much for the veal, but might have come into its own with rare beef or game.
A pair of desserts matched a rustic tradition ("Torta de la Nonna or "grandmother's cake," a custardy wedge between layers of short piecrust; and an innovative and light sweet treat, Carpaccio di Ananas al Moscadello, fresh pineapple carved in paper-thin slices fancifully reminiscent of beef carpaccio, garnished with berries and scented with aromatic Moscadello sweet wine.
It was served with a Moscadello, too, Castello Banfi 2004 Moscadello di Montalcino Vendemmia Tardiva "Florus", a pale-gold dessert wine with luscious scents of peach and grapefruit and a very sweet flavor, unctuous in texture, with steely acidity to shape it up.
Sunday, Oct. 22, Hotel Garden, Siena
The final day of judging broke at midday for a relatively light seafood lunch. The first course, Risotto ai Crostaceí, was as simple as the name describes: A plate of creamy risotto studded with what appeared to be tiny bits of delicately flavored shrimp. We couldn't have asked for a better wine match than the classic Tuscan white from the picturesque, tower-studded village of San Gimignano: La Rampa di Fugnano 2005 Vernaccia di San Gimignano "Alata." Pale gold in color, it breathed clean and fresh scents of white fruit focused on pears. Crisp and dry, medium-bodied, it nicely balanced fresh fruit and cleansing acidity.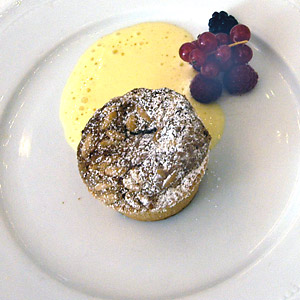 Tortino di Pinoli con Crema alla Vaniglia, eggy and rich, studded with pine nuts.
One of the most intriguing dishes of the week, meat, fish or fowl, was the following main course,
Tranchio di Pescatrice al forno con Patate e Funghi Porcini
. A block of snapping fresh monkfish almost as large as a tennis ball was wrapped in a turban of thin-sliced pancetta and baked until just done through, then plated with sauteed fresh porcini and remarkably well-done potatoes, baby new potatoes peeled and sliced, seemingly parboiled, then sauteed in green-gold olive oil with garlic until they were puffy and highlighted with golden flecks. Dressed with a pan-sauce reduction from the pancetta-wrapped fish, it offered a delicate blend of flavors and textures that was all the better for its simplicity.
The dish was a great match with one of the finest dry white Italian wines in my experience, albeit a bit in the "international" style: Marchesi de Frescobaldi 2004 "Castello di Pomino" Pomino Bianco is a blend of Chardonnay and Pinot Bianco, varieties said to have been first cultivated in Tuscany in this very vineyard in 1855. Clear gold with a brassy hue, it breathes rich, complex and interesting aromas of apples and chestnuts. Its mouthfeel is rich and dry, full-bodied white fruit, perceptually a little more robust than the label's professed 12.5% alcohol. A rich and elegant wine, it reminded me more than a little of a good White Burgundy.
The dessert was Tortino di Pinoli con Crema alla Vaniglia, a simple, not-too-sweet Tuscan cake, eggy and rich, studded with pine nuts, plated on a pool of creme anglaise and garnished with fresh berries and red currants. The accompanying wine was much sweeter than the dessert: Fattoria del Cerro 2001 Toscana Sauvignon Vendemmia Tardiva, a botrytis-affected, late-harvest Sauvignon Blanc. Clear light gold in color, it was very apricotty with a subtle herbal back note. Sweet and fresh, a good acidic backbone held the fruit sugar in balance.
Sunday, Oct. 22, Casa Mia Ettore Silvestri, Siena
A few kilometers out into the countryside from Siena at Strada Chiantigiana 99, Malafrasca Podere la Colombaia (+39 577 47 070), the lovable farmhouse ristorante, Casa Mia ("My House") set the scene for our last evening in Tuscany. This restaurant, whose host, Ettore Silvestri, is a past president of the Italian Trade Commission (I.C.E.), offers a charming combination of rustic and sophisticated. The setting is as comfortable as an old farmhouse (which, in fact, is what it is), but damask tablecloths and fine silverware and glasses and unobtrusive European service speak of a higher level. The food, moreover, is classic Tuscan country fare but prepared with a star-rated restaurant's sensibility.
We entered to find Signore Silvestri carving long, thin slices of prosciutto right off the ham and offering them on thin-sliced rounds of Italian bread, along with fresh Pecorino cheese right off the wheel, and dangerously addictive panelli, Siena's term for bite-size balls of fried white bread, dotted with bits of black olives and capers and fried in ripe, green olive oil. With these walking-around appetizers we enjoyed a high-end Prosecco, Valdo Prosecco di Valdo di Cartizze "Cuvee Viviana," pale gold in color, crisp, dry and fresh.
Finding the Prosecco a bit light for the prosciutto, he hustled off to the cellar and came back with Dievole 2000 "Novecento" Chianti Classico Riserva. This is more like it ... inky blackish-purple in color, with characteristic Chianti aromas of spicy black cherries and subtle leather. Mouth-filling and acidic, lingering black fruit and earth in the finish.
Taking our glasses to the table, we opened another red from yet another relatively obscure Tuscan region: Castello del Terricchio 2004 Capannino is a Sangiovese-based IGT from coastal Tuscany near Pisa. It's a clear garnet color, showing attractive red and black fruit on the nose and palate, snappy acidity to make it food-friendly.
Out then came a trio of appetizers, plated together: Crostini with a deeply flavored meat ragù, and another topped with spinach and melted cheese; the third bite was a small "log" of molten Taleggio or similar earthy cheese wrapped in a tender envelope of thin sheet pasta.
Next up, saluting autumn's fresh mushroom season, was a simple but deeply flavored wild mushroom soup, consisting of porcini and several other varieties, all coarsely chopped and swimming in a light mushroom and onion puree. It went nicely with the Capannino and a white blend from a leading San Gimignanon producer, Terruzzi & Puthod 2003 Bianco di Toscana IGT. Golden in color, it was floral and piney, rather full-bodied, tart and long.
Another classic Tuscan dish, Pappardelle al sugo di Cacciagione, consisted of tender fresh broad pappardelle, fashioned from cornmeal (maize) in place of the standard semolina, sauced with an earthy, meaty game ragù that proved to be the traditional wild hare. I pick up a whiff of salty anchovy in the sauce, too.
More red wines go around the table with this and the next course, grilled pork Senese (Siena-style), a simple, rustic combination of thin-sliced roast pork tenderloin and long, succulent shreds of crispy roasted pork skin and fat, accompanied by what appeared to be a small turnip or parsnip flan and finely shredded bitter lettuce.
Castello di Ama 2003 Chianti Classico - Inky blackish-purple, with a garnet edge. Black cherry aromas and an attractive touch of cocoa. Forward fruit flavors follow the nose, mouth-watering acidity and ample tannins.
Avignonesi 2003 Vino Nobile di Montepulciano - Dark garnet in color. Cherry compote, kirsch, warm and fruit-forward scents. More balanced on the palate than the nose, but still a big boy from 2003, warm and strong. More accessible with the food than alone, it was good with the pork but really came into its own when Silvestri came around offering bite-size samples of blood-rare Florentine steak that had just come out of the kitchen and that he just had to share.
Finally, after too much dessert (yellow cake molded around vanilla ice cream and topped with a thin dark berry sauce, and a thin wedge of rich, eggy pastry), yet another fine Moscadello: Caparzo 1999 Moscadello di Montalcino, rich gold in color, redolent of apricots and hazelnuts, soft and sweet. Structural acidity is more evident in the finish than on the velvety initial flavor.
After such a week, I probably should have fasted for 72 hours or so; I would have been happier if I had passed on the "shell pasta with cheese" served in Delta/Alitalia Coach on the way home. But I'm hoping to bring back Tuscan memories when I try to replicate some of these dishes with a little more authenticity in my own kitchen.
<!- Page Contents End Here ->